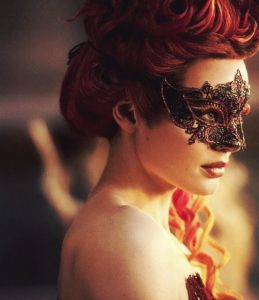 Lucrezia Donati in the film Da Vinci's Demons
"An all-night party in a rose-colored palace" where revelers dance masked. A waft of bitter orange, of face powder and vermillion lipstick announces a vision of lovely artifice as she enters the grand ballroom: powdered jeweled wig, silk roses pinned in a cascade at her décolletage; a lace mask through which dark eyes glimmer in the incandescence of the ballroom.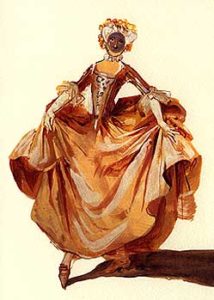 Colombina from CommediaDell'Arte
Her costume telegraphs that she is Colombina from la Commedia Dell'Arte, history's eternal clever wench — Despina in Don Giovanni, Maria in Twelfth Night and every best friend in movies who is cleverer, funnier and sexier than the leading lady. The scent that dances around her is at once baroque and modern: brandied plums and cottony roses combined with the finest suede and slinky musk: Cuir Venitien by David Jourquin, which I named as the Best Feminine Fragrance at Tranoi this past September.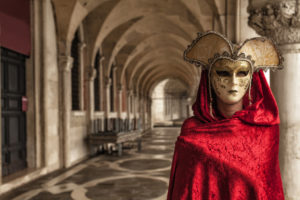 Venice Carnival, stock photo
Like the masks of the carnival, there is a sense of dress-up about Cuir Venitien. In the opening, there is a delicate whiff of pancake makeup and face powder, and, in the dry down, the mellow, barely detectable cedar of, perhaps, an old wood stage. And it echoes of one of the great beauties of times past. With its unapologetic overdose of Prunol, Cuir Venetien recalls Edmond Roudnitska's original Rochas Femme (the first fragrance to feature Prunol), with its delicious mélange of fine leather and plum. But where Femme goes earthy and animalic, hinting at dark things in the boudoir, Cuir Venitien dons her powdered wig and pulls her corset tight.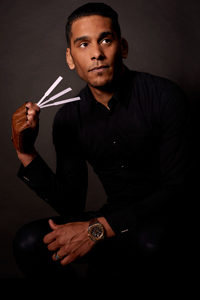 David Jourquin, photo David Jourquin website
David Jourquin and perfumer Anne-Sophie Behaghel have used Prunol brilliantly here: its entrance, like Cinderella, is a showstopper and all eyes turn. Created by Symrise in the 1940s, Prunol has been described as "ripe plum prune" but to me, it is more fascinatingly complex. At different moments it has characteristics of brandied plums, golden fruitcake stuffed with raisins. There's a hint of cardamom and of nutmeg and then baked black cherry. Visions of sugarplums dance in my head.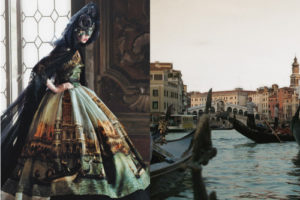 Edie Campbell in "Cinderella Story," photo by David Sims for Vogue US, September 2013
But then, when its plum brandy and spice opening recedes, the Prunol in Cuir Venitien metamorphoses into a rosy peach just off the tree. Then it transforms back into plum, then peach again, in a dance that continues for some time. A downy rose and a trail of spicy jasmine, much like the smell of paper whites, curl around each other like calligraphy.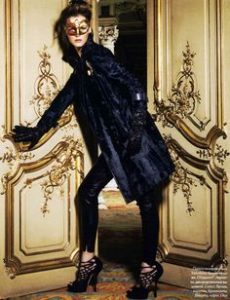 Carmen Kass, Carnival Night fashion editorial, photo by Marcin Tyszka, Elle Russia, Oct 2011
In Cuir Venitien's final act, lipstick rose takes center stage with a soft, candied femininity. The plum-peach note weaves in and out, sewing the flowers and suede together like an elegant leather glove. In its bold use of Prunol but restrained composition, Cuir Venitien has an elegant cheekiness, a refined banter. It is a modern perfume for timeless women.
Notes: Bergamot, bitter orange, aquatic effect, plum, prunol, passion fruit, May rose, fresh jasmine, Atlas cedar, Leather, white musks. Longevity is good – about 4-6 hours. Sillage is moderate but not overwhelming.
Disclaimer: I received my sample from David Jourquin – many thanks. Opinions are my own.
—Lauyrn Beer, Editor
Thanks to the generosity of David Jourquin, we have a 100 ml bottle of Cuir Venitien for a registered reader in the US, Canada or Europe; You must register or your comment will not count. To be eligible please leave a comment with what appeals to you about Cuir Venitien based on Lauryn's review, if you have smelled vintage Rochas Femme, where you live and if you have a favorite David Jourquin perfume. Draw closes 12/9/2016
You can follow us @cafleurebon and davidjourquinparis on instagram
We announce the winners only on site and on our Facebook page, so Like Cafleurebon and use our RSS feed… or your dream prize will be just spilled perfume