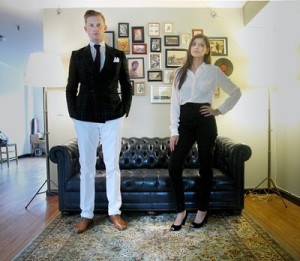 David Seth Moltz and Kavi Durga
In early July 2016 David Seth Moltz of D. S. & Durga introduced a trio of new scents: Radio Bombay, Rose Atlantic and White Peacock Lily. Each fragrance evokes a vignette – real or imagined – of a scene colored by time and recollection. For me Rose Atlantic revisits the mid Atlantic coast in early summer, featuring sea spray and the fragrance of beach rose, a type of Rosa rugosa. While I have yet to visit India, Radio Bombay reminds me of the years I spent living in the Middle East and the pervading scent of heat, smoke, petrol and sandalwood. Of the three perfumes, I find White Peacock Lily to be the most evocative. The name of the fragrance seems to have a direct association with the music of Charles Tomlinson Griffes.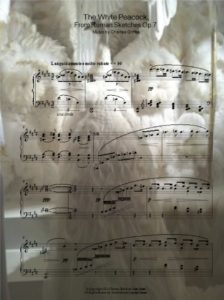 The White Peacock Sheet Music Griffes Op 7, Roman Sketches and White Peacock Window of Bergdorf Goodman Holiday Display 2012 collage MC
I have been teaching piano for over forty years and playing for more than 60. In my late teens I remember struggling with Griffes Op. 7, Roman Sketches, written for piano in 1915. The first piece of this set, The White Peacock, was the most popular and subsequently scored for orchestra in 1919. A poem by William Sharp prefaces my copies of the 1917 edition for piano:
"Here where the sunlight
Floodeth the garden…
Where the oleanders
Dream through the noontides…
Where the heat lies
Pale blue in the hollows…
Moves the white peacock…
Deep in the heart of a sea of white violets…
Pale, pale as the breath of blue smoke in the far woodlands…"
I can't help but think that David Moltz is familiar with this piano piece or its orchestral arrangement and that Sharp's poem may have served as an inspiration for the fragrance.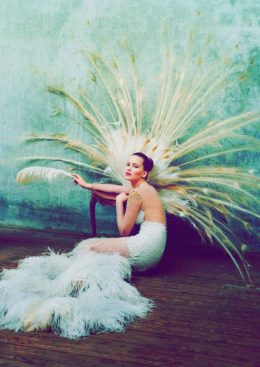 Jennifer Lawrence by Tim Walker W magazine 2012
The D.S. & Durga website describes White Peacock Lily like this: "A lone peacock floats over cream lilies, oleander and a sea of alabaster violet. Orchestral harps and horns drone. Pale blue fog hangs in the far woodlands." My first impression of White Peacock Lily is mirrored in Griffes performance instructions, "Languidamente e molto rubato", languidly with free, expressive rhythm and tempo. The perfumer's listed accords of oleander, cabreuva rouge, grapefruit pith, white lily cream, Egyptian jasmine, alabaster violet, liquid ambrette seed, vanilla and fog convey a sense of the same breathy, lush and weightless atmosphere that manifests in the smooth, legato chords and humid arpeggios of the music.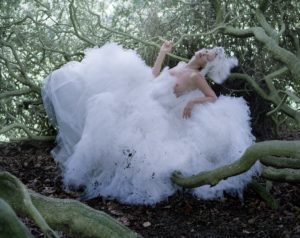 Kate Moss in Rhododendron Bush, Houghton Hall, Norfolk, England, 2012, © Tim Walker
I am entranced by the waxen effect of white lily combined with powdery oleander, vanilla and a touch of grapefruit. Over time the composition maintains a weightless, floating effect and creates a feeling of freedom via the freshness of cabreuva wood and the cool scent of white violet. At about 30 minutes White Peacock Lily retreats to the skin and, after several hours, disappears into a mist of jasmine and musk.
Charles Tomlinson Griffes is considered to be an American Impressionist composer, influenced by the techniques and textures of the French. I like to think of D.S & Durga as an American Impressionist perfume house with a modern global perspective creating wonderfully wearable, carefully crafted perfumes for all lovers of fine fragrance
Disclosure: I received my sample from Indigo Perfumery, thank you so very much; opinions my own
Gail Gross, Contributor
Art Direction: Michelyn who continues her fascination with British Fashion Photographer Tim Walker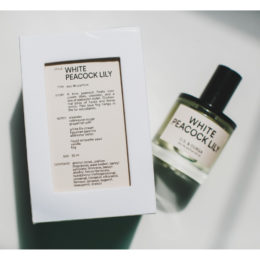 Thanks to Indigo Perfumery we have a 50 ml bottle of White Peacock Lily for a registered reader (if you are not sure that you registered click here) residing in the USA OR a sampler of Radio Bombay, Rose Atlantic and White Peacock Lily To be eligible for the draw, please leave a comment with what appeals to you about Gail's review, if you want the sampler or the 50 ml should you win and if you have a favorite D.S & Durga fragrance. Draw closes 8/13/2016
We announce the winners on our site and on our Facebook page, so Like Cafleurebon and use our RSS option…or your dream prize will be just spilled perfume