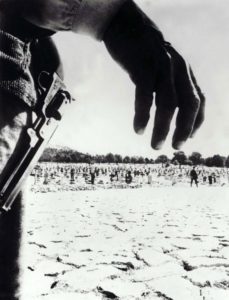 Still from The Good, The Bad and The Ugly (1966) Credit: UNITED ARTISTS / THE KOBAL COLLECTION
There's a showdown a-coming. A horse gallops through the night, redolent of hay, its rider sweating through a leather vest. Her cloak trails smoke and incense, a reminder of penance due as she rides into town. At the same time, leather saunters into view, guns smoking, ready to take this perfume by force if need be. Nearby, incense is waiting, whistling softly.
Hay: there's room for only one dominant note in this perfume.
Incense: We'll see about that. I'll see you both at the corral at sundown.
Leather: Hell, I ain't waiting. Draw.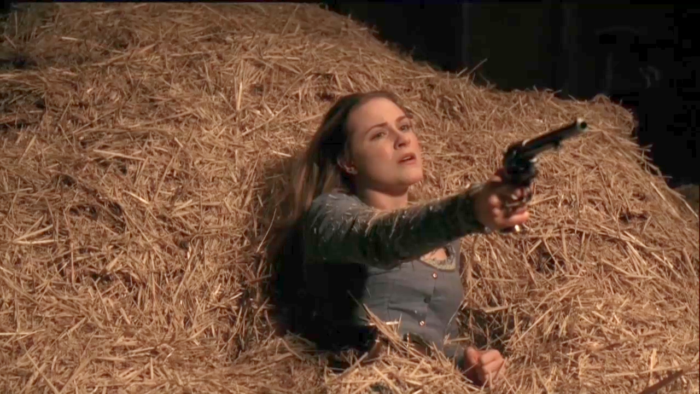 Evan Rachel Wood as Delores, Westworld, Season 1 HBO
No. 30, the newest perfume from Cognoscenti, is a robber bride who just who just tied up the groom and ransacked the church. While hay and incense get top billing in the opening credits, this is as much a rollicking tale of leather. The initial blast of sweet green hay is chased on its heels by the rough-and-tumble aroma of worn saddles and riding crops.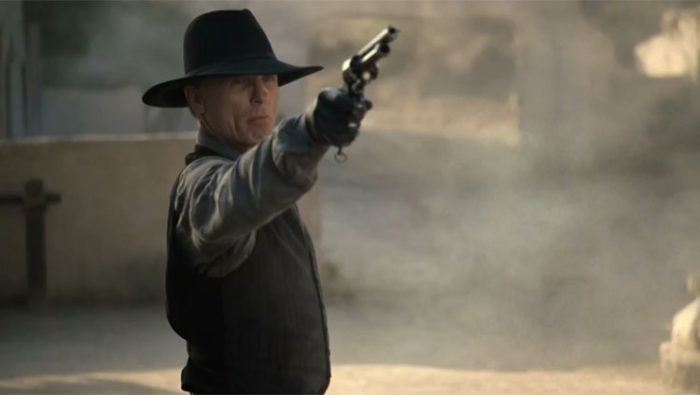 Man in Black, Ed Harris, Westworld, Season 1 HBO
Coming up close on their heels is the tobacco-like aroma of birch leaf something a little dirty and sweaty, which is most likely labdanum. But just wait till the incense gets here.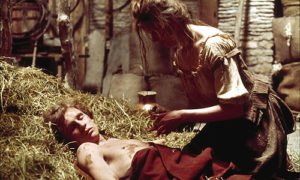 Peter Firth in the film Joseph Andrews (1977)
Perfumer and owner Dannielle Sergent describes her inspiration for No. 3: "I started the journey of this fragrance a couple of years ago. The idea was to couple the rigorous and disciplined fragrance of church Incense with a soft and multi dimensional natural scent. Sin and salvation embodied in fragrance, but so intertwined they cannot free themselves from each other. It's a risque roll in the hay with a devout sinner. It's love, lust, regret, and ultimately a natural peace."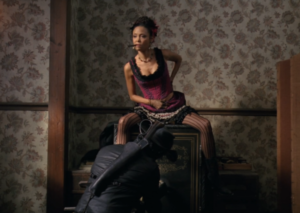 Thandie Newton as Maeve, Westworld, Season 1
The leather and hay pull their weapons and fire back and forth. Just as they seem to be running out of bullets and settling into a partnership, woody incense arrives to stir things up again in a smoky cloud. Each note gets the upper hand in a dance that continues for some time; leather one moment, incense the next, then back to hay. When sweaty- sweet labdanum makes her entrance, shimmying like the showgirl she is, the incense, hay and leather follow her into the stables for a threesome.
Movie still from Luminarias by Tom Haines (2000)
Sneaking into the background of this drama are dense but muted green notes. The charred ember of birch and petrol-root aroma of vetiver can overpower fragrances for me, but here these potent chords are held in check, providing an earthy canvas against which the leather, incense and hay stand out in relief.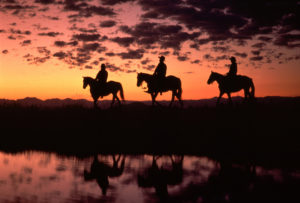 Cowgirls and horses at sunset, stock photo
Where the opening is a leather and hay tussle, the dry down is the soft smolder of that last lick of flame, the linger of years of incense in wooden church pews. The incense used here is tickly, gingery and slightly spicy, and hovers around the sweetish tang of labdanum while vetiver continues to hum like a low string. By the dry down, No. 30 achieves a perfect tension between its leading notes. In the end, leather, hay and incense ride off together into the sunset.
Notes: Hay, incense, birch leaf, immortelle, benzoin, oakwood, leather, lavender, labdanum and vetiver. 

Sillage is soft; longevity average
Sample provided by Cognoscenti Perfumes – many thanks. Opinions are my own.
— Lauryn Beer, Editor
Editor's Note: I have a sample of No.30 and if you have seen the HBO series Westworld, I imagine Delores (when she understands she is a sentient being) or The Man in Black wearing this perfume, so in addition to Lauryn's images, I included some photos from the series.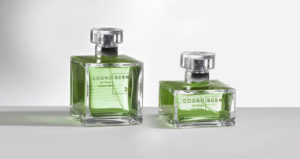 No. 30, photo Cognoscenti
Thanks to the generosity of Dannielle Sergent and Cognoscenti, we have a 50 ml bottle of No. 30 Hay Incense for one registered reader in the U.S. and one 5ml purse spray for one registered international reader anywhere in the world. There are two winners. To be eligible please leave a comment with what appeals to you about No. 30 based on Lauryn's review, where you live and who your favorite outlaw is or if you watched the premier season of Westworld. Draw closes 1/14/2017.
We announce the winners only on site and on our Facebook page, so Like Cafleurebon and use our RSS Feed…or your dream prize will be just spilled perfume