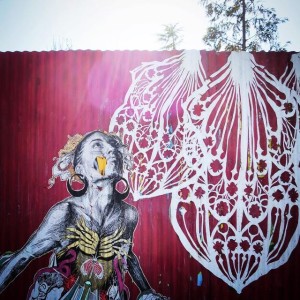 Redhook Graffiti Art
"[Street art] is not just making a painting and putting it outside – it's about [thinking through] what does the space mean, how do people look at space, why are people outside and what is [intrinsic] to that space." – Tatyana Fazlalizadeh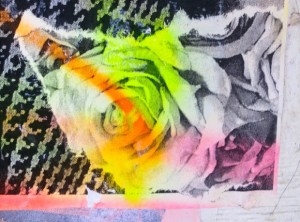 One of the most intriguing things about living in big cities is how they smell – just moving through the day you are presented with so many conflicting scents: food vendors, garbage, car fumes, the ozonic hum and dank heat of the subway system. Over time, all those layers of scent blend together and create their own massive Urban Life accord, which gets downloaded into our collective memory. You would be hard pressed to recreate through perfumery what City Living smells like, but somehow Douglas Bender of Charenton Macerations has done it with his launch of Asphalt Rainbow. A perfume that captures the urban street-level sturm und drang expertly, by weaving a rose note through leathery florals and asphalt until the midtown rush of traffic and people roars up at you just by smelling your wrist.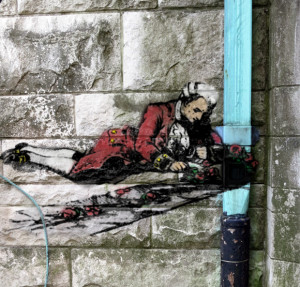 Marquis de Sade
Charenton Macerations first launch, Christopher Street in 2012, is a wonderfully open and joyous chypre perfume collaboration with Master Perfumer Ralf Schwieger. Creative Douglas Bender takes a sociological approach to scent, frequently combining interviews, photo sessions, pop art, LGBTQ culture and detailed archival research until a finely-tuned olfactive story emerges simultaneously with the notes he's chosen to work with in his scents and his collaborators; in this case Cecile Hua of Mane. In an email to our Editor in Chief Michelyn, "The rose is stands for one of oldest traditions of beauty and has a rich multi-gendered history, hence a perfect object for reappropriation a la street art techniques. Artists like DAIN were very inspirational for this project (http://streetartnyc.org/blog/2012/04/18/dain-the-artist-behind-nycs-beguiling-portraits/), not to mention 1960s+ history of NYC and Philadelphia (the beginnings of today's modern street art movement under artists like Cornbread). Music was also VERY important in getting the emotional aesthetic right in formulating (we've been keeping an ongoing playlist, but think tracks like Morcheeba's "Gimme Your Love". We also brought about 15 artists into the fold".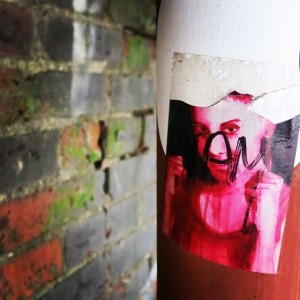 Unknown faces in Dumbo
The Asphalt Rainbow story arises out of street art, and its disruptive ability to transform the mundane grey of an urban setting into something unimagined and fresh, a story that challenges our notions of complacency and tired, clichéd ways of living.
Or, as Douglas puts it: "Asphalt Rainbow asks the question: what happens when a graffiti artist's spray cans are replaced with the perfumer's organ of ingredients and applied to our skin?" The result is "a fragrance that rips the rose apart, scattering its fragmented petals and thorns throughout the urban underground."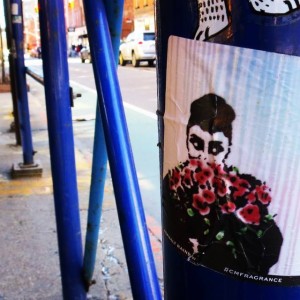 The actual perfume doesn't so much rip the rose apart as weighs it against the looming immensity of multi-story buildings and the exhaust pouring out of commuter vehicles. Asphalt Rainbow starts with the rose and a slight tropical hit of lychee fruit. But this bright opening slowly loses ground to an enormous asphalt and leather undertow that nearly paves over the lightness of the top notes. Within seconds the rose is all but gone, replaced by bone-dry saffron tinges with a buried, plush ylang-ylang note lending rush-hour support against the oncoming, honking traffic the asphalt note promises. The leather in this perfume is the same kind that holsters the pistol on a traffic cop's tool belt, as he waves you through an intersection.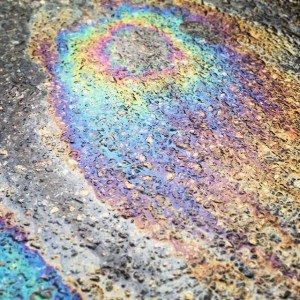 And at the climax of its olfactive story, Asphalt Rainbow is Gotham City big – the notes become industrial, viscous and invasive. The sillage however, creates a quieter din -the power in this perfume isn't as loud and irritating as a screaming car horn, but instead emanates out of the urban dust that settles on your skin, or the small way pollution smells in the pores. The longevity of the scent hangs around just enough for you to doubt yourself and the road you may be travelling on – about four or five hours on my skin.
But for all the street-level noise Asphalt Rainbow throws at you, it's still an enjoyable scent. It presents a radical idea of what a floral perfume does, or is. It sells you the dream of Making It in the Big City (the rose) and then a sharp gut-twist of The Reality of Making It Happen. (Asphalt, cistus, and leather.)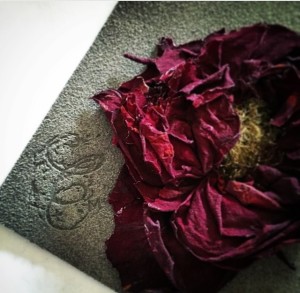 Charenton Macerations is definitely a house we have been watching – Douglas' approach to perfumery is always iconoclastic, fresh, and engages the senses in ways that force you to pay attention. While, for me, Christopher Street was of all things, a joyous, happy chypre, Asphalt Rainbow joins two worlds by deconstructing that most traditional of perfume standards– the rose.
Steve Johnson, Editor
Disclosure: My sample was provided by Charenton Macerations
Notes: Rose Absolute, Rose Fragments, Galbanum, Lily of the Valley, Lychee, Ylang, Saffron, Magnolia, Leather, Cistus, Asphalt, Patchouli, Wood, Amber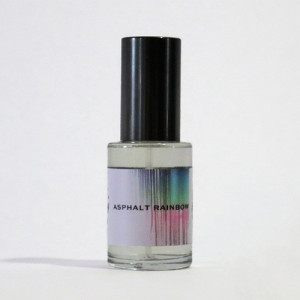 Editor's Note: Douglas has been a guest contributor for ÇaFleureBon with a three part series on Queer History of Fashion (and the untapped potential for Queer Fragrance. I follow him on instagram @cm_fragrance and also read his blog regularly. I must admit that I have the scratch and sniff stickers at my desk; I like being reminded I am a city girl. All Street Art was provided by Douglas Bender -MC

Scratch and Sniff Asphalt Rainbow limited edition stickers
Thanks to Douglas Bender we have a draw for the three limited edition scratch and sniff stickers created for Asphalt Rainbow for a reader anywhere in the world. To be eligible let us know why you might like to try this fragrance and if you could create wheat paste poster or grafitti and snipe it anywhere in the world what would it say or look like. Draw closes 4/13/15
We announce the winners only on site and on our Facebook page, so Like Cafleurebon and use our RSS option…or your dream prize will be just spilled perfume