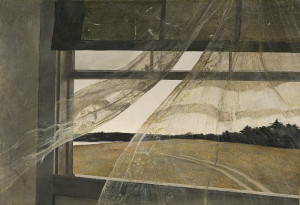 Winds from the Sea Andrew Wyeth
My husband and I got married last May, in a big red barn next to a wide, rambling house with a wraparound porch. Behind the barn was a muddy track leading up a long, winding hill. We exchanged our vows in front of a slight rock wall underneath two scrappy, scraggly rural trees. The memory of the day when we said our actual vows, along with the accompanying ceremony and reception come at me now like a hazy dream, but I remember how the barn and the house felt. There was a deep earthiness tramped into the wood and absorbed into the fabric of the upholstered chairs. Each room had that ancient, almost stuffy scent of many lives lived within its walls. Okay – not so much a scent as an olfactory shared experience – you couldn't move through the rooms or stand under the rafters of the barn without breathing in the time spent by all the other folks who had been married there, or who lived in the house, or were born there.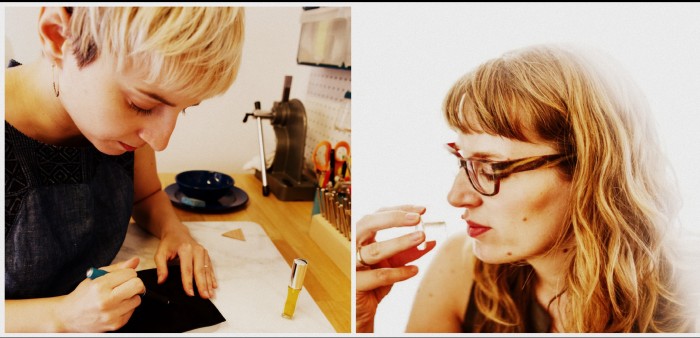 Jessica Hannah composed Skive for Natalie Davis, owner of Canoe in Austin love of leather working (photos courtesy of Citygrammag.com)
Skive, the new award-winning all natural perfume is a collaboration between leather working company Canoe, and natural perfumer Jessica Hannah (of J. Hannah Co.) absolutely nails this feeling of sweet warmth and age in their work together in producing this perfume. Skive takes its name from a leatherworking term, "skiving", or thinning out the backs of leather strips prior to joining them together. It is very much an aromatic scent, one that Natalie and Jessica specifically designed to give the wearer an olfactory visualization of Canoe, Natalie's studio in Austin, TX. "With Skive, we were able to fully tell the story of Canoe – how I work with the leather, the tactile experience of unrolling a hide, and the evocative scent of my studio." Natalie says.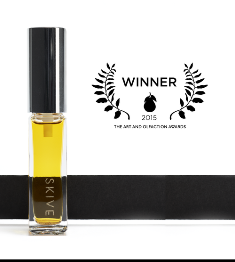 Skive is A Winner of Art and Olfaction 2015 /Independent
Natalie and Jessica Hannah met over a private blending session at Jessica Hannah's atelier, and immediately knew they wanted to work together. Skive took two months to complete, and the result feels as if it took far longer to finish. After sampling it, there was no doubt in my mind why this scent is this year's winner of the Art and Olfaction Awards, Independent Category. "It feels very special to have Skive recognized," Davis says, "Skive is an incredibly personal scent that invites the wearer into my creative world."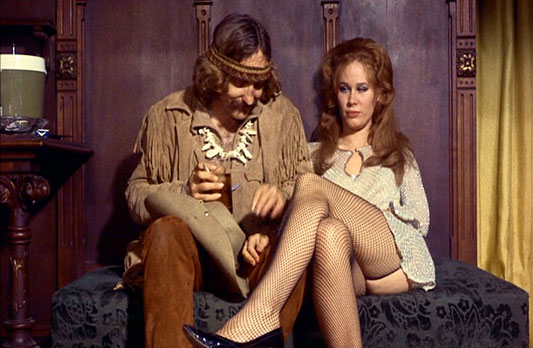 Dennis Hopper and Karen Black in the movie Easy Rider 1969
Skive is a soft leather scent. It is not oily, brash or redolent of black tar or rubber in any way. Instead, it slides on like a hand-me-down fringed leather jacket, or one you might find tucked in a fortunate corner of your favorite vintage shop. There's a lived-in, yet unfinished quality to the notes, as if this perfume were stashed somewhere just waiting for the right person to come along and create a new chapter for it. This is a leather perfume someone like Dennis Hopper's portrayal of Billy would wear in the movie Easy Rider It's a soothing, laid-back leather style that is immediately comforting and enormously appealing. The notes all lean into each other softly, with clary sage, saffron and myrrh relinquishing their nose-wrinkling qualities in favor of a graceful bending of one into the other, with a dash of Atlas cedarwood to highlight the edges and remind us that sun is always streaming into the studio where Natalie works. Skive is nearly holographic at times; I caught myself shrugging my shoulders like I was trying to tug this perfume on like a jacket. The longevity and sillage are average to above average.
I began to think of Skive in the same way as I think about my new marriage. There should always be a feel to being with someone you pledge to spend your life with that is exactly like Skive feels on the skin: a little fusty and lived-in, maybe a little rough at times, but always comfortable, inviting and warm.
Pam Barr, Guest Contributor
Editor's Note Pam is a ÇaFeureBon reader, a copy writer, a perfumista and we are so happy she is writing for us. Jessica Hannah is at FRAGments Artisan Perfume Event today in LA.
Notes: Ambrette (botanical musk), Atlas Cedarwood, Castorium, Choya Loban, Clary Sage, Myrrh, Nutmeg, Saffron, Tobacco, Vetiver (2014)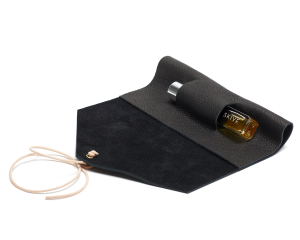 Thanks to J. Hannah and Co. and Canoe, we have a draw of .25 oz. ($52) of Skive To be eligible; you must be a registered US CaFleureBon reader (The Log in is on the Home Page). Please leave a comment below on why you want to try Skive and what you love most about leather scents. Draw closes June 2, 2015.
We announce the winner's only onsite and on our Facebook page, so Like CaFleureBon and use our RSS option…..or your dream prize will be just spilled perfume.