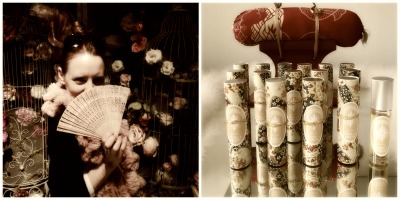 Maria McElroy of Aroma M Perfumes and Geisha Vanilla Hinoki (photos courtesy Maria McElroy)
One of my all-time favorite indie perfume houses has released a new scent, in the Geisha series, and their first since 2011. The name of the fragrance is Geisha Vanilla Hinoki, and the house is Aroma M Perfumes, founded by perfumer Maria McElroy.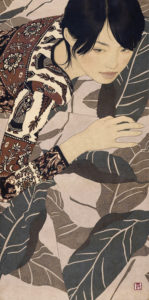 Ikenaga Yasunari Mai
And in this season, where sticky gourmand florals are reported to be the new "it" style to buy, Geisha Vanilla Hinoki is a refined reproach to such candy-aisle-plus-jasmine fare. It is silky, sheer, light and ethereal. This is not the perfume for lovers of fat, thick sweet sensations. Instead, Geisha Vanilla Hinoki is like wearing mist from the early morning hours, when the ground under your feet and the leaves overhead are drenched with dew. The gourmand style is featured in an infusion of extremely rare Moroccan vanilla, combined with bergamot, cloves, cinnamon and nutmeg at the open.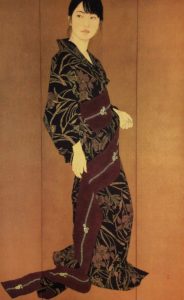 Yui Yokoyama by Ikenaga Yasunari
You wear Aroma M perfumes like clothing, not like fragrances. I don't think I will ever come across another line where the metaphor of an "olfactory wardrobe" actually becomes more of a literal statement. Maria McElroy creates invisible garments that drape the wearer in looping strands of sophisticated softness.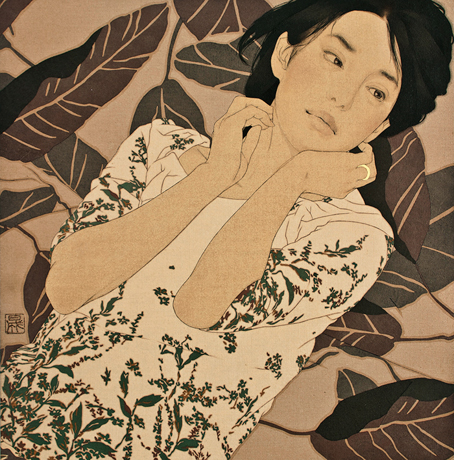 Promise 2 Shima Ikenaga Yasunari
Maria's inspiration for this scent is to recreate the experience of visiting a traditional Japanese hot spring, and the addition of a key note – namely, the hinoki of the perfume's title (a Japanese form of cypress), provides the elevated, emerald-tinged green woody feel behind the Moroccan vanilla and other spices. There is also cedarleaf and lavender in the heart that definitely bring out the sauna woodiness and deep, underlying calmness upon which the entire fragrance rests upon.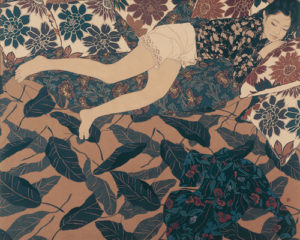 Natsu Ikenaga Yasunari
She also sees Geisha Hinoki Vanilla as a "bedtime" scent (take this however you like, either as a calming evening scent to carry you off to Dreamland or something racier to wear while YOU are being carried off somewhere.) And this meditative/sensual feel can be equally carried off by either a man or a woman, for those keeping score.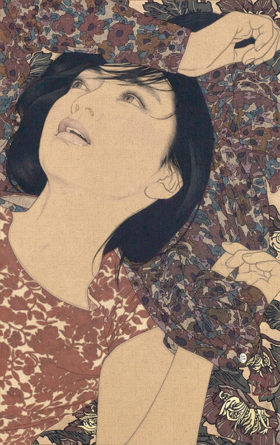 Yabutsubomi-Honami Ikanega Yasunari
The drydown is languorous and blends in subtle herbal and woody notes, with more cedar wood and patchouli blending with amyris for another tonal facet to the gourmand feel. The perfume lasts for several hours as well, with restrained sillage befitting its sophisticated, silken feel on the skin. The first time I sampled it, I was instantly calmed and felt slightly elevated, as if I'd just come out of a long session of sitting meditation.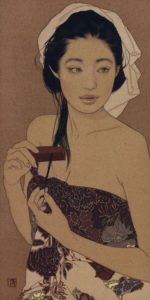 Ikanega Yasunari
So take Geisha Vanilla Hinoki as either a bedtime riaow-riaow scent, or a meditative fragrance for a misty morning. Or maybe it's that this perfume might be the first-ever "afterglow" perfume. However you wear it, it's definitely one of my picks for Best of 2016 so far.
DISCLOSURE: I received my sample from Aroma M Perfumes
Pam Barr, Senior Contributor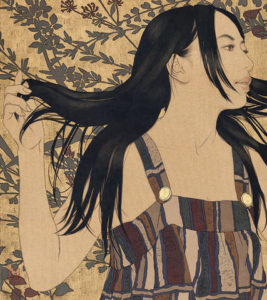 Hana-Makiko Ikenaga Yasunari
Art Direction: Michelyn Camen Ikenaga Yasunari paints soothing portraits of modern Japanese women enveloped in elegant floral patterns that evoke Maria's olfactive and visual style. His work is a combination of traditional Japanese-style paintings (nihonga) which also uses gold in its composition and contemporary imagery.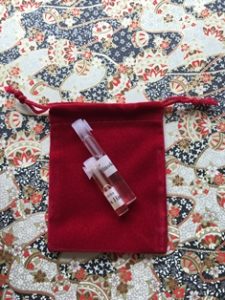 Thanks to Maria McElroy, we have a draw for a registered reader in the USA of a sample set of the EDP and oil. To be eligible, please leave a comment with what you enjoyed about Pam's review of Geisha Vanilla Hinoki. Draw closes May 9, 2016.
We announce the winners only on site and on our Facebook page, so Like Cafleurebon and use our RSS option…or your dream prize will be just spilled perfume