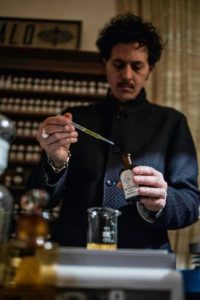 Master Perfumer, Sileno Cheloni creating a Perfume photo via Aquaflor Facebook
I had heard of Aqua Flor before I headed to Florence for Pitti Fragranze, but I had no idea where to locate it. So, I did what I usually do in these circumstances and rather than taking up precious time on the internet I just began walking… a 'Flaneur' as the French say. Behind a doorway, on a narrow street, a tangent off Piazza Santa Croce is this ageless place where Alchemy pervades the senses. I admire Sileno greatly for his ability to reach beyond our perceptions and touch the core of each component, this is the gift that differentiates an outstanding creation from a mediocre one in all walks of life and defines genius.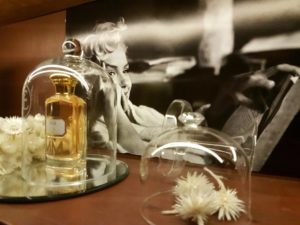 MM, a dedication to Marilyn Monroe, 2016
One of the recent releases from the Master Perfumer of Aquaflor, Sileno Cheloni, is MM, a scent created specifically for the Marilyn Monroe "The Woman Behind The Myth" exhibition in Turin, Italy at Palazzo Madama which was held 1st June to 19th September 2016. Marilyn Monroe.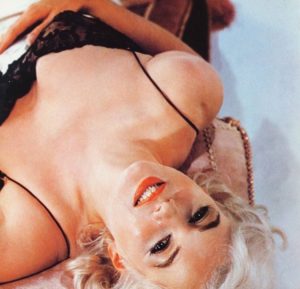 Marilyn Monroe Photo by Eve Arnold 1960
Marilyn was so much more than an Actress, a Sex Symbol, she was one of those women who defined an Age of Glamour in the film world but more than that she was admired way beyond her physical attributes counting amongst her friends and close companions, Presidents, Politicians, Scientists and Film Icons.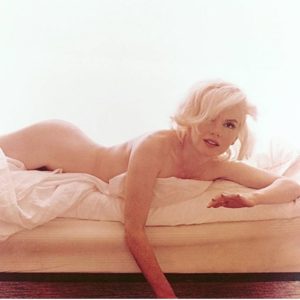 Marilyn Monroe photo by Bert Stern Vogue 1962
'I don't mind living in a Man's world as long as I can be a Woman in it' Marilyn Monroe
In this astounding composition, Sileno has encapsulated her Essence, the ones we are familiar with, those that made her who we witnessed, the imagery, the Icon, yet he has also encompassed the background, the childhood, private life and loves, the fears and vulnerabilities. He has expressed the crux of who she was, whilst simultaneously seeking out the edges of this stunning enigma.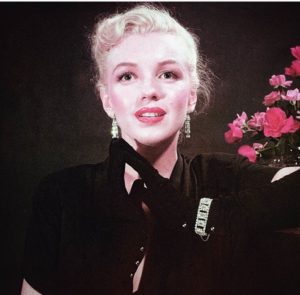 Marilyn Monroe photo by Ed Clark 1950
Opening with a chorus of florals, softest Rose, Jasmine and Frangipani all speak of the Woman and are regarded as some of her favourite florals, they carry you off into a time of Divas, Movie Stardom and Glamour. It is unashamedly a Woman defining scent, intensely and deliciously floral with a touch of the rambunctious. Innocently playful and whimsical yet there is something provocative and coquettish also. It is the Gentleman arriving at the door with the most exquisite bouquet, as if to attempt to emulate his companion.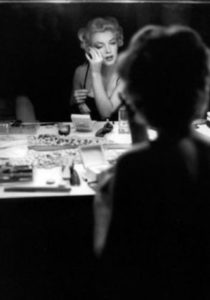 Marilyn Monroe at her dressing table Sam Shaw 1954
At the heart of Silenos composition is the evocative combination of Florentine Iris and Vanilla, hardly evident at the offset just the merest hint, it strides off the skin after a short time with a confidence and combined innocence which is utterly alluring, again drawing us as women in the 21st century into a time when we could be unashamedly feminine, secrets of the powder room and the wardrobe, the elegance of timeless Grace.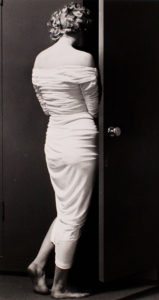 Marilyn Entering Closet, 1952 by Philippe Halsman
This is the secret heart, the one that resides under the surface of feminine beauty, that alluring whisper of something beyond. Of warm inhibited trysts and of heated moments, beyond the mask of persona, all the while the base notes peek out from under the sheets and give you just a hint of what is to follow.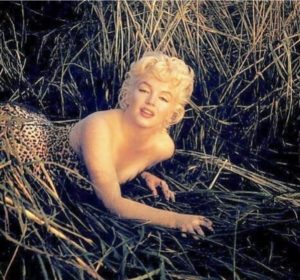 Marilyn Monroe Photo Eve Arnold, 1955
Underpinning the whole is the tentative foundation of Mysore Sandalwood and White Musk, both of these fragrances subtle in their strength with a softness that belies their longevity. Something that is reflective of Marilyn as she had a dynamism and fortitude which often overlooked her fragility.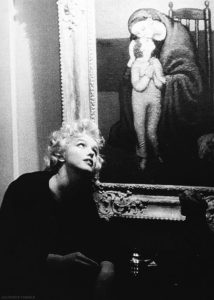 Marilyn Monroe in front of Picasso's "Motherhood"
As it warms and reflects the wearer, MM is at once soft, sensual and erotic, vulnerable yet strong and echoes its foundation through the scent's composition accompanied by a beautifully enticing vanilla that never quite disappears and a haunting wisp of hyacinth, which intrigues. On the dry down it becomes so utterly Feminine as to echo the Nature of Women everywhere.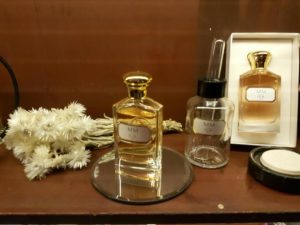 MM, Aqua Flor, Firenze 2016
In Silenos' words 'this work is the most intimate and intense stretch of Woman.'
Marilyn photographed by Milton Greene, 1956
And that we meet here a deeper and more reflective part of Marilyn; I find this scent to be a revelation beyond our perceived imagery of this iconic woman, beyond the media hype and famous companions. I find here a true discovery of Marilyn in all her facets skilfully crafted to reveal her; it's as if he has reached into the ethers of memory and legend to carry forward what truly defined her and what haunted her. MM is a homage to the fascination that is Marilyn Monroe and all Women.
Notes: Floreal of Rose, Jasmine, Florentine Iris, Madagascar Vanille, Mysore Sandal and White Musk
Disclosure: I received my sample from Aquaflor, opinions my own
Danu Seith-Fyr, Guest Contributor with contributions by Michelyn Camen Editor in Chief
Editor's Note: For the past three years I have paid tribute to Marilyn Monroe on Facebook with Marilyn Monday and I have accumulated hundreds of photos; it was with great pleasure that I am able to post them here. MM is a limited edition and quite rare, so please like Aqua Flor on Facebook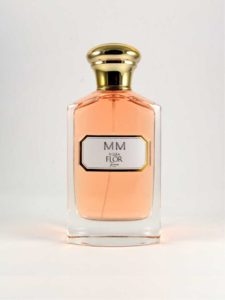 Thanks to the Creative Director of Aquaflor Firenze, Antonio Artese, we have a draw for a registered reader, Worldwide (you must be registered to be eligible so click here and follow the prompt) for a 100ml bottle of Aquaflor MM, a tribute to Marilyn Monroe.To be eligible, please leave a comment telling us what you most liked about Danu's review, if you have heard of Aquaflor Firenze perfumes before, where you live and your most vivid impression of Marilyn Monroe. Draw closes 12/16/2016.
We announce the winners only on site and on our Facebook page, so Like Cafleurebon and use our RSS feed…or your dream prize will be just spilled perfume