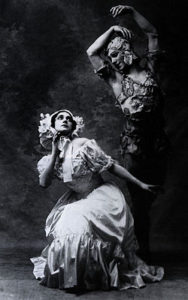 Karsavina and Nijinsky via wikipedia
"Mon destin fut digne d'envie
Et pour avoir un sort si beau
Plus d'un aurait donné sa vie
Car sur ton sein j'ai mon tombeau,
Et sur l'albâtre òu je repose
Un poète avec un baiser
Écrivit: "Ci-gît une rose
Que tous les rois vont jalouser."
~ Théophile Gautier
My destiny was to be coveted
And to savor so fair a fate
More than one would have given his life
Because your bosom is my resting place,
And upon the alabaster where I slumber
A poet has inscribed with a kiss:
"Here lies a rose
Whom all monarchs will envy."
~ my translation

Smell Festival banner courtesy of Smell Festival
At the recent Smell Festival held in Bologna on May 28th, Cafleurebon covered the Outsider Scent Awards in which Berlin-based natural perfumer Tanja Bochnig won third place for her scented submission "Pink Wood – Pink W(oud)".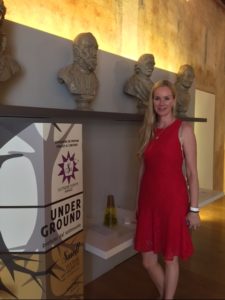 Tanja at OSA! The Outsider Fragrance Awards in Bologna
The theme this year was "Roots", and as previously done, the perfumes were blind-judged to disparage any potential favoritism. I recently invited perfumer Tanja Bochnig to share some her reflections regarding the subject of 'Roots' from a personal standpoint. Tanja has traveled extensively throughout her life and careers (model, yoga instructor, aromatherapist, perfumer – to name but a few), and her native birthplace, Germany, is a grounding place for her earliest memory, along with close familial relationships.
Tanja harvesting roses in Turkey photo Tanja Bochnig
She left Germany at an early age, living "all over the world for 20 years, mainly in the U.S., I feel very much at home there and I have made many friends that I call 'family'. If we search for roots outside of ourselves, we do get disappointed…Ultimately, I realized that we are only really "home" within ourselves, and that can be anywhere in the world. So finding that place of safety and comfort within ourselves, within our own "heart center" (I did practice and study of yoga), and creating a new family for ourselves, is where we call home"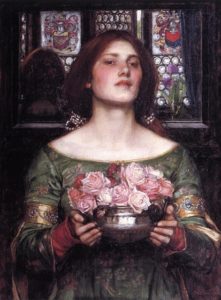 Tanja describes her perfume as being equal parts 'pink notes' and 'earthy notes' – an unusual concept, one that materialized upon my flesh as absolutely (sic) brilliant. It's a perfume I will purchase as soon as it becomes available – which, unfortunately, will not likely be before late summer/early autumn. It's not often that I'll profess that – so let's examine why.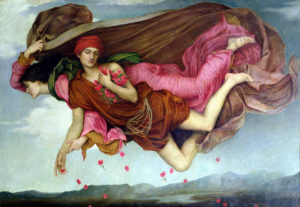 Evelyn de Morgan Night and Sleep wikidpedia
Pink Wood is heartachingly lovely from start to finish: a Perfumed Sigh.
It possesses excellent longevity, especially considering the ephemeral nature of purely botanical perfumes, which frequently manifest as a fleeting joy, an evanescent scented wraith. Its composition is significant in that – essentially – Pink Wood consists of heart notes and base notes which intertwine themselves throughout the perfume's development.They achieve this seamlessly, because Pink Wood feels like a living, breathing entity.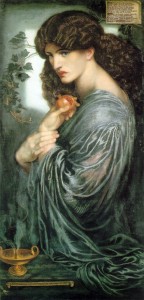 Dante Gabriel Rossetti Proserpine
The perfume's grounded, rooty/earthy aspect emerges at once: you feel the presence of oud, of a finely aged patchouli. Oakwood lends a rummy, bourbon-like tone with ghostly echoes of spice; very complex, soft-woody and even vanillic (along with that inevitable trace of tannin). Cistus labdanum unfolds its decadent, darkly-hued richness and fills us with languor. Of course, there is sandalwood – the radiant lady-in-waiting to Queen Rose.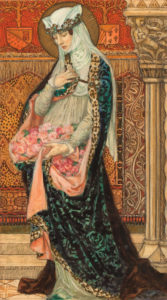 Elisabeth Sonrel Renaissance woman
(Sandalwood and rose together reminds me of Indian ruh gulab which often combines them together: the sandalwood distillate utilized as a vehicle for rose oil. One more olfactory delight to savor along the way…)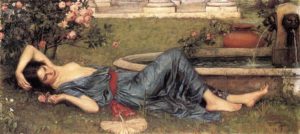 John William Waterhouse Sweet Summer
Just wait: those gloriously honeyed roses fairly sing, embellished by rose geranium and rosewood (another favorite fragrant substance). They serve to elevate the heftier notes, soften the edges and create an atmosphere of harmonic rondeur.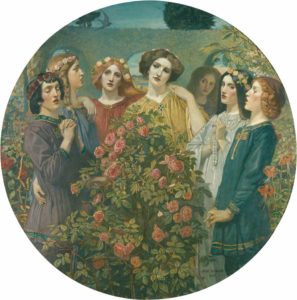 Hymn To A Rose John Duncan
Oh, so pink! Oh, so rosy! Did I mention my madness for rose? The way she manages to prevent squabbling, fosters olfactory peace, glows on her own terms? She can hide behind the perfumed curtain – but in Pink Wood, she's the Prima Ballerina. On my skin, she doesn't precisely upstage those impassioned carnal notes; the ensemble is what matters – but you won't forget her performance in a hurry, I assure you.Hours later, she enfolds me. I am smitten. There it is…
Notes: rose otto Turkey, Bulgarian rose absolute, Brazilian rosewood (sustainable), geranium bourbon (China), infused rose quartz, Earthy Notes: Indian and African sandalwood, Omani oud, oakwood, Spanish cistus labdanum, Indonesian patchouli
Sample provided by April Aromatics, with many thanks. Opinions my own
~ Ida Meister, Senior Editor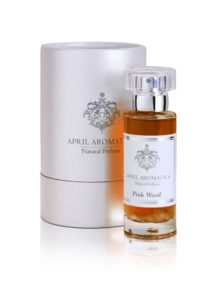 Thanks to the largesse of April Aromatics, we have a 2.5 ml sample of Pink Wood, which will not be available until late summer for 1 registered reader (you must register here) Worldwide. o be eligible, please leave a comment about what appeals to about Pink Wood you based upon this review, your favorite woody/rose perfume and what you feel your roots to be. Please include where you live and your favorite April Aromatics perfume. Draw closes 6/18/2017
We announce winners only on site and on our Facebook page – so Like Cafleurebon and use our RSS FEED…or your dream prize will be just spilled perfume.