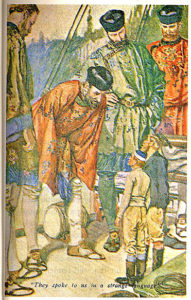 Olaf and Jens Jenson amonst the giants
A legend for some, but for others reality. The Earth is, just like the other planets, hollow and its cavity is a place where beings live, similar to humans. Their physical and mental qualities, technology and a method of communication, as well as ethical standards, are more progressive than ours.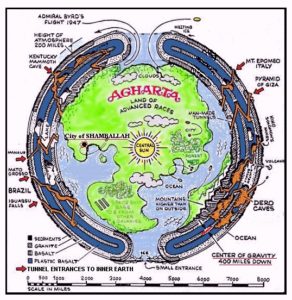 The year is 1829. Fishermen, father, and son Jens and Olaf Jensen in the midst of one of their fisheries decided to sail further north, in search of the mythical land far beyond the "North Wind", inside of the Earth which is commonly known as Agartha. Strange events happened, but they came to the land of their dreams, unimaginably beautiful. Situated inside the Earth's hollow and lit up by the inner sun, called The Smoky God, this place is a haven for species that vanished from Earth's surface long time ago. Hospitable and friendly residents live for hundreds of years because of their healthy lifestyle, food, and cohabitation with nature. Compared to humans, people are giants, the environment is ecologically perfect, and grapes are like oranges, more delicious than we can imagine. Travelling in vehicles driven by the energy that Nikola Tesla dreamed about decades later, they visited several cities, including breathtaking Eden with its wondrous garden.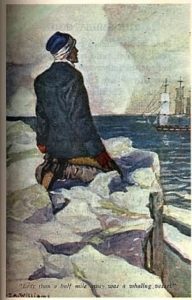 The Smoky God by Willis George Emerson
Demystifying the secrets of the inner Earth, and after they had met the ruler of the world, they decided to return to the surface of the Earth, this time through the south opening. The father lost his life during a storm, but Olaf came back to Stockholm. After he had told his stories, he spent 28 years in a mental hospital. Finally released, Olaf was silent until the end of his life, when he told the story to Willis George Emerson, who published it under the title The Smoky God.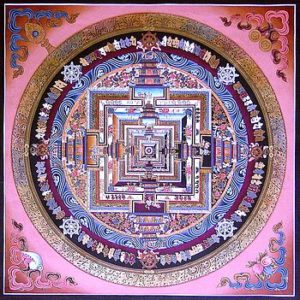 Shambhala
Stories about the inner earth are part of the cultural lore of many countries and have spanned many eras. The most famous is from the Tibetans who believe in the existence of Shambhala, the underworld city that is the guardian of the wisdom and knowledge of the universe. It is the capital of Agartha and mirrors the timeless, hidden archetype of our souls.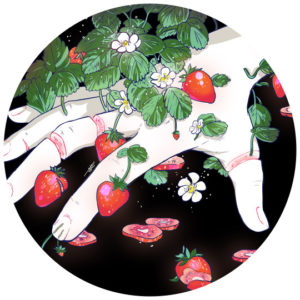 Aster Hung www.asterhung.com
April Aromatics' new perfume Agartha opens fruity, ambrosial evoking an Agarthian's favorite food. Such a beginning means the possibility of healing power; like a guardian that helps us look for the path that our soul needs to discover. It reminds me of orchards of otherworldly peaches, apples, and mangos. Mimosa emerges from the fruits a bit hazy, reminding us that it is not easy to find the entrance to our soul because such knowledge is possible for those who are willing.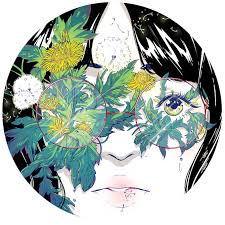 aster hung www.asterhung.com
Like an ethereal door, mimosa opens and light pours in as the fruit warms bright and ripe. Next, Agartha becomes magical with the sweetness of Honey, Hay, and Cardamom. As the Honey flows, the floralcy of the mimosa is heightened and the the scent of Honey is alive in the air, rich and sweet, but never thick displaying transparent and liquid feathers, delicately spiced with Cardamom. Each ingredient is purposeful: honey symbolizes abundance and prosperity and is a connection tthe primoridial. Cardamom manifests the feminine principle, and brings to light hospitality and warmth of our soul. The sweetness in never cloying, but the use of Hay, first slightly dipped in honey, gradually shows its drier form, while carrying the precious warmth of the perfume. Hay is the symbol of health, relaxation and fulfillment. I am taken back to my childhood at this stage and I am a young boy again, the sun is hot and I am running through high grass still slightly wet from mornng dew.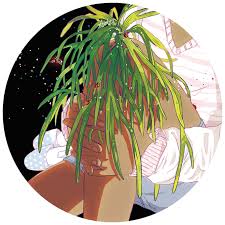 aster hung www.asterhung.com
Never dominant, the base notes stay wth me a long time… slightly present, barely noticeable. While functioning as a grounding for other notes and a counterpart to Agartha's sweetness, each ingredient carries a symbolic role that appears in different forms; the sacredness of tobacco, the spirituality of labdanum, the mystical enlightenment of oud. Patchouli reminds me of our connection with the Earth. Almost hidden and used deftly in small quantities, the drydown provides an energy balance and gives completeness of Agartha.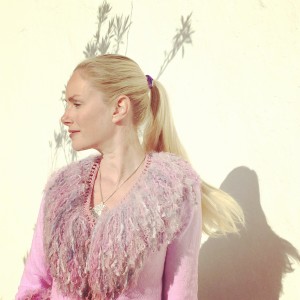 Tanja Bochnig photo courtesy of Tanja
Agartha is a perfume that leads our souls into the Land of the Living gods. I found this perfume profoundly spiritual and special as it is a form of mystic travel that unites one soul with the many, with all souls of humans past and present and with the earth. Tanja Boching suggests inhaling the perfume from a tissue or a handkerchief; I tried it my arms as well as on a silk scarf and both applications were fragrant all day. Breathe in Agartha, and let this perfume take you on a vision quest that provides a glimpse of hidden dimensions of your soul, this is where you may re-discover some of the most valuable powers – inner balance and happiness.
Guest Contributor: Damir Gašljević with Contibutions from Michelyn Camen, Editor in Chief and Art Director
DISCLOSURE: Tanja Boching provided me a sample of Agartha for review. Opinions are my own.
Editor's Note: Agatha is a special limited edition of 22 bottles and there are only two bottles in stock at the time of this posting. I want to thank Damir for this spiritual review and sharing his unique olfactive experience.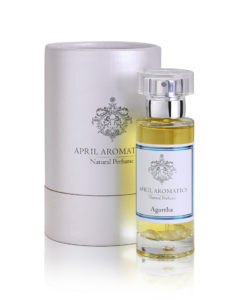 Thanks to the generosity of Tanja Boching of April Aromatics, we have a draw for 2.5 ml sample of Agartha for one registered reader worldwide (be sure to register or your comment will not count). To be eligible, please leave a comment with what you enjoyed about Damir's review, if you consider yourself a spiritual person, where you live favorite April Aromatics Perfume. Draw closes 12/21/16.
We announce the winners on our site and on our Facebook page, so Like Cafleurebon and use our RSS option…or your dream prize will be just spilled perfume