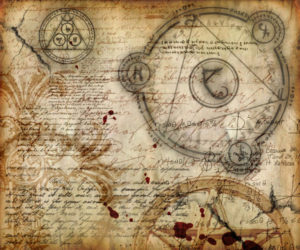 Grimoire by Autumn Frost Angel, DeviantArt©
A grimoire is a manual of magick, a primer in potions, a textbook of talismans. Stored in the pages of ancient vellum are spells, divinations, incantations and lists of the substances used to invoke the spirit world.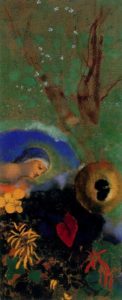 Homage to Leonardo da Vinci, Odilon Redon, 1908
I would not be surprised to find in a dusty grimoire the recipe for Anatole Lebreton's strangely splendid fragrance of the same name. His Grimoire is an herbal, animalic incense fragrance, imbued with the skewed, chimerical beauty of an Odilon Redon painting.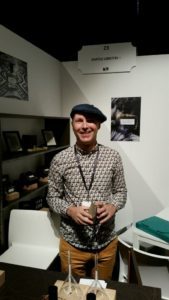 Anatole Lebreton, photo taken by Michelyn at Esxence, Milan
Although his line launched in 2014, Anatole Lebreton was new to me and one of the most exciting discoveries at Esxence last month. His line contains 5 fragrances, of which Grimoire is the newest, each made unique by his individual, off-kilter artistry. Lebreton's perfumes display an audacious originality, and once smelled, once addictive. You have been warned.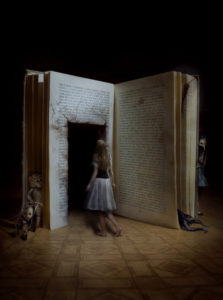 Photo manipulation by Diana Dihaze©
Grimoire has an anachronistic quality that makes it seem as though it originated in a steampunk lab or time warp. It perfectly balances traditional aromas straight from the pages of Culpeper's Herbal with an obliquely modern sensibility.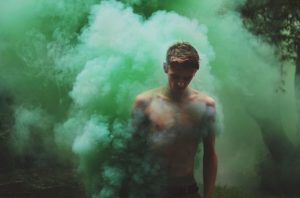 Photo saved from P‫interest, MyphotoHub
Its opening feels like a slowly moving kaleidoscope in which green notes blend into and then separate from incense, smoke and woods. With its puff of sweet, fumy elemi and olibanum and the bittersweet bite of dried herbs, Grimoire's first moments smell like a hookah smoking in a medicinal garden. I half expect to look up and find the Caterpillar from Alice in Wonderland asking me who I am.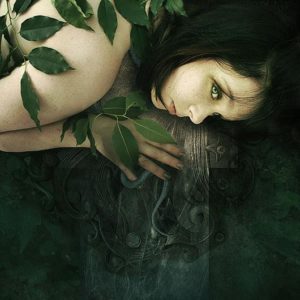 A Natural Disaster, photo taken from Multyshades.com ©
A vivid, biting bergamot cuts through the seep of smoky incense in Grimoire's opening moments. This incense is not remotely churchlike, but damp and mossy like olfactory verdigris. As the bergamot loses its sharp edges, dried lavender and basil tumble forward, and Grimoire becomes less citric, more herbal. A fresh smelling cedar comes through followed closely by a horsey tang of cumin.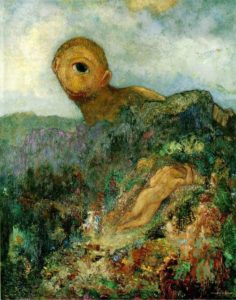 The Cyclops, Odilon Redon, 1914
In the dry-down, Grimoire's incense, while still very much at the center, becomes dreamy and musky. Moss comes through more assertively than it often does as a base note, chorusing with a very herbal lavender and emphasizing the fragrance's turned- earth-in-the-garden aspect.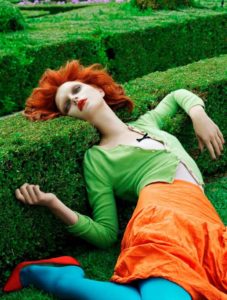 Photo by Steven Meisel, Vogue Italia, Aug 2004 ©
In an enclosure of a garden maze, you doze, a book of ancient herbology half open on your lap. Mossy beds from which great puffs of lavender spill messily onto pebbled paths are guarded by topiary that seem to watch. The air is thick with the centuries-old smells of trees and herbs. Soon, moist incense curls around your chair, like a fallen tree trunk set alight to smolder. An incantation repeats in the wind. The spell is cast.
Notes: Bergamot, basil, lavender, elemi, frankincense, Seville lavender, Atlas cedarwood, cumin, patchouly, moss, musk. Sillage is moderate and longevity is excellent, lasting all day.
Disclaimer: Sample provided by Anatole Lebreton – many thanks. My opinions are my own.
– Lauryn Beer, Editor
Editor's Note: Grimoire was a favorite of the ÇaFleureBon team who traveled to Esxence 2017 (Lauryn, Ermano, Sebastian and me). Anatole Lebreton won Our 2016 Rising Star Award and Incarnata received A 2016 Top 25 Best of Scent.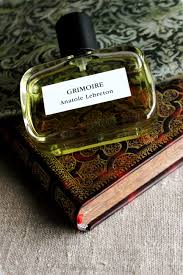 Grimoire, photo Anatole Lebreton
Thanks to the generosity of Anatole Lebreton, we have a reader's choice for one registered reader in the U.S., Europe or Canada
Choose a 50 ml bottle of Grimoire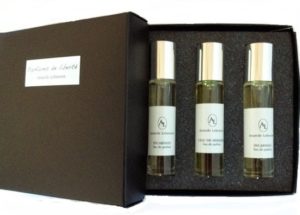 or
a travel set with three x10ml different perfumes of your choice: Incarnata, L'Eau de Merzhin, Bois Lumiere, L'Eau Scandaleuse and Grimoire. Don't know how to register? Just click here so your comment will count.
Please leave a comment with what appeals to you about Grimoire based on Lauryn's review, where you live and if you could cast a spell, what would it be? Please leave your choice in your comment and if you choose the travel set which fragrances you would like to win. Draw closes 5/6/2017.
We announce the winners only on site and on our Facebook page, so Like Cafleurebon and use our RSSFeed …or your dream prize will be just spilled perfume