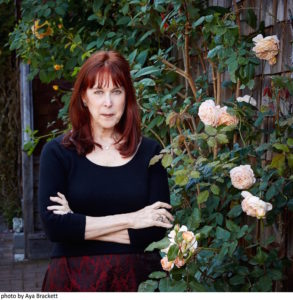 Mandy Aftel of Aftelier Perfumes (Photo courtesy of Mandy Aftel Aya Brackett)
Aftelier, the House that Mandy Aftel built, has released a new perfume, Memento Mori: a very personal endeavor for Mandy Aftel and one which is not without a deep sense of pain and recovery. As the name implies, this is the aroma of love, loss and remembrance. A "memento mori" ('remember you have to die', Latin) is a piece of art or symbol of mortality; hopefully turning one's attention to the spiritual rather than the worldly (often used as reminders of one's lost loved ones.)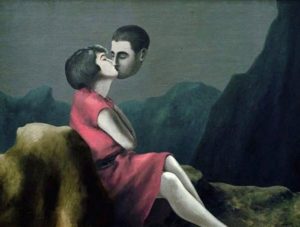 René Magritte The Lovers
Turning up as beautiful, if not somewhat eerie, "mourning jewelry", Mandy has created an olfactory version of this ritual, saying, "Memento Mori is about the tender memories of the skin and body of someone with whom you have been intimate, and the ways that you treasure and long for that which you remember when they are lost to you."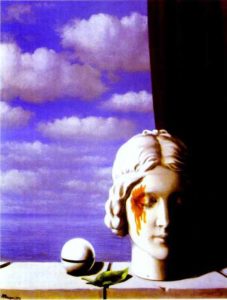 Memory René Magritte 1948
Memento Mori opens as any forlorn memory would- with a piercing quality which is simultaneously intriguing and uncomfortable. It is inescapable. As with memory, the pain, upon further inspection, is momentary- and we begin a journey into assuaging the past. As if from out of suitcases of memories, Memento Mori is animalic, in an antique way- as memories of a loved one would surely contain the records of their skin, their touch and any heat produced between you.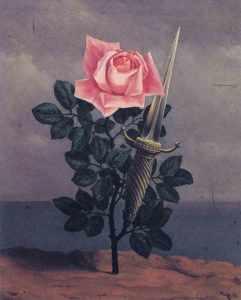 René Magritte Le Coup au Coeur 1952 The blow to the heart
Rose, perhaps best associated with love affairs, blooms center on this already musk canvas and what may have been previously difficult begins to change into something more familiar and sweet. Similarly, when we are confronted with a difficult memory- the loosing of a beloved- if we sit with this memory, we are able to conjure the beauty of the relationship and not simply rest in the pain of the loss. This succor seems to be Memento Mori's mission.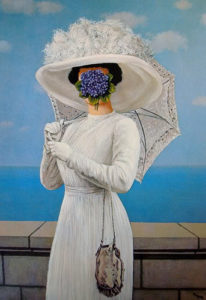 La Grande Guerre 1964 René Magritte
Further in, woody and lactonic notes come into play and it is here the musk becomes "golden". That is to say there is a cleanliness about the musk; not difficult in any way- it's almost a misnomer to call it 'musk'- as slowly the sex is washed away, leaving clean skin and violet as the take away. Violets are associated with death and funerals in both Greek and Roman cultures, and still today in some circles.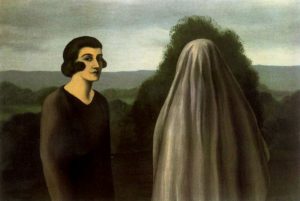 The Invention of Life René Magritte
I would not mistake this for ia perfume about death; while a loved one may have parted (the notes are classic for the theme)- the newest Aftelier perfume proves true the thought that no one dies if they live on in our thoughts and hearts. It is a tender moment of allowing oneself to experience grief and offer one's self solace in the sweetness of memories. A surprising discovery is Memento Mori is vastly different on paper than on my skin. My skin produces a strong fruit note through the first half of the journey and a foin note seems to follow throughout the wear. Also, as Mandy has used a base of both alcohol and fractionated coconut oil, some of aroma is fleeing from my skin while some become softened and clinging for an extended period. I found this representative of the ethereal or emotional state of memory- that which is mutable and changing with time and perspective; while the Fractionated Coconut Oil correlates to the physical response of memory- something more tangible and lasting.
Notes: orris butter, phenyl acetic acid, Turkish rose, beta ionone, ambreine, ambergris, antique civet and patchoulyl acetate in a special base of organic alcohol and fractionated coconut oil.
–Einsof, Natural Perfume Editor
*disclosure: My sample was the parfum and provided by Aftelier for review.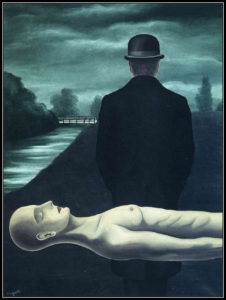 René Magritte – Les rêveries du promeneur solitaire (1926)
Art Direction: Michelyn I purposely chose the art of Rene Magritte, the surrealist whose paintings bridged reality and illusion. Many historians believe his work was heavily influenced by the death of his mother. I made the decision NOT to include memento mori photos.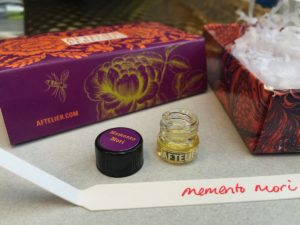 Memento Mori samples from Mandy's Twitter Feed
Thanks to Mandy Aftel we have a deluxe sample (2x the regular size) of both the EDP(2ml) and Parfum (1ml) of Memento Mori for a registered reader worldwide you must register or your comment will not count. To be eligible please leave a comment with what you liked about Einsof's review, a memory of a loved one you would love to create a perfume for , where you live and your favorite Aftelier Perfume. Draw closes September 19, 2016
We announce the winners on our site and on our Facebook page, so Like Cafleurebon and use our RSS feed…or your dream prize will be just spilled perfume