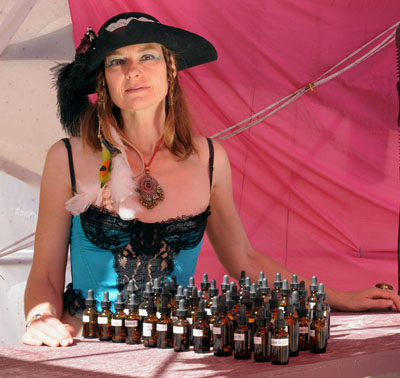 Perfumer Amber Jobin at Burning Man 2014
Amber Jobin, the perfumer for Aether Arts, was an apprentice to Dawn Spencer Hurwitz, the perfumer for DSH Perfumes, but has stepped into the perfume world fully as her own. This year she won an Arts and Olfaction Indie award for in the Artisan Category, for her perfume John Frumm. She creates perfumes inspired by the Burning Man theme; John Frumm was the "Cargo Cult" perfume for last year, and this year the theme was "Caravansary: The First Information Highway", paying homage to the Silk Road.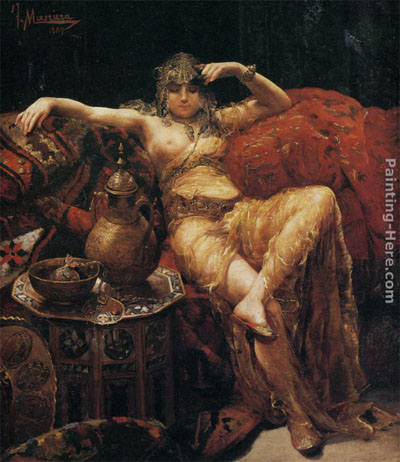 Odalisque by Francisco Masriera y Manovens
For Ms. Jobin, the obvious answer to that theme was an incense perfume, but instead of frankincense, she used cannabis to produce Incense Indica, Burner Perfume No. 5.. Ms. Jobin explains: "I wanted to convey a real sense of place and experience with this perfume—a sort of magic carpet ride for the senses. I wanted the wearer to smell the notes and see a beautiful and exotic scene—an Odalisque in a Pasha's Tent. You smell incense burning, the cannabis in the water pipe, the sweet honey from the hashish-laced Majoun that you enjoy as you recline on silken pillows and carpets."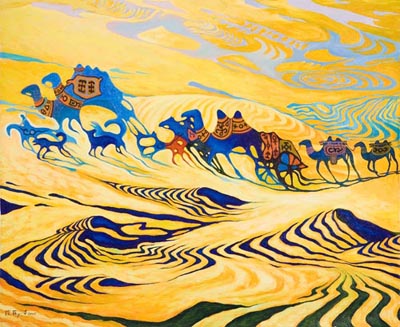 Morning Calm by Tsegmed Tserennadmid
Incense Indica opens with a great cannabis note that is green, but almost sticky, like the resin on a bud of weed. It becomes sweet from a complex honey. Trust me, I am on the journey that Ms. Jobin described. Every sniff of the wrist is different. Sweet, waxy, a bit of indole, the smell of dust motes rising from the pillows and blankets, creating swirling patterns in the air. You wave your languid hand in the air to stir them up, and more exotic smoke fills your nostrils.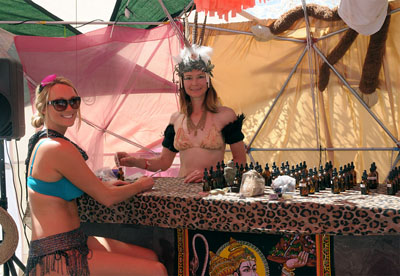 Amber Jobin creating perfume at Burning Man 2014
This perfume oil is all about time and place and it is very successfully done. I enjoyed every moment of the journey, and loved the cannabis twist. Ms. Jobin takes her perfume with her to Burning Man, and shares with her fellow burners as well as making custom fragrances. I could see wearing this in the desert, on the Playa. It's not only beautiful, it's calming and made me feel all languid in colorful skirts.
Notes: Cannabis, Opoponax, Choya Loban, gourmand honey note, Moroccan Myrrh, Sambac Jasmine, Fossilized Amber, Atlas Cedar, more Choya Loban, and Exotic Woods.
My sample was obtained from Amber Jobin at Aether Arts. It is available in 5.5 ml roller bottle for $58, and 9 ml roller bottle for $109 on the Aether Arts Esty shop.
Thanks to the generosity of Ms Jobin we have a draw for a 5.5 ml rollerball for readers in the US and worldwide. Just let us know if you have a favorite Aether Arts perfume, what appeals to you about this one, and where you live. Draw Ends 9/20/14.
We announce the winners only on site and our Facebook page, so like CaFleureBon and use our RSS option…or your dream prize will just be spilled perfume.