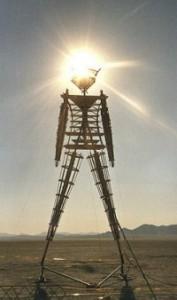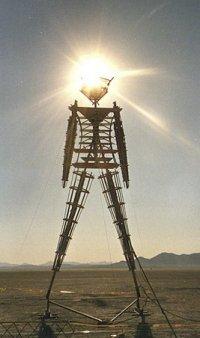 Burning Man
Cities grow slowly, evolving like living beings adapting to the culture and needs of the people. Some cities leave their mark forever; others are buried in time and soil, forgotten. At Burning Man, a city is built in days, inhabited for a week, and then carried away leaving not a trace on the harsh desert playa where it once stood. Burning Man is a festival held in the middle of the Nevada desert that embraces principles such as inclusion, gift giving, self-reliance, self-expression, and civil responsibility. Each year, an art theme is selected as inspiration for participants, giving guidance and direction to the creations brought to the festival.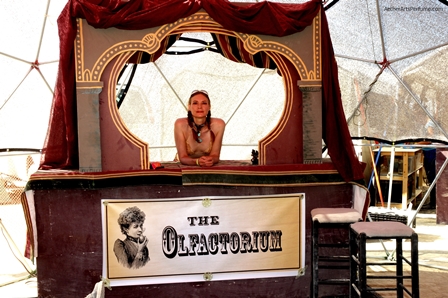 Amber Jobin of Aether Arts at Burning Man 2015
Art & Olfaction Award Winning perfumer Amber Jobin of Aether Arts Perfume has been attending Burning Man for the last 10 years. In 2010, she created her first perfume in the Burner series inspired by the theme Metropolis: The Life of Cities. Burner Perfume No. 1: Black Rock City was given out as a gift at the festival but was never released commercially.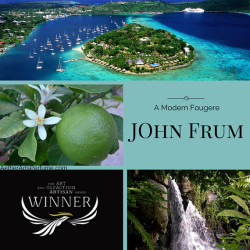 Art and Olfaction Award winning John Frum by Amber Jobin
Burning Man 2013 was themed Cargo Cult, and Amber created Burner Perfume No. 4: John Frum inspired by the figure-head of the Vanuatu Cargo Cult. John Frum won her the 2014 Art and Olfaction Award for Best Artisan Perfumer.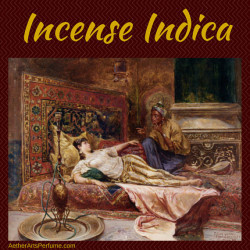 Incense Indica
Burner Perfume No. 5: Incense Indica was inspired by Burning Man 2014's theme Caravansary and the early caravans that traveled the Silk Road. Incense Indica earned Michelyn's vote for Amber as a ÇaFleureBon. Rising Star on 2013.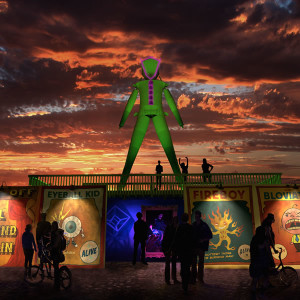 Burning Man Carnival of Mirrors 2015 via burningman.org
While at Burning Man 2014, Ms. Jobin experienced a powerful thunderstorm sweeping across the desert, both fierce and nourishing. Water pooled across the desert's floors, reflecting back the sights and structures reaching up towards the sky. This moment was the perfect inspiration for Burner Perfume No. 6: Reflection, shared at Burning Man 2015, themed Carnival of Mirrors.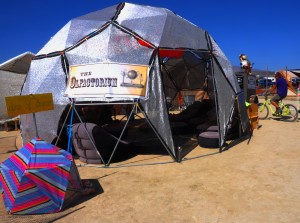 Burning Man Festival 2015 Tent set up by Amber The Olfactorium
In addition to gifting the perfumes inspired by each year's art themes, Amber and her husband set up a geodesic dome to provide a bit of shade from the hot and burning sun, complete with inflatable lounge chairs to relax in. It is in here that she sets up the Olfactorium, where she sets her perfumery talents to work creating about 40 custom perfumes in the week for friends and fellow community members at Burning Man.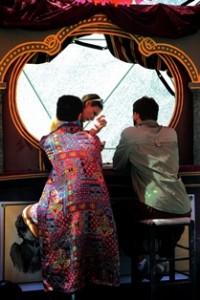 Amber creating custom perfumes for Burning Man attendees
About this experience, Amber tells us "While the hot, dusty conditions make perfume design a challenge, I love the intimate interaction the process fosters. It is such a unique way to meet and get to know someone while making a very personal gift for them. It is one of my favorite parts of Burning Man."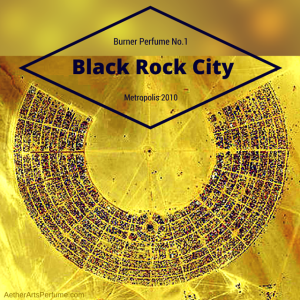 Amber first created Black Rock City for Burning Man 2010 and is now releasing it to the public
Burner Perfume No. 1: Black Rock City takes its name and inspiration from the Black Rock Desert where Burning Man is held each year and honors the harsh, arid desert landscape. This year, Ms. Jobin is making this first Burner Perfume available to all. It opens with the dry and dusty scent of the sunbaked desert. The winds sweep around you, pelting you with sand while immersing you in the scents of the few plants resilient enough to survive the brutal conditions of the playa: juniper wood, sagebrush, and mesquite. Though the environment may be unforgiving, there is a stillness and beauty to be found here that can never be found in the city dweller's life. Black Rock City helps reveal this experience to the wearer, provoking quiet contemplation in solitude. The winds finally subside, yielding to a woody and balsamic vanilla base. Black Rock City is an oil-based perfume and wears close to the skin with limited projection. The longevity is good, lasting several hours. It has a high percentage of natural ingredients, 95%, with only 5% synthetics to achieve its unique effects.
Notes: Sage, Sunshine, Mesquite Blossom Accord, Sage Blossom Accord, Texas Cedar, Mesquite Wood Accord.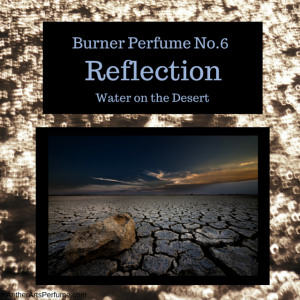 Burner Perfume No 6 Reflection on the Water by Amber Jobin of Aether Arts
Burner Perfume No. 6: Reflection was developed as a sister scent to Burner Perfume No. 1 and captures a turbulent thunderstorm bringing relief and rain to the harsh, arid ecosystem. It opens with wet, dewy notes of rain to nourish the desert life into bloom. The sagebrush blossoms, the cacti flower and begin to form fruit, the yucca plants drink deep and send forth spikes to hold their bell-like buds. The abundance of water is swiftly taken up to sustain life until the next storm comes, and soon the dry desert sands return, sweetened by the joyful celebration of flowers the rainfall inspired. Reflection is a blend of natural and synthetic aromatics in an oil base. It wears close to the skin. Like the rains greedily swallowed up by the desert, my skin seems to soak up the nourishing oil of the perfume and I experienced shorter longevity with the scent. Others may find it to last longer on them.
Notes: Sage, Ozone, Rain, Yucca Blossom Accord, Cactus Flower Accord, Sage Blossom Accord, Texas Cedar, Mesquite Wood Accord.
For a unique, multidimensional experience that I found mind-blowing, Ms. Jobin recommends layering Black Rock City and Reflection together. It creates a symphony of contrasts that take you right to the heart of the desert.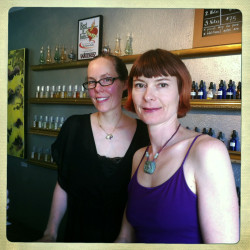 Dawn Spencer Hurwitz of DSH Perfumes with Amber Jobin
Much like cities, people grow and evolve as well. Amber Jobin has certainly done so, studying under one of the indie world's most talented artisan perfumer Dawn Spencer Hurwitz and continuing to practice her craft and explore new materials. The Burner Perfume series offers a wonderful glimpse at Amber's evolution, continuing to grow and expand her talents as she shares them with the world.
–Michael Singels, Senior Contributor & Natural Perfumery Editor
Disclosure: Samples of Burner Perfume No. 1 & 6 provided to me by Aether Arts Perfume for review. Samples of Burner Perfumes No. 2, 3, 4, & 5 were purchased by me from Aether Arts.
Thanks to Amber Jobin of Aether Arts Perfumes, we have a draw for our USA, Canada and EU registered readers (you must do this and use your registered name or your commetn won't count) of a set of 10 ml rollerballs of Burner 1 and Burner 6. To be eligible, please leave a comment sharing what appeals to you about the new Burner perfumes (which one you might like most), if you have heard of Burning Man Festival and where you live. For your comment to count twice, please like the Aether Arts Perfume page on Facebook. Draw end 9/30/15.
We announce the winners on our site and on our Facebook page, so Like Cafleurebon and use our RSS option…or your dream prize will be just spilled perfume.