"Old paint on a canvas, as it ages, sometimes becomes transparent. When that happens it is possible, in some pictures, to see the original lines: a tree will show through a woman's dress, a child makes way for a dog, a large boat is no longer on an open sea. That is called pentimento because the painter "repented," changed his mind. Perhaps it would be as well to say that the old conception, replaced by a later choice, is a way of seeing and then seeing again… " ― Lillian Hellman, Pentimento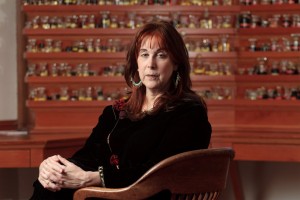 Pentimento is one of my favorite books of all time, and Lillian Hellman's quote came to me immediately when I learned that Mandy Aftel of Aftelier Perfumes was launching a fragrance she named Palimpsest. For bibliophiles, palimpsest is a similar concept to pentimento, where a manuscript on which the original writing has been erased and replaced with new writing, but letters or images still peek through.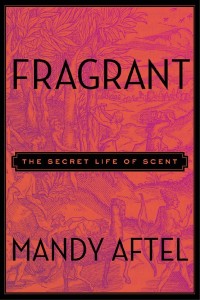 Mandy Aftel is set to release her highly anticipated new book, Fragrant: The Secret Life of Scent in October. She has spent years researching the history of fragrance from old manuscripts and volumes of books and the secrets she uncovered is the inspiration for her new perfume Palimpset. According to Mandy, "I felt as though I had stumbled into a secret old world of scent, whose story can still be read, in whispers and traces, beneath the story of the world we know. I wanted to capture the richness that you feel when you experience the past as alive in the present, creating the gorgeous complexity of life. Palimpsest captures the feeling of being in the Garden of Eden at midnight: lush, wild florals, forbidden fruit, and majestic creatures in hiding. The perfume undulates down through florals to its ambergris-laced, other-worldly drydown, and the base notes shimmer up through the top and middle notes in a seamless, scented wave. The base chord revolves around firetree, from the eponymous tree that Aboriginal tribes use in all its parts, for everything from sustenance (the sweet flowers) to food preparation (the leaves are sharp enough to cut meat), to fishing (spears made from the flower stems) to spiritual practice and folk medicine"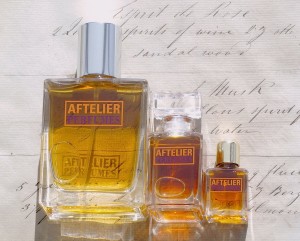 Palimpsest Perfume
She notes, "The essential oil, harvested under special permit from dead or fallen trees, has a complex and unique aroma, highly diffuse; its lilac and rose notes, with milky undertones, give way to a sweet and floral spiciness, then morph into a woody, earthy, slightly leathery note, and end in a smoky, oud-like drydown. The firetree makes a bond with the ambergris and the equally tenacious phenylacetic acid of the top note, with its initial sweetness of honey on a floral background and its powdery, animalic nuances—a bond that asserts itself early and changes over time, revealing glimpses of the perfume's rich floral heart and animalic base. Yuzu, the grapefruit-like essential oil, provides a contrasting brightness to the opening of the perfume. The gamma dodecalactone, with its soft, milky peachapricot note, drifts down to the vanilla absolute, enfolding the peach along with the banana facets of the ylang ylang extra in a rich gourmand note. Jasmine, peach and ylang ylang merge to create a suede-like floral heart. These complex essences together magically conjure phantom nuances of rose, tobacco, honeysuckle, and chocolate. Palimpsest folds back upon itself over time, the opening notes joining with the deepest notes and the aromatic traces of the earlier notes persisting in an intricate evolution. It allows you to experience the past in the present and the present in the past; in a whiff, it undoes the structure of time".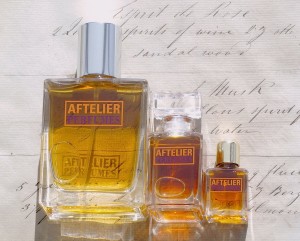 Palimpsest is available as a 1/4 oz. perfume ($170), a 30 ml EDP spray ($170), a 2 ml perfume mini ($50), and a sample size ($6) at www.aftelier.com and Fragrant: The Secret Life of Scent can be pre-ordered on Amazon.com here.
via Mandy Aftel of Aftelier Perfumes and Lillian Hellman Pentimento 1973
-Michelyn Camen, Editor in Chief