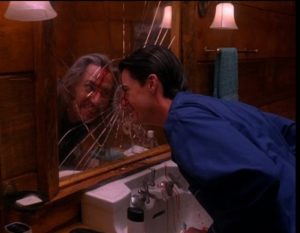 Twin Peaks Final Episode 29: Agent Cooper (Kyle McLaughlin) and Killer Bob (Frank Silva)
One of the greatest and most thought-provoking shows I remember being addicted to (before binge watching was even a term) was the surreal T.V. series Twin Peaks, which debuted April 8, 1990. It was only on for two seasons; it was so ahead of its time, so shocking and disturbing, that the network (ABC) cancelled it.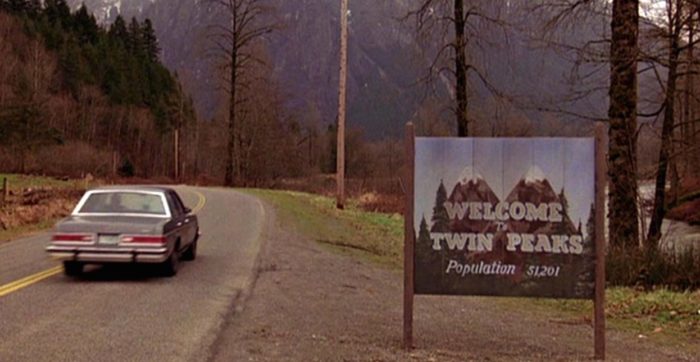 Twin Peaks population 51, 201 (original series)
Set in a small Northwestern town (population 51, 201) it still is considered to be one of the best murder mysteries to air on prime time and has a cult following. On May 21, SHOWTIME is bringing it back, 25 years later, as a limited edition series of 18 episodes.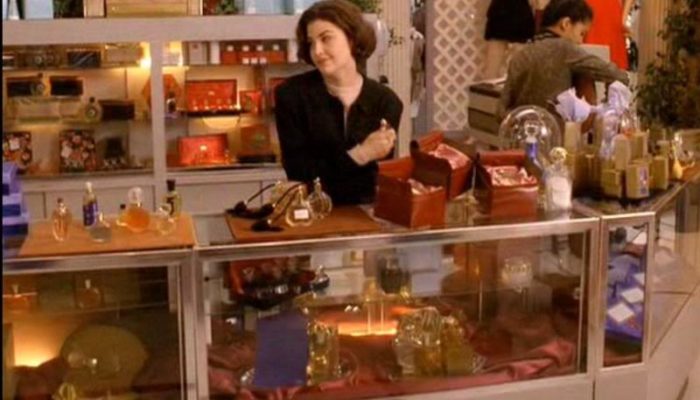 Sherilyn Flynn as Audrey Horne who also worked behind Horne's Perfume Counter
David Lynch, the director of the original show, along with Kyle McLaughlin (Agent Cooper) and many in the cast will be pick up where the original series left off. Since some of our readers may have been pre-teens when the show debuted, the plot revolved around the unsolved murder of Laura Palmer, the troubled young woman employed at the perfume counter of Horne's Department Store.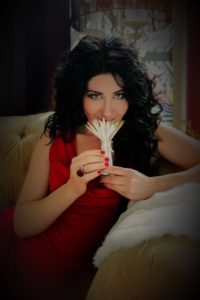 Christi Meshell of House of Matriarch
Perfume counter…Pacific Northwest… enter Christi Meshell of House of Matriarch who has never forgotten the haunting chords of the famous soundtrack, and the song Falling, which for so many of us super-fans, have kept the show alive throughout the years.
Over the years, Christi has returned to this soundtrack again and again; it was the music more than the plot that inspired her new limited edition perfume trio "The Wonderful and Strange". Coincidently, she lives near the Snoqualmie Forest where the series was filmed and has a deep connection to how those dark woods smell. When Christi saw a video of Angelo Badalamenti, recounting the story of how he and David Lynch sat together at his piano to co-compose the famous soundtrack, Christi began to imagine the aromas which seemed to accompany the famous question still being asked: "Who killed Laura Palmer?"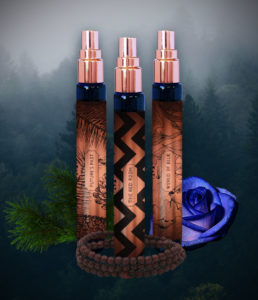 FUTURE'S PAST: Enter the enchanted forest at its darkest – and brightest. Sandarac, tamarack and balsam set a deep and haunting baseline as a minor chord of Snoqualmie Forest evergreens beckon and owl feathers flutter above the damp earth.
99% Natural.
THE RED ROOM: Deep and haunting – a powerful chord of western red cedar heartwood with melodic overtures of black currant over a baseline of leather, copaiba and incense. Yes, this is a red perfume, naturally colored by the red cedar heartwood.
100% Natural.
WORLD OF BLUE: Base notes of oud and natural heliotropin (both forbidden and rare) provide structure for the minor chord of coumarinic, deer tongue, blue lotus and elder. A cloud of powdery iris beurre imparts a melancholy dreaminess.
99% Natural.
LIMITED EDITION:100 Trio Sets, Signed and Numbered with Collector's Presentation
100 Individual Vials of Each Perfume with Collector's Presentation
Editor's Note: 13% of the proceeds from the sale of the Wonderful & Strange Trio will be donated to the David Lynch Foundation for consciousness based education and world peace.
You can pre-order The Wonderful and Strange Liquid Trio here now as shipments begin May 22, 2017
–Michelyn Camen, Editor-in-Chief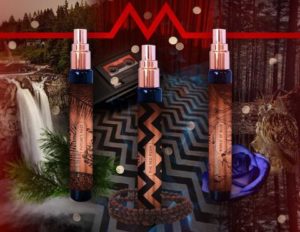 Thanks to the generosity of Christi Meshell we are offering 1 avant premier Wonderful and Strange Trio set 3 x15 ml valued at to a registered reader worldwide. To be eligible please leave a comment if you have watched Twin Peaks, your favorite character, which of the three new fragrances appeals to you the most and where you live. If you have a favorite House of Matriarch Perfume let us know. Draw closes 5/10/2017
Follow us @cafleurebon and @houseofmatriarch
We announce the winners only on site and on our Facebook page, so Like Cafleurebon and use our RSS feed…or your dream prize will be just spilled perfume.