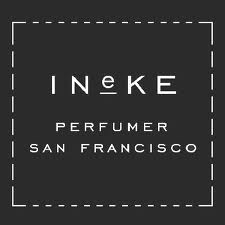 Some perfumers have a way with orientals. Others have a way with citrus aromatics and eau de colognes. Ineke Ruhland has a way with flowers. This adorable sampler collection highlights the "Floral Curiosities" collection of five fragrances and is, perhaps, the coolest packaging I have seen in years. While continuing to add to her alphabet collection, she took a little detour to spend some time with some wonderful, often overlooked, floral beauties. This is not a new collection, yet the sampler itself is; and exciting if, like me, you have never had the opportunity to smell all of these and have been dying to!!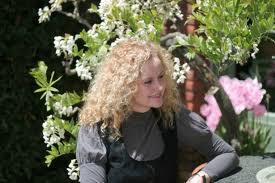 Ineke Ruhland
One of the "problems" with most "collections" is that most of the time they are variations of a common theme or scent structure; yet here each and every one of these is pleasing and unique. I always fear buying full bottles, especially five, unsniffed and ending up not liking or not wearing them. Many times too, small samples are just not enough to really make up one's mind. Here, you get 2.5 ml of each, information on each scent on a delightful "card catalog" type index card describing the flower, its scientific name and the notes the perfume contains. All of this is housed in a case that really looks like a library book; right down to the stamped date due card pocket inside the front cover, complete with a notice about per day overdue book fines.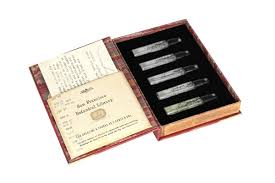 Many people today, sadly, never even venture into a library. Everyone reads on Kindle, or similar devices, and the internet and Wikipedia have taken the place of the reference section and good old Encyclopedia Brittanica. Some of my fondest memories, as a young manchild, were walking my dog(s) deep into the forest and letting them run wild while I lost myself in an epic book or series under a huge tulip tree looking down a mountainside to a swiftly flowing creek. It was here I traveled to Middle Earth, 1920's Australia, India, during the British occupation, and 17th century America. True, the words are the same; but, there is something, at least for me, missing or lost in dragging a page to the next, on a device, rather than turning an actual page. The feel of the cover and spine, the lettering the pages of thick paper that get more aromatic with each reader's essence left on the page until they have that "old book" accord I love so much are what is sacrificed in the name of progress. INeKE has captured that tactile sensation and added not only pictures and information…but amazing scents!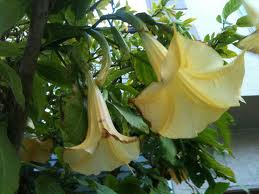 Angel's Trumpet (Brugmansia) is actually a member of the poisonous Solonaceae family (Deadly nightshade, etc…) with the seeds and leaves being especially toxic. Most fragrant in the evenings, this drooping flower exudes a sweet, slightly heavy aroma with fruity aspects. Ms. Ruhland opens this with Seville orange and honeydew melon, to complement the fruitiness, while leafy greens add a fresh verdant edge reminiscent of the vines upon which it grows. Slightly bitter cinnamon leaves and pungent allspice hint at the bitter "bite" many toxic plants have and give this a well-rounded but very subtle spiciness that teases, rather than dominates. A simple finish of white musk and cedar gives this a soft woody base to stand on with hints of subtle sexy wafts on fruity spicy floral remnants. Not your typical fruity/floral or just a soliflore-this is gorgeous! Sillage: good. Longevity: good.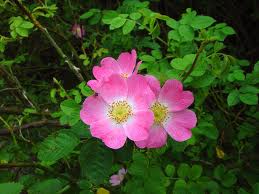 Briar Rose (Rosa rubiginosa) pays homage to the "fairy tale" rose cultivated in Europe since the1500's. With multiple simple pink flowers, many sharp thorns and leaves that, when crushed, exude an apple-like aroma; this is the Eglantine rose or sweet rose. This may look simple, but her aroma is simply intoxicating. Not the full lush rose many other bushes bare, this is a simple, rather green, innocent rose that reminds one of wild thickets, cool forests and frolicking in summer sunshine. Tart blackberries and green apple open this with a sharp injection of freshness and bolsters the sweet florality of this most unassuming of the roses. Bitter almonds, cinnamon, clove and cardamom add spiciness but they also hint at earth and fragrant wood. Violet adds a dusting of powder and elegance to the nubile fresh rose with cocoa absolute, vanilla and patchouli bring it to rest in a soft, almost fuzzy, shroud of comfort. Sillage: average to good. Longevity: good.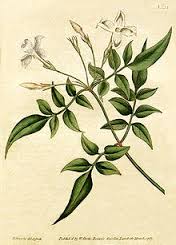 Poet's Jasmine (Jasminum officinale) shines a light on the hardiest jasmine of all; these have a heavenly fragrance that is indolic, but never overpowering. Rather than dwelling on the strictly floral qualities of this, Ms. Ruhland has chosen to underscore jasmine's beauty with notes as varied as citrus (for freshness) absinthe (hints of bitter green) and star anise (for heat and warmth). Accompanied on either side by frankincense and cardamom, she is stronger and fuller, but still utterly floral. Smooth and spicy, yet still silken and aromatic, this rests in the shade of light and green hinoki wood and smooth dark guaiac wood and continues radiating a mystical aroma and stunning floral beauty. Sillage: above average. Longevity: excellent.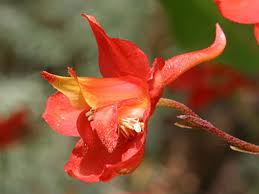 Scarlet Larkspur (Delphinium cardinale) was the only floral curiosity scent I had sniffed and owned, previously. The rich red delphinium is exalted with fruity notes of blood orange, red currants and sweet dark Morello cherries. Such an opening may sound sickeningly sweet or entirely too tart. Never fear. The saffron, nutmeg and claret wine in the heart truly flesh out this nectar-rich sweet blossom that hummingbirds love, adding smooth spiciness, balmy floral undertones and comforting warmth that adds an unexpected dryness, while remaining flowery. This wildflower, native to California, thrives in full sun and loves the heat, evident in the dry down of Bourbon vanilla, tonka and resin-dripping amyris wood. Sillage: slightly below average. Longevity: average.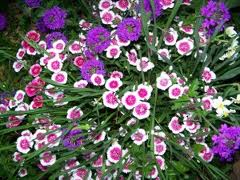 Sweet William (Dianthus barbatus) is one of my mother's favorite flowers. It is my most favorite of these five fragrances. Also called "gillyflower" or just "pinks", these flowers have a clove-like very spicy and slightly sweet scent the perfumer has brought to life with peach schnapps, cinnamon, clove and cumin-without smelling even remotely like potpourri or a spice drawer! Its warmth and woodiness are illustrated with a duo of sandalwood and cedar that still allows the fragile florality to exist in total harmony with the heavier darker notes. Even in the finish of vanilla and dark patchouli, this feels heavier than the other four, yet still exalts the highlighted flower and remains ephemeral. Definitely the most "man friendly" of the scents featured, this really rocks flower, spice, and woods in a sheer yet long-lasting perfume. Sillage: above average. Longevity: very good.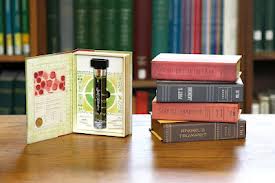 Now that I know the whole story of these floral curiosities, I have realized you cannot judge a book by its cover, or even the table of contents. Immersing yourself in the complete story, reading each chapter and devouring each word really brings you closer to the artist. Aside from the intrinsic loveliness of the scents, the true beauty of this set is the purchase price ($22.00 US) which is redeemable towards a full bottle of your choice! You may think soliflore equals boring; but each one is very much like the soft watercolors on the back of each note card: blended smoothly and elegantly.
Disclosure: Review based on Library Sampler sent to me by INeKE.
Thanks to INeKE we have one of these Floral Curiosities sample sets to giveaway. This is a US draw only. To be eligible leave a comment naming which one of the five fragrances you think will be your favorite or you already own. Draw ends August 10, 2013.
We announce the winners only onsite and on our Facebook page, so Like CaFleureBon and use our RSS option…..or your dream prize will be just spilled perfume.
-John Reasinger, Senior Editor