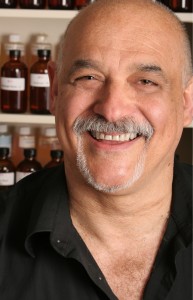 "For me, fragrances are like dreams. I look for an emotional response, a connection. Fragrances are a reflection of life and should be filled with zest, so I work to compose unusual, exotic, and memorable aromas to help inspire dreams." — Neil Morris
Life is made up of moments. Moreover, there is only ever this moment. What does this moment bring you? Perhaps the sun on your face, a gentle breeze tickling your neck, soft dewy grass beneath your bare feet, the sound of an Eastern bluebird welcoming spring, or sweet air filling your lungs. Neil Morris, the popular Boston-based perfumer, uses fragrance to create moments. Moments lived or moments imagined in an illusory dreamscape. No matter the style in which Neil is composing, there is always a calming, palliative center; a glimpse into the gentle heart of someone who understands what it's like to be fully present in a moment.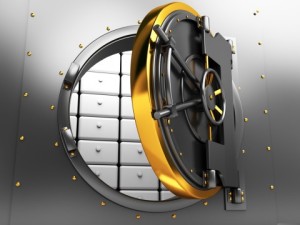 Those familiar with Neil's work will know that he has a signature line of eight fragrances, readily available on his website and in very select stores such as Henri Bendel. According to Neil, "Each scent tells a story based on memories of joyful events in my life." To gain a deeper insight into Neil's creations, one can visit "The Vault," an exclusive sub-collection of over fifty fragrances created over the course of a lifetime, available only on the website. But here's a little secret: some of Neil's most exclusive fragrances aren't even in The Vault. There is a vault-within-a-vault that can only be unlocked by a select few, those, like our Cafleurebon readers, who are "in the know." Just as there are restaurants that have some of their best dishes off the menu, Neil Morris has a select set of fragrances which must be asked for by name. Before I tell you the secret knock, I'll give you my impressions of some of these ultra-exclusive gems. Normally, I might save the best for last, but I am way too excited about Neil's newest underground composition: an illuminated, spectral floral — Vision in Black.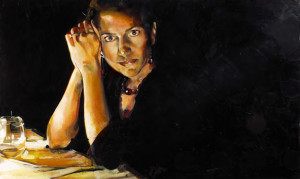 Woman in Black by Jeff Schaller
Haunting, yet benevolent. Time-honored, yet timeless. Vision in Black smells like something found among the vintage Guerlains or Chanels; treasures from a by-gone era that are entirely relevant today. Delicate linden blossom and honeysuckle are offset against black pepper and amber; unabashed femininity over golden luminosity. Neil further blended two types of proprietary musks into the composition, adding a soft, smoky sensuality. After I experienced Vision in Black, I reached out to Neil, determined to learn what inspired this achingly beautiful scent. Neil excitedly replied, "I wanted to create a perfume that was elegant, bright and mysterious. I wanted to take a minimalistic approach, using limited ingredients but 'adjusting the volume' on each one until it was just what I wanted. I imagined a lovely, dark haired woman arriving late and alone to a swanky party wearing a simple but perfectly fitting black gown. Seems all eyes are upon her and no one is sure who she is. She's wearing her hair up with a simple but gorgeous pearl necklace. She enters the room as if she owns it … which she does. Her scent trail intoxicates everyone." Intoxicating is an understatement. To me, the mysteriousness adds a ghostly essence, as if this vision may, or may not, be real. She's warm and inviting, yet there is a melancholy here, a sadness that betrays the beauty. The vision is gone as quickly as it appeared and only her scent remains. Vision in Black is an emotional perfume, charged with desire, seduction and heartbreak. Stunning.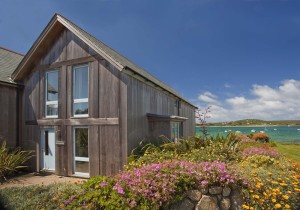 Seaflower is an uplifting oceanic floral, a serene moment in the Cape Cod sun captured in a perfume bottle. According to Neil, Seaflower is based on "a memory of a lovely, fragrant garden by the sea on Cape Cod. It was a warm, sunny day and we all sat in the garden having drinks. I could barely pay attention to the conversation because of the profusion of floral and sea air notes that were surrounding me!" Opening with a mellow Anjou Pear accord and tangy green leaves, the scent blossoms into a garden of red tulip, lily of the valley and phlox; all while the scent and sensation of the Atlantic ebbs and flows in the background. There is a playful hint of suntan lotion in the air, yet the integrity of the structure ensures that it remains a perfume, rather than another suntan lotion inspired fragrance. Despite its palette of ultra-realistic marine and floral (and even sand!) accords, the fragrance is painted in evocative, impressionistic strokes. An artist's rendering of one perfect moment.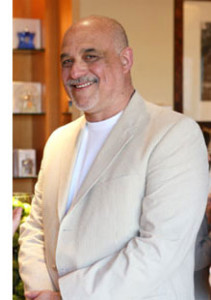 The Inspiration for Me
For years, Neil Morris has provided a bespoke fragrance service, creating one-of-a-kind fragrances for a lucky few. Did you ever wonder if he's ever created something exclusively for himself? According to Neil, "The answer is YES!" Every time I wear it I receive compliments and they want to know if it's available and what the name of it is. I would just say it's called Me since that's who I originally created it for. But now I'm going to share it!" Like the man himself, Me is a multi-faceted fragrance which defies categorization. It's warm and spicy, bright and bold. Opening with a sweet blast of blackcurrant and mandarin orange, Me segues into a spicy geranium heart and a cozy base of palisander rosewood, fig, musk, oak, benzoin, vanilla and patchouli. The scent is warm and comforting, like a hug from the big guy himself.
What else is hidden in Neil's vault-within-a-vault?
Ambra Obscura is a shrouded, dark-as-night brew of benzoin, labdanum, cade, dark vanilla, dark musk, tonka, patchouli, and wood notes. No room for citrus or flowers, this is a no-holds-barred homage to shadows and secrets. Ambra Obscura is meditative and mysterious, but never surrenders to despair.
A Rose is a Rose has been a word-of-mouth sensation for a couple of years. It was reviewed on Cafleurebon in spring of 2011. This smoky, flirtatious balance of rose, peony, myrhh, aldehydes, amber and musk is waiting to be devoured.
Samples and full bottles of Vision in Black, Seaflower, Me, Ambra Obscura and A Rose is a Rose are available now, though as mentioned, are not yet listed on the Neil Morris Fragrances website. Simply go to the site and order any VAULT sample/ full bottle and in the comments section at checkout, enter the name of the fragrance you'd like instead.
Disclosure: Reviews based on samples generously provided by Neil Morris Fragrances.
UPDATED: Thanks to Neil Morris Fragrances, we have a draw for a 2ml sample of ALL of the above-mentioned fragrances. To be eligible, leave a comment naming the Neil Morris fragrance described here that most intrigues you and why. The winner will receive all five 2ml sample of their chosen fragrance. This is a US-only draw and the draw will end on April 29, 2013.
We announce the winners only onsite and on our Facebook page, so Like CaFleureBon and use our RSS option…..or your dream prize will be just spilled perfume.
–Michael Devine, Senior Contributor