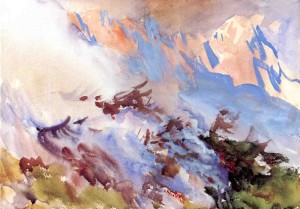 Mountain Fire
It is not unusual for a master perfumer to work in different styles and concentrations. When it comes to Bertrand Duchaufour I find my favorites of his creations are those which are the deeper and heavier fragrances. It is not that he hasn't successfully created lighter more airy fragrances it just isn't what I identify him with. I was forced to re-examine that thought with the five Eau de Toilettes M. Duchaufour composed for Historiae. In all five of these fragrances M. Duchaufour has taken some of his richest deepest themes and lightened them up for these new Historiae perfumes.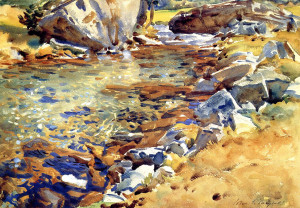 Brook among Rocks
In Orangerie du Roy the focus is on orange and orange blossom with the former he surrounds it in herbs to create a wonderfully louche version of a spicy orange. The orange blossom nestles sweetly in a bouquet of sweet florals before a chypre base brings this to an end. The herb garden of basil, spearmint, and thyme add a fresh green sheen to the citrus mélange dominated by the orange. It feels like an orange wedge is coated in these herbs and there is part of me that wants to do this with a real orange wedge and see if it is half as appealing as it is to my nose. Lavender provides a bridge to the orange blossom which is joined by ylang-ylang and honeysuckle to create a floral heart of like-minded ingredients. The base is an airy chypre accord of oakmoss, patchouli, vetiver, and musk. I wouldn't describe Orangerie du Roy as a chypre because the intensity is lacking but the base is a much attenuated chypre-ish accord.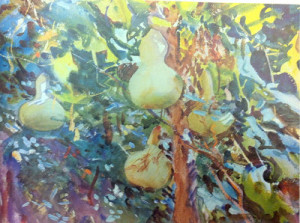 Gourds
In the last year or so it seems as if M. Duchaufour has been exploring the green raw ingredients he has available to him. In Hameau de la Reine it seems like all of them are present and accounted for. He opens with blackcurrant bud, tomato leaf, fig leaf, and ivy which create a green leafy accord redolent of the potential about to come to life in a garden setting. In the heart that potential does come to life with a flourish of greener floral notes of geranium and peony along with rose. The flowers seems like a natural progression from the top notes. In the base galbanum and vetiver carry the green theme to its end. This is a light airy green that I wore on a scorching 90-degree day and it was refreshing in that extreme heat.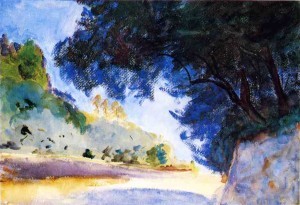 Olive Trees, Corfu
Bouquet du Trianon allows M. Duchaufour to show how to take a room-filling note like tuberose and make it feel as light as a feather. In the past M. Duchaufour has treated us to tuberose-centric fragrances of all kinds but Bouquet du Trianon is so sheer it almost seems like a different blossom entirely. The top notes breeze through a typical, almost pedestrian, citrus beginning which lasts about as long as a summer breeze does. The tuberose starts to become noticeable and the point in other fragrances where tuberose is present and it starts to dominate never happens here. Instead the tuberose sort of simmers at a consistent lighter volume and a beautiful beeswax absolute adds a slightly sweet and waxy contrast. It is a quite unique experience and I found it fantastic to wear. The base is as common as the top notes with vetiver, sandalwood, and patchouli. The star of Bouquet du Trianon is the tuberose-beeswax combo in the heart which almost makes it seem as if the bloom is encased in the beeswax and trying to escape. I also wore this on day two of our heat wave and it also performed much better than I had any right to expect a tuberose fragrance to perform in the heat. I never felt it was too heavy to be wearing in the heat.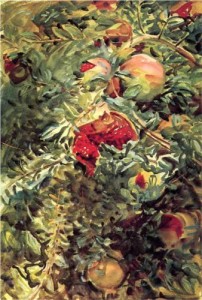 Pomegranates
For Rose de France M. Duchaufour obviously feels that there is just never enough rose in a fragrance. He uses rose de mai, rose damascene and rose absolute to create a trio of decadent roses. As with these entire Eau de Toilettes that combination should almost be so heady as to be too much but as he accomplishes with the whole collection he keeps them from getting out of balance by choosing excellent contrasting notes. In the top it is a juicy sweet pear. In the heart it is clove. In the base it is benzoin and vanilla. Each of those pull the sweet, spicy and woody aspects, out of the rose accord, respectively. Rose de France is nothing new but yet the sheer lightness of it makes it seem like something more.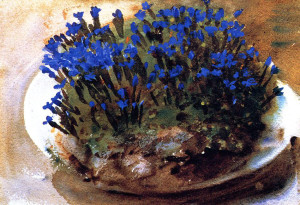 Blue Gentians
Violette Imperiale is my favorite of these five and it is because M. Duchaufour created a fruity floral violet fragrance that I find not to be too sweet and it allows the violet all the space it needs to be the center of attention. The top notes are peach, raspberry, and blackcurrant, the berries and juicy pear are a great choice to lead into the violet. As the violet arises there is a revelation of the sweetness that is often lost in violet fragrances. Iris comes next to draw the violet back to more usual astringent territory before a warm base of amber, sandalwood, and vetiver just allow the violet to stand on that foundation like a beautiful diva. Violette Imperiale is that rarest of rare things for me; a fruity floral I want to wear often.
The Historiae Eau de Toilettes have below average longevity, barely making it through my work day. They all have average sillage and considering that Bouquet du Trianon and Rose de France should leave a strong vapor trail it is all the more surprising that they do not.
After having worn all five of these fragrances I came to think of them as a collection of olfactory watercolors M. Duchaufour used to help him, and us as wearers, discover new aspects of notes we are very familiar with. In that lightness of composition we are shown the usual in a new light.
Disclosure: This review was based on samples provided by Fragrance & Art.
Thanks to Fragrance & Art we have a sample set of all five Historiae Eau de Toilettes to giveaway to one winner worldwide. To be eligible leave a comment naming which one of these you think will be your favorite. The draw will end on May 29, 2013.
We announce the winners only on site and on our Facebook page, so Like Cafleurebon and use our RSS option…or your dream prize will be just spilled perfume.
-Mark Behnke, Managing Editor
All Art by John Singer Sargent (1856-1925)
Editor's Note: I chose the watercolors of John Singer Sargent to illustrate this article as he is a visual artist who always seemed to find unexpected depths in a medium thought to be lighter. For those in the NYC area there is a new exhibit at the Brooklyn Museum of 93 of his watercolors which will be there until July 28, 2013.