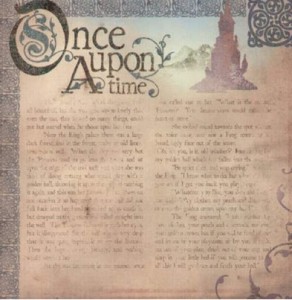 Fairytales have returned to the popular zeitgeist with their own modern twist; dueling versions of Snow White at the multiplex and 'Once Upon A Time' and 'Grimm' on your flat screen. The appeal of these tales, even with a touch of modern ambiguity added, is they are simple tales where the good guys prevail over the bad guys and our heroes live happily ever after. The setting of these is also fairly simple too and is often summed up as "palace and woods". With the latest release by Master Perfumer Bertrand Duchaufour for The Vagabond Prince I am further reminded that it is not just woods these clashes between good and evil take place in, they are places where magic is evident. The new fragrance is called Enchanted Forest and it is truly a magical fragrance by one of our best fragrant storytellers. The story of Enchanted Forest is almost a fairytale in itself.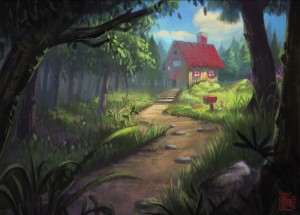 The Mighty Duchaufour's Labo
Once upon a time the husband and wife team of Zoran and Elena Knezhevich, founders of Fragrantica.com, wanted to make a perfume which reminded them of their family's travels from Eastern Europe to the US. They traveled to the magical perfumed city of Grasse to find a master magician of olfaction The Mighty Bertrand. As Princess Elena and The Vagabond Prince Zoran told him their tale he began to imagine the contents of his eventual potion.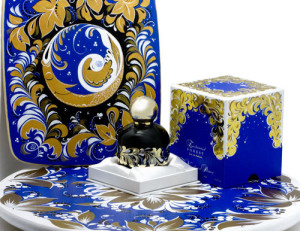 Bottle & Art Designed by Princess Elena
The wily wizard had been working with blackcurrant and wanted to center a perfume around it. He believed that pairing it with the smells of the forest would bring the two halves of their journey together in one bottle. After working tirelessly for about a year The Mighty Bertrand presented his work to his patrons. Upon sniffing it they were so happy they couldn't keep this magical elixir to themselves and so they shared it amongst their perfume loving subjects and they all lived happily ever after.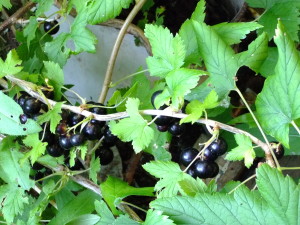 Blackcurrant Bush
Enchanted Forest is a fascinating study of the use of blackcurrant by M. Duchaufour. Blackcurrant is often used in high concentrations to add a strong berry component to many fruity florals and often it is a note which tips a fragrance from sweet to saccharine. In Enchanted Forest by using a combination of CO2 extracted black currant with an absolute of blackcurrant buds he creates a cassis accord that feels like you have stumbled over a bush of ripe to bursting blackcurrants growing on the forest path. M. Duchaufour claims this "is the only perfume I know of that is built around blackcurrant as the sole raw material". While I am not sure if that is true his goal was to create a cassis accord and he has done so. That accord is the magic in the heart of this Enchanted Forest.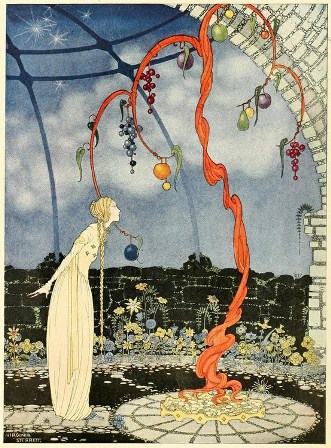 This perfumed forest walk begins with a frisson of aldehydes and pink pepper; these are the bony-fingered come hither notes. As you approach there is a bottle of rum waiting next to a blackcurrant bush as you get a hint of the leaves and flowers. You pick up the bottle and swig it deeply and then you realize you are in a glade of blackcurrant bushes surrounding you there is a sense of green growing luscious berry all around. You have to leave to return to the forest path but the scent lingers on your clothes as the smells of the forest surround you: the fir trees, the animals who have been here before you, the decay of all living things returning to the earth. Fir balsam absolute, castoreum, patchouli and musk do the bulk of the lifting for this accord.
Enchanted Forest has above average longevity and above average sillage.
I am happy to say that like all fairytales this story has a very happy ending as Enchanted Forest is a perfumed tale I will want to experience ever after.
Disclosure: this review was based on a sample provided by The Vagabond Prince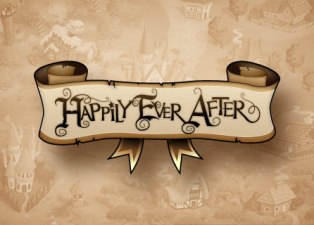 Thanks to The Vagabond Prince we have two carded 1.5mL samples of Enchanted Forest perfume to give away. To be eligible leave a comment on your favorite fairytale or character in a fairy tale. The draw ends on January 6, 2012.
We announce the winners only on site and on our Facebook page, so Like Cafleurebon and use our RSS option…or your dream prize will be just spilled perfume.
-Mark Behnke, Managing Editor