Eau de Toilette; Baba Yaga's House by Jos A Smith; Eau de Parfum
Last year, Anastasia Sokolow released a set of three fragrances inspired by vintage Russian perfumery that represent winter (*Albho-), spring (Vy Roza), and summer (Djélem) under her brand Sulékó. This year she has introduced her fragrance representing fall, Baba Yaga, in both Eau de Parfum and Eau de Toilette. Once again composed by the excellent perfumer Cécile Zarokian, with unique refillable bottles designed by porcelain artists Joëlle Fevre and Alain Fichot, Baba Yaga is an intriguing addition to the collection.
Baba Yaga by Niroot Puttapipat
One of my storybooks as a child had a story about Baba Yaga, because I remember her house perched on chicken legs. I also remember her having an acute sense of smell, especially for humans, and wanting to eat children who did not serve her well. As with any folkloric character, stories about her are many, but I love the imagery of that nasty old witch in her picturesque, magical home, travelling in her giant mortar and steering with her pestle. I had to admit that I found it an unusual inspiration for perfume, though, because one does not normally associate evil crones with smelling good. Ms. Sokolow's press material states that it "represents this dark force, which embodies all our fears, everything that can harm us, hold us back and consume us. This dark force can become so powerful that we will have no other choice but to face it; we will have to make a clean break with the past and open for us the way to a better life."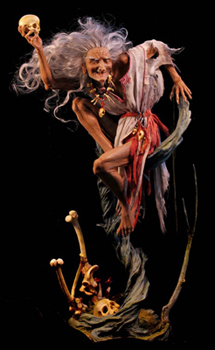 Baba Yaga with Bones by Forest Rogers
When I first applied Baba Yaga, the word that came to me was "primeval". I could picture a magical wooded place in dark reds and oranges and browns. There is ripe citrus at the top of Baba Yaga, but it is crushed and made rich rather than sparkling by a lot of spice. The perfume has an air of over-ripe foliage, of mulch underfoot, but is not dank or moldy. The scent is complex and wonderful, and unlike anything I have worn. I had the EDT on one arm, and the EDP on the other. The notes for both are the same, but the concentration is different, resulting in the EDT being somewhat brighter and more fruity. The EDT has a shorter life on skin and the drydown is sweetly woody. The EDP retains more complexity and excitement on skin, morphing from spice to woods, with a touch of fruit peeking through. I would consider the EDT appropriate for daily wear, and the EDP is perfect when you want to get serious and start spell-casting. Just try not to add the kids from next door to the dinner menu.
Notes: Bergamote, orange bigarade, mandarine, pink berries, pepper, elemi, nutmeg, clove, cinnamon, iris, "dry leaves" scent, cedar wood, patchouli, leather, essence of cade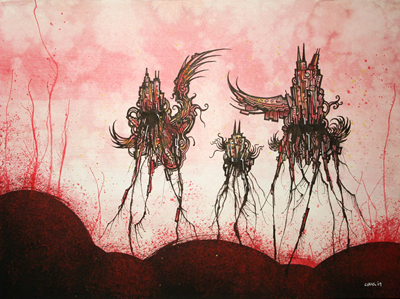 Baba Yaga Apocalypse by Lawrence Yang
My experience with the Sulékó line has been exciting, as all of the scents are well-made and quite unusual. Ms. Zarokian has composed a set of fragrances under Ms. Sokolow's direction that really do summon the feel of vintage perfumery, and I hope the line continues to expand.
I received my samples from Ms. Sokolow of Sulékó. Baba Yaga is available on the Sulékó website for 200€ (240€ with VAT) for 50 ml white decorative bottle of Eau de Parfum, and 137.50€ (165€ with VAT) for 50 ml black decorative bottle of EDT.
Tama Blough, Deputy Editor
Ms. Sokolow will be exhibiting the Sulékó line in the Gold section at the Elements Showcase in New York at Skylight West, 500 West 36th Street New York NY 10018, Wednesday, February 5, 2014: 10:00am – 7:00pm and Thursday, February 6, 2014: 10:00am – 5:00pm.Please visit the Elements Showcase website for details.
With gratitude to Ms. Sokolow and Sulékó, we have a draw for 2 ml samples of Baba Yaga in both EDT and EDP for one lucky reader worldwide. Please let us know which folk story or fairy tale you can see translated into perfume, and what intrigues you about this one. Draw ends February 7, 2014.
We announce the winners only on site and on our Facebook page, so Like Cafleurebon and use our RSS option…or your dream prize will be just spilled perfume.