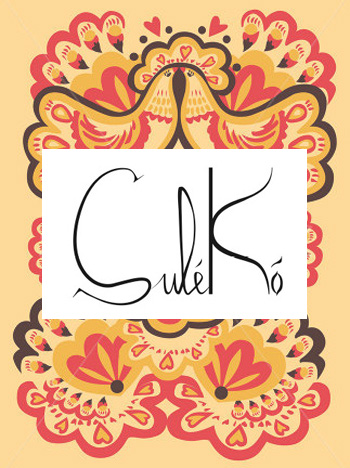 Have you ever smelled perfumes from brands like A. Rallet & Co., Henri Brocard & Co., Adolphe Siou, and A. M. Ostrooumov? Prior to the Revolution, Russia was in the same league as France when it came to haute parfumerie. These houses made beautiful fragrances in luxurious crystal flacons; none are in existence today, and the perfumers went to France to work for other companies. Anastasia Sokolow, a designer and perfumer of Russian descent living in France, saw the need to pay homage to that long-lost tradition. Working with master perfumer Cécile Zarokian and porcelain artists Joëlle Fevre and Alain Fichot, she has created a line of fragrances inspired by Russia. The scents of SULÉKÓ are each reminiscent of not only a story, but a season. The bottles are created to enhance the experience of the perfume with sculptural artistry.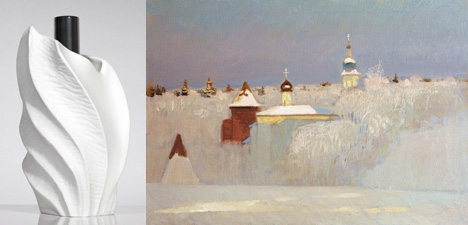 *Albho- bottle, Russian Winter by Nikolai Anokhin
*Albho- represents the swan, winter, and a spiritual journey. Opening with a crisp mint, the chilly fragrance is quickly enhanced with sweet, dry resinous notes. It feels like tramping through snow and smelling incense in the crisp air. It is a surprise, this bit of warmth in your nostrils. When I lift my wrist to my nose, I see myself in a snow-covered woodland, looking for the source of that altar, that hearth, that warmth. While managing to avoid the dreaded ozone, the chilly aspects of the perfume are always hovering above the warmth of the resins, and I am enjoying the dichotomy. Of the line, this is the shortest-lived, but is lovely while it lasts.
Notes: Eucalyptus, mint, pine, cedar, guaiac, balsam, benzoin, tolu balm, labdanum*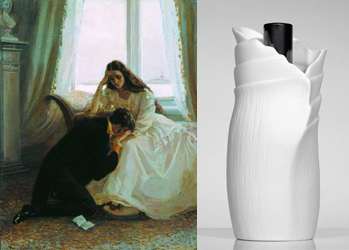 Tatiana and Onegin illustration by Lidia Timoshenko, Vy Roza bottle
Vy Roza is spring, gentleness, and the story of the love of Tatiana and Onegin. The perfume is a bouquet of greenery and blossoms, with rose at the heart. It is quite lovely, and tenacious. I spilled a bit on myself when I first opened my package of samples, and those few drops were my scent for the day. This is not a shy bunch of posies, but a whole garden full of blooms. I enjoy this fragrance, although it has moments of what I call "Fine French Soap", which is not my favorite way to smell. I know people do enjoy a touch of soapiness, and they will appreciate this. There are fruity undertones, as well, like ripe stone fruits, that add to the richness of the perfume. Nicely done.
Notes: Grass, Lily of the Valley, lilac, rose*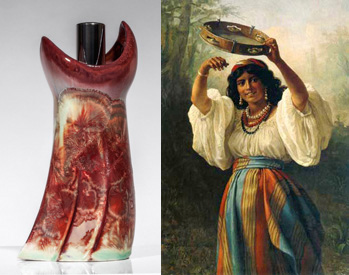 Djélem bottle, Gypsy Woman with a Tambourine by Khariton Platanov
The passion and freedom of the Gypsies is the source for the summer fragrance, Djélem. This is an interesting composition for summer, because rather than the usual cologne-style, citrusy, floral kind of fragrance usually associated with that season, this perfume represents heat with its aroma. Dry hay, carnation, spices, and amber all take you to a place that radiates a dry summer sun in the meadowlands. It is a complex, interesting fragrance, evocative and wearable. I wore it for a full day and kept catching whiffs for hours. Of all these fragrances, it is probably the most "me".
Notes: Hay, carnation, clove, amber*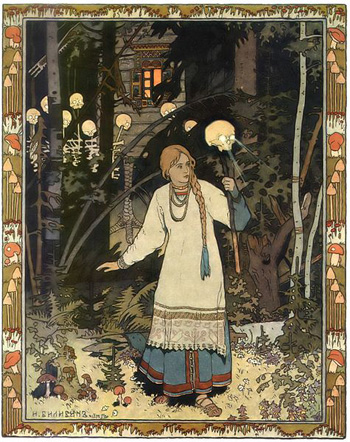 Illustration for Baba Yaga by Ivan Bilibin
Fall will be represented by a new fragrance coming out next month, based on Baba Yaga. I am anxious to smell it. The perfumes can be purchased through the SULÉKÓ website, and I recommend visiting to read more about the perfumes and the history.
My samples were provided by SULÉKÓ.
Tama Blough, Senior Editor
* Notes extrapolated from Ms. Sokolow's descriptions
For those readers living in the New York area, Ms. Sokolow will be offering workshops on the evenings of October 15th and 17th to introduce the brand and share the olfactory components of the creations. The workshops are at no charge, and you can sign up by emailing contact@suleko.com for event location and details.
We have a draw for a sample set to one reader anywhere in the world. Let us know which of these fragrances appeals to you. Draw ends on October 5, 2013
We announce the winners only on site and on our Facebook page, so Like Cafleurebon and use our RSS option…or your dream prize will be just spilled perfume.