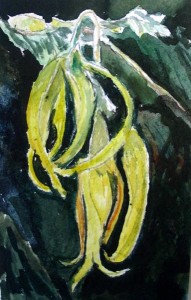 One of the highlights of the last two editions of the Elements Showcase has been the panels where Robertet offers the use of one of their ingredients to three perfumers. Last August it was rose and in the just completed version in January the ingredient was ylang-ylang. The three perfumers were Robertet Senior Perfumer Olivia Jan, D.S. and Durga's David Moltz, and Sarah Horowitz-Thran of Sarah Hororwitz Parfums.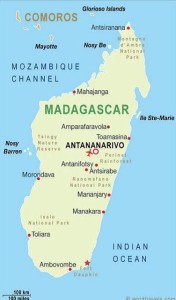 During the Presentation Adrian Arnaud of Robertet introduced us to the different places that Robertet harvest ylang-ylang from. Much of what they gather comes from islands off of Madagascar; Comoros Islands and Nosy Be. After distillation they found that the ylang distillate from Comoros contains more of methylparacresol (MPC) up to 13% where the one from Nosy Be naturally has about half of that. The olfactive effect of MPC is to give that slight camphor-like quality to ylang. Through the fractionation of these sources Robertet alters the olfactive profile of ylang-ylang. In this case they can reduce the MPC down to near zero and produce an ingredient called Lisylang. I was introduced to Lisylang by Mme Jan on my previous visit to Robertet. For the panel she used the Lisylang to create a fragrance inspired by a visit to Ian Fleming's house in Jamaica named Goldeneye and called Evening at Goldeneye. Lisylang lends a fresh lily-like quality and it successfully evokes a Caribbean milieu with rum, citrus, pimento, and woods. Mr. Moltz went the other way and took the unfractionated complete ylang-ylang oil and used it to create Speyside. In this case the much rawer more complex source was meant to comprise a fine smoky whisky accord. Based on this early attempt Mr. Moltz is very close to realizing his wish and the raw ylang-ylang oil feels like the linchpin to the whisky accord.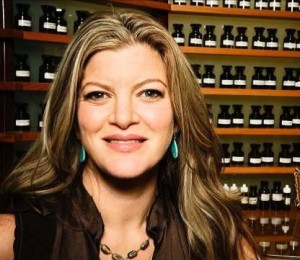 Sarah Horowitz-Thran
My favorite of the three fragrances was that presented by Ms. Horowitz-Thran Eau de Light. Like most of us she was feeling the winter blues and wanted a fragrant pick-me-up. The ylang-ylang source she chose was the Ylang III Nosy Be. Ylang III Nosy Be reduces the MPC even further to less than 2% but doesn't eliminate it completely. This has the effect of keeping it fresher and closer in character to Lisylang, than not, but the slight touch of MPC seems to add a bit of uplift that isn't in Lisylang. Also where Lisylang has a slight coconut quality to it Ylang III Nosy Be has a slight vanilla facet. Ms. Horowitz-Thran harnesses all of the uplift present in the Ylang III Nosy Be and surrounds it with sunny notes galore to deliver a perfect February reminder that spring is coming.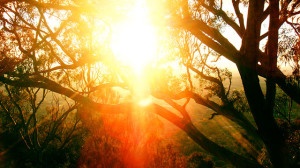 Eau de Light uses grapefruit, mandarin and a bit of currant to bring the brilliance right from the start. The ylang rises out of it and the fresh quality of the Nosy Be version pairs quite nicely with the fruity top notes. Jasmine grandiflorum and rose damask form the heart of Eau de Light, along with the ylang, and it is where this ray of sunshine is at its most intense. The ylang sings loudest but the jasmine and rose more than hold their own. A bit of vanilla carries Eau de Light towards its twilight as musk and patchouli signal the end of the light, until the next spritz.
Eau de Light has average longevity and average sillage.
All three creations were beautiful but it probably speaks to my state of mind that it was Ms. Horowitz -Thran who found a way to infuse my soul with the sunniness of ylang-ylang from Nosy Be.
Disclosure: This review was based on a sample provided by Sarah Horowitz Parfums.
Eau de Light is being offered as part of Ms. Horowitz's Les Banque de Parfumes program of monthly limited editions. It will be on sale at her website throughout the month of February 2013. Thanks to Sarah Horowitz Parfums we have one sample of this limited edition to giveaway. To be eligible leave a comment on what gets you through the February blues. The draw ends on February 10, 2013.
We announce the winners only on site and on our Facebook page, so Like Cafleurebon and use our RSS option…or your dream prize will be just spilled perfume.
-Mark Behnke, Managing Editor
Editor's note: Speaking with Mr. Moltz after the event he indicated D.S. and Durga hopes to release Speyside later this year.