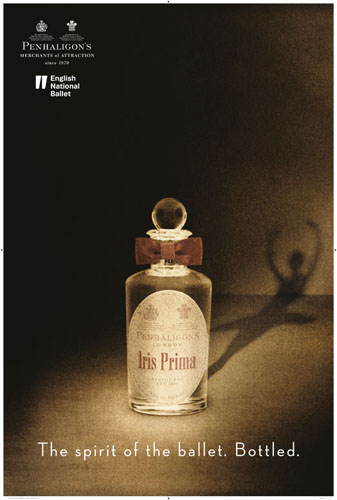 When Penhaligon's decided to create perfume based on the ballet, they didn't want to come out with anything involving pink tutus or just something pretty. They wanted to really get to the heart of what ballet means, and what it smells like. They went to the English National Ballet and asked if they could work with some dancers. For two years, they sponsored two of the dancers, which gave CEO and Artistic Director Sarah Rotheram and perfumer Alberto Morillas access to rehearsals, dressing rooms, backstage, and performances. The video below shows the dancers explaining what ballet smells like to them. Ms. Rotheram told me "We really wanted the blood, sweat, and tears of the ballet, you know, ballet smells; of hairspray and makeup and sweat and lights hitting the lino… you'll pick up on the very strong iris … we were having the after ballet dinner with Alberto, and he said, Sarah, we need to increase the iris, so it gives you that whoosh of being thrown through the air…"
Whoosh, indeed. Iris Prima opens with a grand entrance of iris tinged with leather, boosted by a slight sweetness and the light of pink pepper. It is exhilarating, and one of the best opening moments of a perfume I have experienced in a while. I'm usually anxious to get to the belly of the beast with perfume, but here I am enchanted immediately, and am tempted to spray again. Fortunately, Iris Prima just gets better with time. The iris is present throughout, and it is a good one; not too carroty or earthy, just a great balance between earth and some floral notes. The leather is soft, and I'm sure reminiscent of the ballet slippers Ms. Rotheram confessed to sleeping with as a child. There are a few moments of discomfort midway; almost as though I am experiencing the pain, jealousy and fear that is part of the process. It isn't unpleasant, just part of the journey. Soon, the vanillic, embracing drydown takes over, soft and warm, and fabulously tenacious.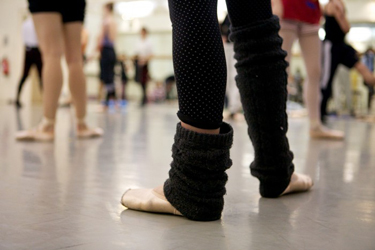 English National Ballet, photo by Bex Singleton
I recently went to see an exhibit of Rudolf Nureyev at the museum. There were costumes galore, and videos, and photos. It was a wonderful exhibit, and I was fascinated by a pair of his shoes. They weren't terribly worn, not like some I have seen, but I was sorry they weren't in the open, because I certainly would have wanted to smell them. All of the costuming was encased, probably to keep people like me from jamming their noses in. Iris Prima makes me think of how ballet costuming must smell, after dancers have been in them, with powders, perfumes, and sweat. This is not a perfume that smells like sweat; it is much more graceful than that, just as you would never think a prima ballerina on stage could possibly smell of anything other than magic.
Notes: Bergamot, Green Amber, Pink Pepper, Iris Absolute, Jasmine Sambac, Hedione, Paradisone, Leather, Vanilla, Sandalwood, Vetiver, Benzoin.
I received my bottle of Iris Prima from Penhaligon's, with gratitude. Iris Prima is available now in London and soon wherever Penhaligon's is sold. Special launch events will be taking place at select Sak's Fifth Avenue stores.
Tama Blough, Senior Editor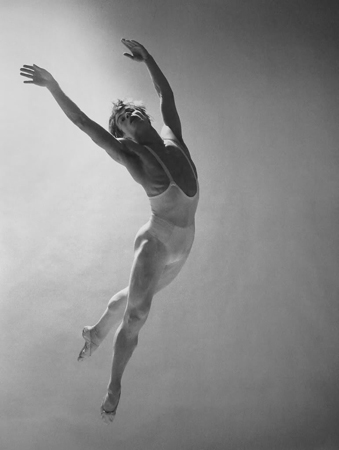 Nureyev by Richard Avedon
Thanks to the generosity of Penhaligon's London, we have a 15 ml bottle of Iris Prima for our US and Candadian readers. Let us know your favorite ballet or your favorite Penhaligon's fragrance, and remember to let us know you are in the US or Canada. Draw ends September 28, 2013.
You can read my August 12, 2013 interview with Ms.Sarah Rotheram here
Editor's Note: If you live in the NYC area, a special performance of the American Ballet Theatre will be held at Sak's Fifth Avenue Septenber 26, 2013 in honor of Iris Prima. A similar event will take place on October 5th at the San Francisco Sak's Fifth Avenue Location.
We announce the winners only on site and on our Facebook page, so Like Cafleurebon and use our RSS option…or your dream prize will be just spilled perfume.