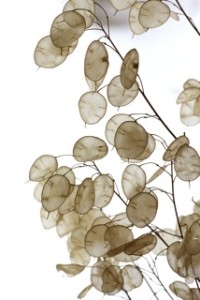 The bubblegum smells powdery and sweet as I slip the waxy wrapper into my pocket. I walk across the yard and extend my hand to the Jasmine and Tuberose that are growing there. I laugh then smile for some unknown reason, not knowing that one day all of this will not exist, but for now I am outside for most of the day with the cattails and the black-eyed Susan that are growing wild. Around the side of our house I stop at the Silver Dollar plant, and the Pussy Willow tree. Under the large Forsythia the Dandelion are plenty, and across the way is our Peach tree, and not far away the magnificent Magnolia. The rhythm of the day is mine, and I walk around the yard trying to find new places to hide, and ultimately I end up on the swing for what seems like hours trying to see how high I can go and how far I can leap. Just before the swing reaches midway, I release my body into the air and for a few seconds feel suspended in flight, but I am quickly reminded of gravity and land with a definite THUD.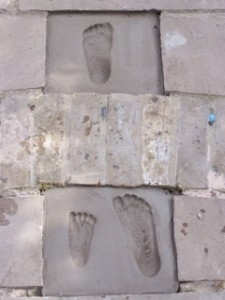 I turn my head to see how far I landed from the swing. I repeat this many times. Later, I carefully place my feet into the cemented footprints that are much bigger than mine, as I no longer fit into my footprint. Soon the soft grass is under my feet, and I lie down for a bit to take-in the blue sky. The day turns into early evening and we are finally all together, and the lightening bugs begin to fill the glass Mason jar that has air holes hammered into the lid. I know I will let them go. We light a cattail to keep the mosquitoes away, its smell lingers in the air as we sit and talk, and night begins to fall.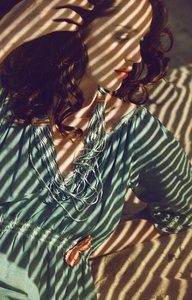 Maggie Mahboubian of Parfums Lalun has created a harmonious fragrance that hones in on a bright almost tropical opening with juicy notes of Bitter Orange, Peach, Shisho, and Banana tincture. A sophisticated sweetness that tickles my nose, and I feel a rush of happiness. This brightness is pulled to a luxurious depth that comes across as creamy, and seems to slow down the pulse of this fragrance. Jasmine, Tuberose, and Neroli, combine to make a desirable heart accord that is tempered by the perfumer, no single note is competing with the next. I'm reminded that these indolic notes smell stronger in the evening than they do in the light of day. Its base brings warmth and sensuality with amber, resinous, and balsamic notes including Cistus, Frankincense, Labdanum, Vanilla, and Beeswax, leaving an exquisite trail.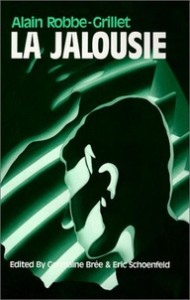 Jalousie stirred my opening passage (almost instantly). The perfumer's origin makes it an even more curious, complex, and poignant fragrance. Maggie told me that Jalousie was inspired by Alain Robbes-Grillet's eponymous novel, La Jalousie about a husband who suspects his wife is having an affair with the owner of a neighboring banana plantation. The narrator never reveals himself as he describes his observations, and the lines get blurred between reality and suspicion. La Jalousie easily translates into the word Jealousy, but it also is the word used for the Venetian blinds in French; the husband views his wife through the blinds, a double entendre.
Similarly, one perfume many interpretations.
–Valerie Vitale, Contributing Editor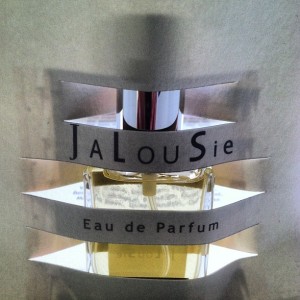 Thanks to Maggie Mahboubian of Lalun Parfums we have a draw for a 15mL bottle of Jalousie for our US readers and a 2ml travel sample for our international readers. To be eligible leave a comment naming a book you think would make a good perfume inspiration OR which Lalun Parfums fragrance appeals to you (by visiting the website). The draw ends on May 28, 2012.
We announce the winners only on site and on our Facebook page, so Like Cafleurebon and use our RSS option…or your dream prize will be just spilled perfume.
Editor's Note: Maggie Mahboubian is the curator for FRAGments Underground, Artisan and Indie Fragrance Collective in Los Angeles June 22, where Jalousie perfume will be launched.