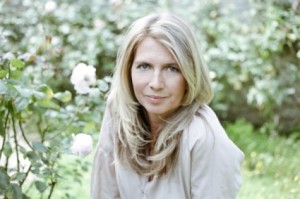 Elisabeth de Feydeau
It appears as if there is a burgeoning trend at reviving perfume houses of the past. As with anything the motivations of the person doing the resurrection will often presage the success of the enterprise. The latest house to rise again is Oriza L. Legrand which was one of the first perfume houses founded in 1720 under Louis XV. The perfumer and creative force behind this is Elisabeth de Feydeau. For those unfamiliar with Mme de Feydeau she has been involved in various aspects of the fragrant world for over 15 years. She has been one of the great ambassadors in France of olfactory art which culminated in her being named "Chevalier des Arts et des Lettres" by the French Minister of Culture, Frederic Mitterand. Mme de Feydeau is the perfect person to respect the past and also be able to extrapolate that past to make a perfume relevant for the present. For the Oriza L. Legrand return it begins with four fragrances: Deja Le Printemps, Oeillet Louis XV, Relique d'Amour, and Reve d'Ossian. These fragrances have a bit of an old-fashioned feel to them. This makes them feel like something very unique in the current marketplace.

Original Deja Le Printemps ad from c.1920
Deja Le Printemps is a paean to springtime and all things green. This is the fragrant equivalent of sitting in a green swale just after the first mowing after winter. The trees are all rising and the leaves and buds are making their presence known. Deja Le Printemps opens with a soft orange blossom which turns into a very soft green fragrance. There is a freshly mown grass accord, fig leaves, lily of the valley, clover, and galbanum. You can look at that note list and expect this to perhaps be very aggressively green. Instead it is silky and subtly green, surprisingly so. The base uses oakmoss, vetiver, and cedar to add to the plush green quality begun with the heart notes. There is never a moment during the time I wore Deja Le Printemps where I didn't feel surrounded by new life.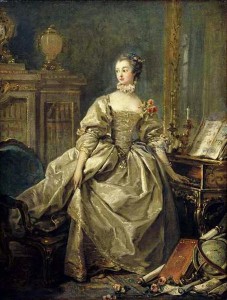 Madame de Pompadour by Francois Boucher (1750)
Oeillet Louis XV nods back in time to one of the earliest patrons of Oriza L. Legrand. In my fanciful imagination I envision this fragrance commissioned by the King and then bestowed upon his favorite mistress Madame de Pompadour. Oeillet Louis XV is a very powdery focused fragrance and it feels in keeping with the famous hairstyle which bears her name as the powder keeps rising and rising until it is neatly arranged around clove and musk. Oeillet Louis XV begins with a double dose of carnation and then adds iris and rose. If you still don't have enough powdery facets a heaping dose of rice powder is added. I'm not the biggest fan of powdery fragrances and I have to admit the early exuberance always took me right to the edge of my personal tolerance. Just as I thought it was too much the clove cleaved through all of the powder along with a sheer white musk and the powdery façade was laid bare. Now these two notes carry the development and the final stage is coated in a light bit of honey and balsam. If you love powdery fragrances Oeillet Louis XV should be on the top of your list to sample.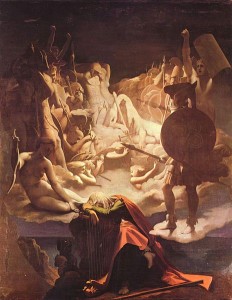 Reve d'Ossian by Jean Auguste Dominique Ingres (1813)
Reve d'Ossian (Ossian's Dream) is based on the hero Ossian from James Macpherson's epic poetry cycle of 1760. It was based on his research into the stories of the Scottish Highlands and Ossian is a representation of the all of the heroes within those tales. The Ossian cycle bred a style named after it and was one of the influential works of the Romantic movement of the time. Reve d'Ossian has a bit of the style of the Highlands as it uses resins and woods to create the dream. A really austere frankincense and sharp pine start things off. Benzoin and opoponax take the resinous aspects to the forefront; tolu balm and labdanum keeps it simmering. A raw uncured leather accord along with amber and musk make up the base. Reve d'Ossian is the flip side to Oeillet Louis XV as this "dream" is all about the woods and resins.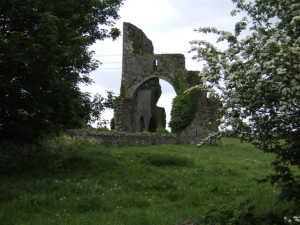 Cistercian Abbey ruins
Relique d'Amour is my favorite of these first four releases but I think this will probably not be the most popular. My reasoning is that Relique d'Amour is that rare fragrance which seeks to paint a picture with olfactory notes. There is less of a pyramid in place and more of a sense of a specific place. I love poking around in old stone churches. When I have the opportunity to do this the smell of the stones covered in moss and the aged wood of the supporting timbers is a singular smell to me. Relique d'Amour is that moment of standing in an old abbey surrounded by the layers of residue from the oil lamps and censers. As I said Relique d'Amour really paints a singular picture and doesn't really devlop so much as rise fully formed off of my skin. There is the raw pine of the timbers, a strong stony mineral aspect, a bit of lily, wisps of myrrh, elemi, and frankincense. All together they impart a weight of history and place upon Relique d'Amour and it is a place and time I want to visit often.
All four Oroiza L. Legrand fragrances have above average longevity and below average sillage except for Oeillet Louis XV which has sillage to burn.
The success of many endeavors comes down to the desire and passion of those behind it. For the revival of Oriza L. Legrand Elisabeth de Feydeau is clearly not lacking in either of those qualities. This is a perfume house returning to relevance thanks to her commitment to it.
Disclosure: This review was based on samples provided by Fragrance & Art.
Thanks to our friends at Fragrance & Art we have a sample set of all four fragrances to giveaway. To be eligible leave a comment naming which you think would be your favorite. The draw will end on January 29, 2013.

We announce the winners only onsite and on our Facebook page, so "Like" Cafleurebon and use our RSS option…or your dream prize will just be spilled perfume.
-Mark Behnke, Managing Editor