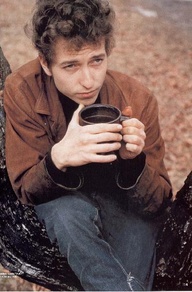 Several things I have a penchant for include coffee shops in which I love to write and grade papers, my morning cup of dark roast Sumatran coffee lightly sweetened and topped with cream, an afternoon cup of coffee with cinnamon, and a special occasion weekend afternoon cup of coffee with freshly ground cardamom. Given that, I've been always on a keen lookout for coffee perfumes, and I had lovingly worn and used samples of Ava Luxe's Dark Café for an especially dark roast, Bond No 9 Haarlem for a version of art project coffee set on a woody base, and Dawn Spencer Hurwitz's Holiday Lumiere 7- coffee with spices made in the quietness of Christmas morning. Yet until I tried Café V I had not put together my penchant for coffee with another one of mine…Bob Dylan. And for a while I thought that my passion for perfume and my love for Bob Dylan's music and lyrics would run on parallel courses. I never would've thought that they would intersect. Until they did.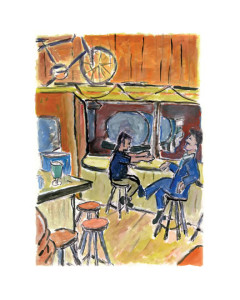 Truckstop by Bob Dylan
When the perfumer Dr. Ellen Covey of Olympic Orchids described Café V she said:
"Café V is a spicy fragrance inspired by one of Seattle's many cozy neighborhood cafes with its dark décor, warm fireplace, leather chairs, and espresso bar. It's not quite gourmand, and not quite a fragrance of place, but something in between with notes of espresso-roast coffee, dark cacao, vanilla, cream, spicy chai bursting with cardamom, leather, and well-worn wood, and just a little skank from all of the rain-drenched actors who have over the years congregated in this little café in Seattle's Capitol Hill".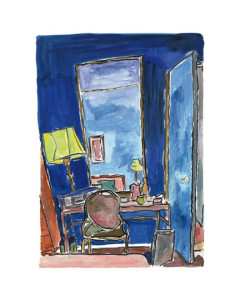 Bob Dylan 2010 Dallas Hotel Room
The first time I sprayed Café V was in a hotel room where I spent a morning between a flight back to the rainy Pacific Northwest and a long drive home. I sprayed the fragrance on a scarf, wary of trying a new perfume on my skin for the first time. A cloud of coffee, cardamom and something that smelled sweet, spicy and floral at the same time rose up. I inhaled. And then inhaled. And then inhaled. I could not help it – I spent longer than I planned in that room sniffing the scarf. And then I put the scarf on my neck right next to my skin without hesitation, took my bag, turned around, walked out of the room and got into the car. I had three hours on the road ahead of me.
One more cup of coffee for the road,
One more cup of coffee before I go
Into the valley below…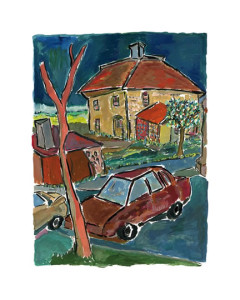 Bob Dylan 2010 Backyard
No, I did not hear this Bob Dylan's song which is called One More Cup of Coffee over the stereo in my car while driving home. Instead, I heard it rising toward the surface of my consciousness from the back of my memory as the Café V perfume grew more and more earthy, fleshy, and warm skinned as it was blending with me through the scarf. These warm skin/kitty fur smells made it into my memories where the song was stored and gave me a sense of intimacy and danger.
Your breath is sweet
Your eyes are like two jewels in the sky
Your back is straight your hair is smooth
On the pillow where you lie
But I don't sense affection
No gratitude or love
Your loyalty is not to me
But to the stars above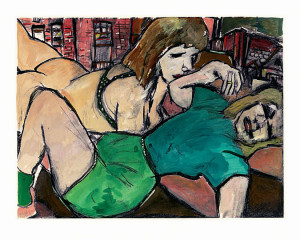 Bob Dylan Two Sisters

When I later read the fragrance description I was amazed at how perfectly the images of rain drenched slightly skanky actors fit with my image from the song – the image of two lovers who cannot trust each other completely because even when they are laying in the same bed they are keenly aware that they both came from two different worlds and these worlds create sparks every time they come together in close contact.

Y

our daddy he's an outlaw
And a wanderer by trade
He'll teach you how to pick and choose
And how to throw the blade
He oversees his kingdom
So no stranger does intrude
His voice it trembles as he calls out
For another plate of food.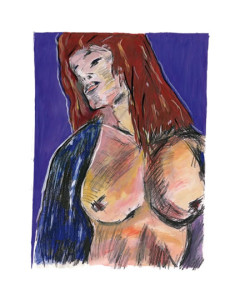 Bob Dylan 2010 Cassandra
Since that drive I wore Café V on the skin, and it had been catching my attention every time with its smells of coffee, freshly chipped wood, maybe a hint of cocoa (I am usually wary of that note, so if you are cacao-cautious do not worry, it is not what I usually dislike in the cocoa notes, it is not even a mocha, it is just a hint of depth, a piece of super dark chocolate at the plate of someone at the next table). Then the fragrance progresses into some seriously sexy territory with the warm skin notes that I experienced before, and then, amplified by my skin, with leather. Are these leather seats at Seattle Café V or some actor's rain drenched leather jacket, but for me the association continues with a strong passionate gypsy woman who continues to surprise the lyrical hero of Bob Dylan's song as he goes along.
Your sister sees the future
Like your mama and yourself
You've never learned to read or write
There's no books upon your shelf
And your pleasure knows no limits
Your voice is like a meadowlark
But your heart is like an ocean
Mysterious and dark.
I get a sense that he is drawn to something in her that he cannot fathom, something that attracts and scares at the same time. Perhaps he takes one and one more cup of coffee to postpone the moment that he has to leave her because he believes it is unrequited love. The song is full of questions that were never asked and will never be answered. Will he ever know her enough to trust her? Will he ever get close enough not to be surprised? Who is this lover of his who rose from hard circumstances yet clearly came out as a strong woman with spiritual gifts? And what does she think of this relationship?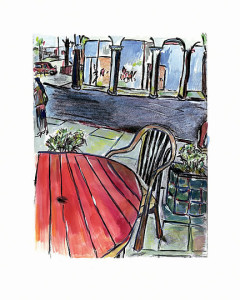 Bob Dylan 2011 Sidewalk Cafe
The situation described in the song is enigmatic, and the smell of Café V does not let you to put a finger on it to call it just one thing. Some fragrances have a pyramid structure, some are linear, some have a structure of a kaleidoscope when each turn makes each colorful fragrant ingredient roll with a ring and fall in place to create a different picture. Café V does not seem to fit any of these descriptions since my experience of it is circular. There it's coffee, there it's leather, there it's the depth of cocoa – a piece of extra dark bitter chocolate on someone's plate, someone else comes in and brings the whiff of their skin, and, like in the song, it always goes back to coffee. Perhaps, someone had just started an espresso machine in the café. But perhaps it is finishing the story by coming back to where it started. And the story is about so much more than coffee.
One more cup of coffee for the road,
One more cup of coffee before I go
Into the valley below… Bob Dylan 1976 (sung as a duet with Emmy Lou Harris on his 17th album Desire)
Editor's Note: "One More Cup of Coffee" tells the tale of a girl whose family are gypsies and drifters, and of the man who must leave her to enter the "valley below". The narrator describes a character who is beautiful: "your eyes are like two jewels in the sky" but for whom the narrator's love and admiration are not reciprocated ("but I don't sense affection no gratitude or love, your loyalty is not to me but to the stars above"). The song deals with themes of abandonment; the apparent end of a relationship and the concept of a coming journey. The song could be seen as a metaphor for Dylan's relationship with his then wife Sara; however, this is unsubstantiated. The song is also thought to have been inspired by a visit Dylan made to Saintes Maries de Mer in Provence, France, where there is an annual gathering of Romany people who venerate Saint Sarah the Egyptian. This would seem to point to another link to Sara Dylan. (Ref. Picknett,L. and Prince, C. "The Templar Revelation", 1997, p. 90.)
Olga Rowe, Monthly Contributor
My sample was sent to me by Olympic Orchids Artisan Perfumes
All illustrations are from Bob Dylan's The Drawn Blank Series of Limited Edition Graphics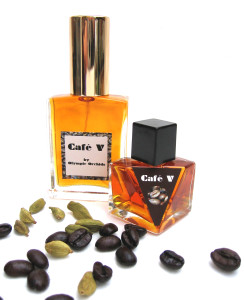 Thanks to Ellen Covey we have a draw for both a 30 ml edp spray and a 15 ml of perfume of Cafe V. To be eligible, please leave a comment with your favorite Bob Dylan song AND your favorite Olympic Orchids Artisan Perfumes fragrance (or one you like to try). Draw ends March 4, 2013
We announce the winners only on site and on our Facebook page, so Like Cafleurebon and use our RSS option…or your dream prize will be just spilled perfume.