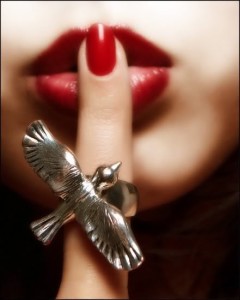 Last April, when we took you into Neil Morris' "Vault Within a Vault," it caused quite a stir in the fragrance community. After sharing this little secret, we were flooded with inquiries about this private collection, word-of-mouth exclusives accessible only to those in the know.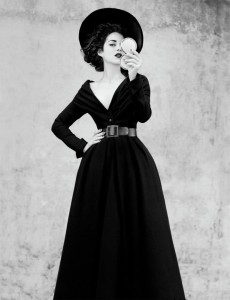 Marion Cotillard for Dior Magazine (F/W 2012/13) by Jean-Baptiste
Among these hidden gems was a fragrance I called "time-honored, yet timeless." It reminded me of "something found among the vintage Guerlains or Chanels; treasures from a by-gone era that are entirely relevant today." This haunting creation was Vision in Black, a mysterious accordance of sex and shadow. Neil told us that he "imagined a lovely, dark haired woman arriving late and alone to a swanky party wearing a simple but perfectly fitting black gown … all eyes are upon her and no one is sure who she is." CaFleureBon Editor-in-Chief Michelyn Camen was equally enthralled by Neil's honeysuckle-drenched Vision in Black, and had a vision of her own…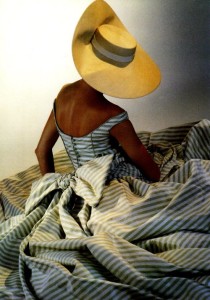 Inspiration of A Vision in White Oscar de La Renta vintage sundress
Michelyn sent Neil this photo of an Oscar De La Renta model "whose face cannot be seen, but whose presence cannot be ignored," she mused. A shutter-snap can halt time. This classic image silently speaks of ageless elegance and dignity without decay. This image would serve as the inspiration for Vision in White.
There was once a time when the only restrictions in perfumery were the limits of the imagination. Some precious raw materials, like oakmoss for instance, are being regulated to the degree that the notion of timelessness may become as elusive as time itself. That's why Michelyn and Neil felt that this perfume should be the shutter-snap. These vulnerable ingredients, which define an era, would be used unabashedly. And no, this would not be a common white floral. Like the black light illumination surrounding Neil's first composition, the whiteness in Vision in White would come from its glow, rather than its core.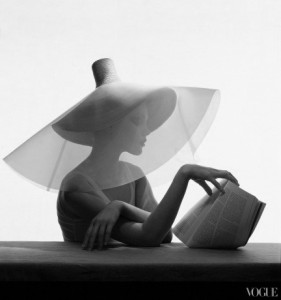 Photographed by Irving Penn, Vogue, July 2004
I had an instant emotional connection to Vision in Black which was, and is, indescribable in text. Its soul-stirring, albeit mind-escaping, depth can only be reached at a point below the source of thought. I found Vision in Black to have a ghostly presence; I'd call it a retrospectral. There was, perhaps, a glorious melancholy hiding in the shadow across her face. We were uncertain of her expression, we were uncertain if she was real, we only knew she was heartbreakingly beautiful. I was honored (and delighted) when Michelyn and Neil asked me to explore their new vision, now realized.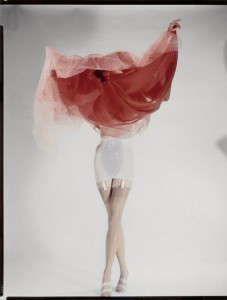 Organdie-by Dior 1953 by Erwin-Blumenfeld
Like its predecessor, Vision in White has a luminous intensity, an aura, which appears only when its ingredients are brought together. A healthy dose of aldehydes open the composition, glowing from the very start. The aldehydic sparkle assures that this will be a polarized interpretation of the first perfume, while simultaneously serving as homage to the classic perfumes of yesteryear. The brightness of the opening is further enhanced by bergamot, mandarin and an unexpected hint of peach. The peach note might serve a nod to Guerlain's 1919 masterpiece, Mitsouko. There is a shared radiance texturally, but Vision in White evolves without the earthiness found in the early formulations of Mitsouko. Plum blossom takes us into a more literal whiteness as we move into the heart, though, like plum blossoms, the whiteness is speckled with drops of red, purple and pink.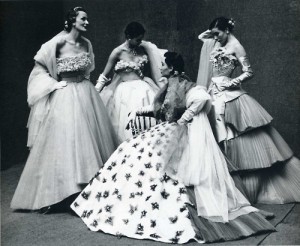 Vintage gowns 1940s
Jasmine, orchid and gardenia emerge to get your whites whiter. Honeysuckle (beautiful honeysuckle!) links White to Black, a glance in the mirror as you decide between two different, but equally radiant dresses.To ground the composition and to remind us of simpler times, oak moss appears under the whiteness, now forming a spotlight. This is a concert where the artist is playing the song that made her famous, in what might be her final tour.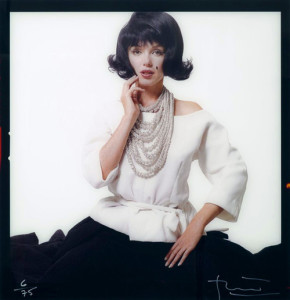 Marilyn Monroe with Jackie-Wig 1962 by-Bert-Stern.
The glow surrounding both of these fragrances reminds me of the gauzy lenses often used on cameras to make an aging actor appear ageless. The wrinkles in time softened by a hazy, glimmering, illumination which would be there with or without a special lens. It's the glow of youth, of love, of life. I have always admired the way Neil Morris creates fragrance by capturing moments in time. With his visions in both black and white, he has given us that shutter-snap, a precious gift from those who have come before. We can see ourselves in these photographs. Torn and aged reflections that will always be relevant and meaningful. Moments forever captured in black and white.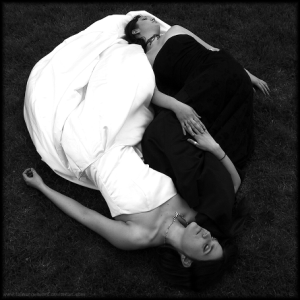 Thanks to Neil Morris and Neil Morris Fragrances we have a very special draw for a set of 15mL bottles of both Vision in White and Vision in Black perfumes. This is a worldwide draw. To be eligible leave a comment if you think Neil should sell Vision in Black And White on his website and let us know which would be your favorite. The draw will end on July 11, 2013.
We announce the winners only on site and on our Facebook page, so Like Cafleurebon and use our RSS option…or your dream prize will be just spilled perfume.
–Michael Devine, Senior Contributor
Art Direction Michelyn Camen, Editor in Chief
Editor's Note: Vision in White and Vision in Black are available now, but as noted, only available to those, like you, who are in the know. Simply go to neilmorrisfragrances.com and order any fragrance in the "vault" section, but — in the comments section upon checkout, indicate that you actually wish to purchase Vision in White or Black, which is the same price as any vault fragrance.
Each perfume is $70.00 per 1 oz. Parfum
$48 per 1 oz. Eau De Parfum