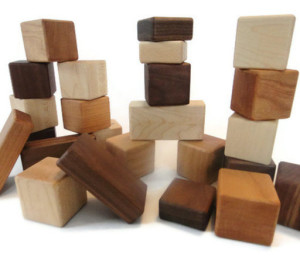 Like many of you the first toy I am cognizant of playing with were wooden blocks. The earliest lessons I learned about balance and foundation came from playing with those simple wooden cubes and stacking and restacking them in different shapes. I was taken back to my earliest memories of structure and construction because of a very special opportunity offered me by L'Artisan Parfumeur. Not only did they send me their newest release Caligna but they sent me all of the olfactory building blocks perfumer Dora Baghriche-Arnaud used to assemble the completed structure that is Caligna. Over the time I had those building blocks to experiment with I felt like that toddler stacking blocks again and again. All of my stacks led to eventual toppling of structure. The stack Mme Baghriche-Arnaud used for Caligna shows why she is a perfumer and I'm still a figurative child in the world of raw materials and perfumery. This is going to be a very different review as I try to share the experience I had over the last week of playing with my olfactory building blocks and comparing it to Mme Baghriche-Arnaud's completed structure.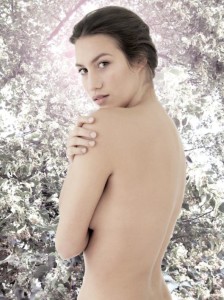 Gudrun Ghesquiere, The Face of Caligna
Top Notes: Figue, Rose Bouton Firnat, Citron Sfuma Decol, Sauge Sclaree Supra SFE
My first impression of Caligna is of Clary Sage and Fig. I get that great herbal quality that clary sage brings to many of the fragrances that use it and the fig is of the creamy sun-ripened variety. Here is what makes this exercise so interesting. If I just mix the Figue and Sauge Sclaree Supra SFE I don't get anything even close to the early moments of Caligna. If it was just those two notes the ultra-green herbal quality of the clary sage overwhelms the fig. Left to themselves the clary sage would dominate. How does Mme Baghriche-Arnaud keep that from happening? By using two other notes,one to blunt the green herbal quality of the sage and another to enhance the sunny quality of the fig. The Rose Bouton Firnat is what takes the edge off of the sage by using a focused laser beam of rose to elide down the forceful nature of the sage. The citron takes the fig and adds a citric brightness to it and it allows it to stand up and be noticed a little more. I tried swapping out the pairs and while the rose and fig was interesting the citron and sage was a vegetal mess of sharp edges. It is clear to me that if you were lining up the building blocks of the top notes it would be the fig and sage in the middle with their respective partners citron and rose on the outside. Together the opening stages of Caligna are a beautiful interplay of fig and clary sage; soft and opulent.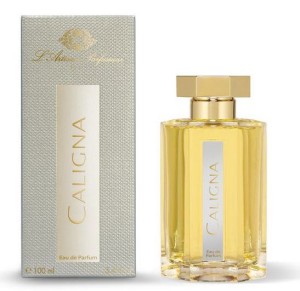 Heart Notes: Marmelade de Jasmin, Lentisque Absolute, Jasmine Sambac Absolute
The heart of Caligna is all jasmine but Mme Baghriche-Arnaud also wanted to keep the clary sage going so that the heart is a green herbal accord which complements a jasmine accord. It makes for a softly green floral moment in the middle of Caligna. The note Mme Baghriche-Arnaud uses to extend the clary sage is Lentisque Absolute which is distilled from the branches of the same tree which produces mastic resin. The Lentisque Absolute has the smell, by itself, of dense green foliage. It smells of green growing things with a slight earthy character. It is this that the clary sage attaches to and transforms from boring green to more interesting herbal green with the multi-faceted clary sage imposing its pattern over it. I realized the lentisque absolute also allows for the clary sage to stick around a little longer than it might. When wearing a bit of the Sauge Sclaree Supra SFE by itself or mixed with the Lentisque Absolute the mixture lingered for almost twice as long, when combined, without smelling dramatically different. The two jasmine building blocks were so different in nature by themselves. Jasmine Sambac Absolute smells a little like cough syrup. It was almost too treacly and dense, to be wearable; even though my lovely indoles were present. As I sniffed this I was thinking I hadn't really detected too much of an indolic quality in the finished product. As I picked up the final building block of the heart it became obvious. The main jasmine source of the heart of Caligna is the Marmelade de Jasmin. This accord is so beautiful, by itself; I would buy a bottle of this if L'Artisan would sell it. Imagine a picture of a jasmine bloom in a tropical garden framed so that you could see the sun shining through the petals; that is what Marmelade de Jasmin smells like. I was so entranced by the Marmelade de Jasmin I believed that you didn't need the Jasmine Sambac Absolute but this is why I write about perfume and Mme Baghriche-Arnaud creates it. The Marmelade de Jasmin is too delicate by itself, remember the lentisque and sage are still here and attenuated as they are they have enough of an orthogonal character to topple over the tower of blocks. This is why the Jasmine Sambac Absolute has to be here. It gives the Marmalade de Jasmin a bit of a boost so it can shine fully and it does. The heart of Caligna with this soft living jasmine and the green herbal accord beats strong and sure.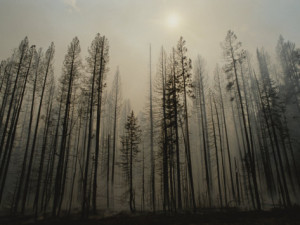 A Lodgepole Pine Forest Smoulders After a Fire by Raymond Gehman
Base Notes: Cedre Entraine, Pin Aiguille Pyrogene, Copeaux Chene
So I think I describe the base notes of many fragrances I review as woody and pick one as the prominent player. If I was doing my usual review I would say; Caligna ends on a clean cedar finish and if you wear Caligna that will probably be your experience. By experiencing what it takes for Mme Baghriche-Arnaud to realize that clean cedar finish I was really surprised. The clean cedar accord is made up of Cedre Entraine and Copeaux Chene. Together this is the classic pencil shavings accord with a bit more generic woody depth. What I had not considered before is how do you take a wearer from strong green herbal jasmine heart to clean cedar without feeling jarring or causing olfactory whiplash. It seems that in the case of Caligna Mme Baghriche-Arnaud chose a fantastically strange version of pine needles called Pin Aiguilles Pyrogene. Pin Aiguille Pyrogene is the smell of a pine forest after it has burned. The sap is charred, the smoke hangs on the air, exposed wood is everywhere; it is strong and pungent and if it was in Caligna in a significant amount it would be the star of the base notes. Instead the role of Pin Aiguille Pyrogene is to be used in a small quantity so the smoky aspect carries the wearer down to the exposed clean woody facet in a smooth transition. When I first wore Caligna I barely detected the pine needles now after smelling the building block I can't not smell it. It is the foundational connective tissue which completes Caligna perfectly.
Caligna has excellent longevity and average sillage.
Like a child playing with building blocks I had to keep trying to stack them in my own way. As I found out only one way of arranging them leads to the beauty that Mme Baghriche-Arnaud designed called Caligna.
Disclosure: This review was based on a press sample and samples of the raw materials provided by L'Artisan Parfumeur.
My extreme gratitude goes out to the team at L'Artisan Pafumeur; Nick Steward, Brian Kurtz, Celene Aguilar, Alyssa Mendell, and Justine Lecaille for affording me this very unique experience.
Caligna will launch in late Arpil 2013 exclusively at Barney's New York in the US and at L'Artisan Parfumeur boutiques worldwide.
–Mark Behnke, Managing Editor