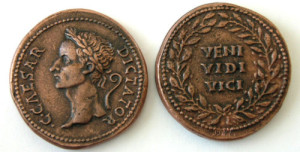 Veni, Vidi, Vici is purported to be Julius Caesar's three word summation after he conquered the city of Zela; in about the same amount of time it took to say those three words. Loosely translated they mean "I came. I saw. I conquered." In many ways Gerald Ghislain has spent the last year adding new realms to his perfumed empire as he added The Scent of Departure and the Alice & Peter lines of fragrance. With all of that activity it felt like the original Histoires de Parfums line had been a bit neglected like a Roman wife while her husband was out on campaign. That is why it is so satisfying to see M. Ghislain return to his metaphorical perfumed capitol with the release of three new Editions Rare under the Histoires de Parfums imprint called Veni, Vidi, and Vici.
Marlon Brando as Julius Caesar
Like the words all three fragrances share a common starting point and ending point as M. Ghislain has chosen cardamom to begin each experience and musk in the basenotes to end it. Like the words themselves the three fragrances show distinct differences in the interpretation.
Veni, according to the press release was meant to capture earth. The cardamom in the opening is paired with lavender, cinnamon, and galbanum. The cardamom is from an absolu and it actually has the upper hand over the cinnamon which adds depth and heat but the cardamom is spectacular here. The lavender and galbanum add a verdant floralcy as contrast. Saffron rises to a similar level as the cardamom and a clean gaiac adds woody order. The base of Veni is a gourmand accord of toffee with vanilla over the top of patchouli and musk. Veni is one of those stealth fragrances that just kept sneaking up on me with moments of powerful beauty. Veni is a strong perfume and the most forward of these three perfumes but as an opening statement it definitely makes its point.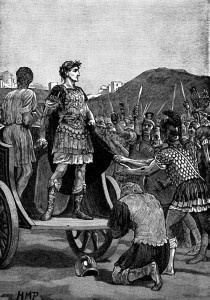 Caesar Addressing the Troops
Vidi was meant to be the wind and the early mix of ozonic notes with a very light application of cardamom easily brings the wind to mind as a gentle sea breeze blows across my senses. The ozonic notes really enhance the lemon aspect of cardamom in a way that surprised me at how much of a citrus facet exists within cardamom. The heart of Vidi is a watery accord with cyclamen and what M. Ghislain calls a "plastic rose" accord. What that accord means is the smell of manufactured plastic with a synthetic rose quality. Immortelle adds to the manufactured vibe and actually enhances the plastic feel of Vidi. Some musk and vanilla get me out of the factory. The plasticky nature of the later development was difficult for me to really embrace but it does make Vidi the most original of these three.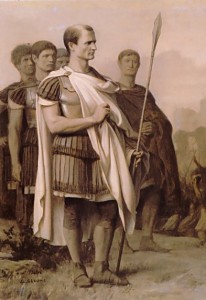 Julius Caesar and Staff by Jean-Leon Gerome
My favorite and the one which conquered me was, appropriately, Vici. I was unprepared for the experience for a perfume that was supposed to represent fire. I'm not sure who was coming up with the fire analogy but Vici is a decidedly cool customer the only hint of fire is a tiny pinch of pink pepper in the heart. Vici opens with a bit of sparkly fresh aldehydes mixed with the cardamom. Angelica, basil, and galbanum turn things in a green direction. The heart is the leather-apricot of osmanthus surrounded by a swirl of incense, lavender, and iris. The osmanthus is particularly nice on my skin and it lingers into the base as musk, patchouli, and cedar compose the final stanza.
All three fragrances have average longevity and average sillage.
I felt like in 2012 M. Ghislain neglected the Histoires de Parfums label a bit as he spread his perfume talent further afield. With Veni, Vidi, Vici it is nice to have him back at home to remind us why we want him out there spreading his perfumed aesthetic far and wide. Just like Caesar it only took three fragrances to accomplish the mission of reconquering my affections.
Disclosure: This review was based on samples provided by Histoires de Parfums.
Thanks to Histoires de Parfums we have a sample set of all three fragrances to giveaway to one winner. To be eligible leave a comment on which of the three you think you would like best. The draw ends on February 13, 2013.
We announce the winners only onsite and on our Facebook page, so Like CaFleureBon and use our RSS option…..or your dream prize will be just spilled perfume.
-Mark Behnke, Managing Editor