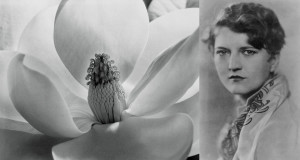 Magnolia image by Imogen Cunningham/ Zelda Fitzgerald
When I was in high school I was forced to read F. Scott Fitzgerald's classic, "The Great Gatsby". Like most of the books I was force-fed in school, I pretty much refused to enjoy it, and don't remember it at all. I should probably read it again, I suppose, but it isn't a priority. I have little desire to see the new movie; for one, I don't see in 3D due to a depth perception issue, and for two, the music in the trailer makes it seem like it's going to be a far cry from anything remotely resembling a faithful adaptation. It all looks too glitzy or overblown.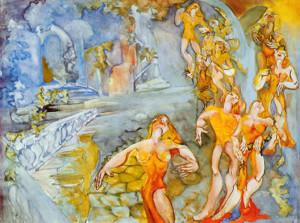 Marriage at Cana by Zelda Fitzgerald
However, I have always been interested in the Roaring Twenties, and voluntarily read Frederick Lewis Allen's fantastic history of the era, "Only Yesterday". Somewhere along the way I was introduced to the life of Zelda Fitzgerald. Of course, this was all many years ago, but I do remember being obsessed with Zelda as much as I was blasé about her husband. Just the exotic name was enough to intrigue me; Zelda (she was named for a gypsy). That name conjured up a wild, free spirit, and I'm sure I romanticized her life in a typical teenage way. When I learned that Shelley Waddington of EnVoyage Perfumes was creating a scent based on the life of Zelda Fitzgerald, the memory of my teen obsession came roaring back. I was anxious to try it, as Ms. Waddington is an accomplished perfumer.
F. Scott Fitzgerald, daughter Scottie, and Zelda
The first time I tried a small test spray of Zelda perfume, I was taken aback. It seemed a little bit harsh and spiky to my nose, and I didn't really get the magnolia listed as the heart note. Wearing it again for my review, I found the secret. I sprayed Zelda all over my arms and shoulders from a little bit of a distance, so the scent was evenly and lightly dispersed over my skin. I was instantly surrounded by a cloud of rich, honeyed blossoms. The big waxy blooms of magnolia represent Zelda's wild Southern Belle roots and the woman F. Scott Fitzgerald fell for. Throughout the life of the perfume is that full, plush scent to make us think of a lively, brilliant woman. The drydown has a wonderfully smoky quality that speaks of the shocking notion of ladies smoking cigarettes; of glittering debauchery, the scent of skin after a night of play, and, at its darkest depths, of a life lost to madness. The fragrance has a vintage feel, but thanks in part to the spunky top notes, also has a complexity that brings it to the modern age.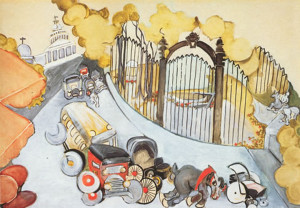 The Pantheon & Luxembourg Gardens by Zelda Fitzgerald
The 1920's was a decade of new technology, of soon-to-burst bubbles of wealth, of a country recovering from war, of women finding their sexuality. Zelda Fitzgerald led the charge, and represented this era, at least to my fervid teenage mind. Does this perfume, with its slightly uncomfortable top, intoxicating heart, and deliciously dark morning-after drydown represent Zelda? It's hard to say, but I was definitely reminded of how I felt about her, and of the imagery in my head that represents her time and her life.
Listed notes: Italian bergamot, Iranian galbanum, bourbon, magnolia, amber, vintage musks, vanilla, balsam, sandalwood, vetiver.*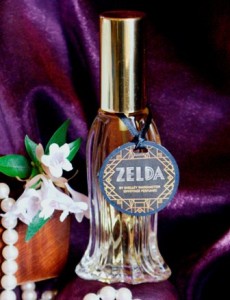 My sample was kindly provided by En Voyage Perfumes. Thanks to Ms. Waddington, we have a full bottle for one lucky US reader, and a sample for a runner-up anywhere in the world. Leave us a comment about Zelda, The Great Gatsby, or The Roaring Twenties, and make sure to let us know you live in the USA to be eligible for the full bottle draw. Draw ends May 23, 2013.
We announce the winners only on site and on our Facebook page, so like Cafleurebon and use our RSS option…or your dream prize will be just spilled perfume
–Tama Blough, Senior Editor
* Note: In our recent article by Ms. Waddington about the creation of Zelda, she also mentions notes of orange, spice, rose de mai, bois de rose, mousse de chêne, cuir de Russie, tobacco, castoreum, and civet.