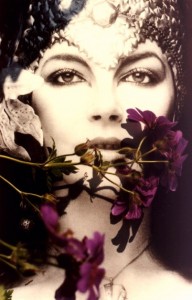 If you've loved perfume for any period of time there are some lost gems you mourn over and judiciously meter out well-spaced applications so that they will last. Two of those for me come from the Slatkin brand from the early aughts. Working with Harry and Laura Slatkin, Christophe Laudamiel created a pair of fragrances focused on absinthe. One was titled Absinthe and the other Black Fig & Absinthe; both of these are treasured masterpieces in my collection and still hold a prominent place there. Sadly the marketplace was not ready for these fragrances and the Slatkin brand would be purchased and re-focused on home fragrances and candles. I am not a home fragrance or candle person so as far as I was concerned the brand was dead.
Laura Slatkin reappeared in the fall of 2008 with a holiday candle collection for her new NEST Fragrances Collection. I remember asking her if there was any thought to returning to perfume and with a smile she told me that was in the future for NEST. It took four years but the NEST Fine Fragrance Collection has arrived with three fragrances; Passiflora, Amazon Lily, and Midnight Fleur. Passiflora and Amazon Lily were signed by Christophe Laudamiel and Midnight Fleur by Jerome Epinette.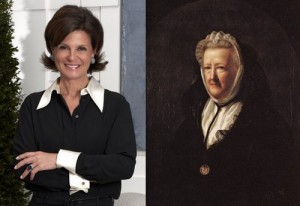 Laura Slatkin (l.) and Mary Delany (r.)
These three fragrances were based on the "Paper Mosaiks" of 18th century artist Mrs. Delany. Mrs. Delany would use small cut out pieces of paper to create an image of a botanically accurate flower or plant. Her ability to use different stocks and shades of paper to create all of the nuances of a living thing are truly amazing to see. It is easy to see why Laura Slatkin would be inspired by them and to ask Messrs. Laudamiel and Epinette to create similarly nuanced and lively "perfume mosaiks".
Passion Flower by Mary Delany
Passiflora is a mix of the sweet of passion flower and the astringency of muguet all over the watery quality of hyacinth. M. Laudamiel has chosen to mimic a bowl of water with blooms floating on top as the very strong passion flower is all you get in the early going. Then the hyacinth begins to chip away at the sweetness and the muguet finally helps gain some leverage. Early on I found the sweetness of the passion flower right on the verge of tolerability. There was a point where I felt Passiflora was only going to be that passion flower note. Once the hyacinth and, particularly, the lily begin to gather some steam then Passiflora blooms. If you are a lover of bold sweet florals Passiflora is a good one.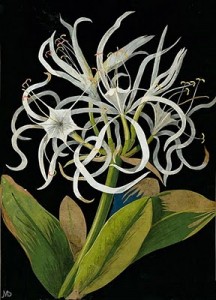 Lily by Mary Delany
Amazon Lily is closer in style to my late lamented Absinthes. As he did with those fragrances M. Laudamiel takes the titular note and uses the other notes to explore the subtleties of lily. From the beginning a full green lush lily with all of its green facets on display arrives to my nose. M. Laudamiel uses a tart lime to turn the green quality towards an even more verdant phase. He uses tangerine to accentuate the oft hidden sweetness of a lily. This is a swirling complex dance of notes and it easily could become cloying or harsh but M. Laudamiel manages to keep it controlled and interesting throughout. As this develops further a very warm wood accord arises which is called driftwood in the note list. It means the smell of sun-dried wood which is as transparent as woody notes can get. It is combined with white musk to give another sheer layer to the ending. Amazon Lily feels just like a perfume mosaic as every note manages to illuminate the others surrounding it to create a memorable piece of perfume.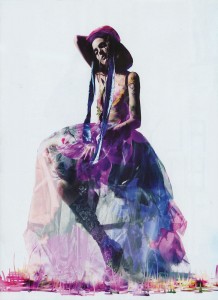 Zuzanna Bijoch by Pierre Debusschere
Surprisingly, to me, my favorite of the line was the one not created by M. Laudamiel. Instead Jerome Epinette's Midnight Fleur is the one which captured my heart. I probably shouldn't have been surprised because M. Epinette has had a very successful 2012 seemingly creating one interesting perfume after another and Midnight Fleur continues that winning streak. M. Epinette's creation is of a night blooming jasmine at its heart. It is that scent of slightly corrupt floral sweetness on a chilly evening. The jasmine stands alone in the beginning but it is then joined by a perfectly chosen vanilla orchid. When vanilla orchid is used more for its sweet green quality over its more widely used plain sweetness it can be a great complement. When the vanilla orchid fully engages the jasmine you have a green indolic floral accord that truly feels like the clock is headed towards twelve. To make the clock strike the witching hour M. Epinette adds patchouli and amber which complete the late night milieu with their herbal spicy duality. Midnight Fleur is a tantalizing moonlit walk on a garden path and truly beautiful to wear.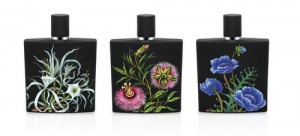 All three EDP's have excellent longevity and way above average sillage. A little spritz will do you fine.
Along with these three new EDP's NEST has also released matching body cream and I received the Midnight Fleur Body Cream to test. It is a great nighttime product for a perfumista as I wore it a few nights running to sleep and it made me feel swathed in luxurious fragrance.
I am so happy to have Laura Slatkin back directing M. Laudamiel along with her new perfumer M. Epinette. I am hoping for a return to that which was lost; maybe she can give M. Epinette a chance to try his hand at absinthe. I should stop looking in the past and instead enjoy the current reality there are many pleasures to be found in the here and now.
Disclosure: This review was based on rollerballs of all three NEST Fine Fragrances plus a sample of body Cream provided by NEST Fine Fragrance.
Thanks to NEST Fine Fragrance we have a great giveaway as we have a full set of each fragrance to give away. The set includes a full-sized 100mL bottle of the EDP, an 8.5 mL rollerball of the EDP, and a full 200mL jar of the body cream. We have one set for each of Passiflora, Amazon Lily, and Midnight Fleur. Leave a comment naming which one you would like to be entered for and we will draw one winner of each fragrance from the commenter's who chose that fragrance. The draw will take place on October 21, 2012.
We announce the winners only on site and on our Facebook page, so Like Cafleurebon and use our RSS option…or your dream prize will be just spilled perfume.
-Mark Behnke, Managing Editor
Art Direction: Michelyn Camen, EIC