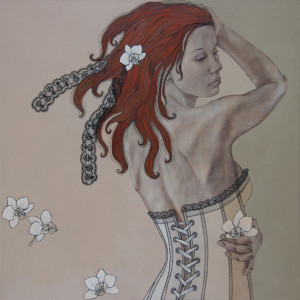 White Orchids by Olga Gouskova
Laurent Mazzone stood on a New York City rooftop at night and looked skyward; and like so many before him who have done the same thing he had a moment of clarity. He came to the realization that time, though intransigent, is as elusive as a star. Could a moment like this be captured forever? How fitting it is that years later, the answer to that question, and the realization of that starlit reverie, arrives back in New York.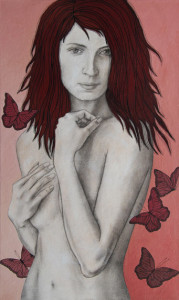 Connection by Olga Gouskova
Laurent Mazzone's luxury boutiques throughout France have made him a star of the fashion firmament, now he has launched a line of perfume that, according to his website, "recreates atmospheric touches we all experience in our everyday lives." LM Parfums, a seven fragrance collection recently unveiled in New York City's Osswald Parfumerie, is the celestial culmination of a dreamer's quest and an artist's vision.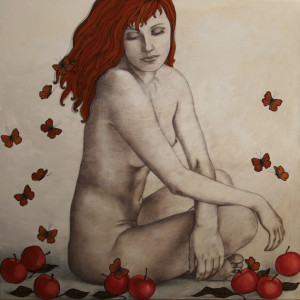 Pommes D'Amour by Olga Gouskova
Mirroring his sophisticated and multi-faceted couture, these classically-structured compositions demonstrate the importance of the finest raw materials. Mr. Mazzone uses only the finest textiles–silk,leather and wool–so too would his scents. He insisted on olfactory ingredients which display the opulence and richness of their sources, yet, just as magnificently, exhibit the restraint and precision of an artist who understands the importance of balance.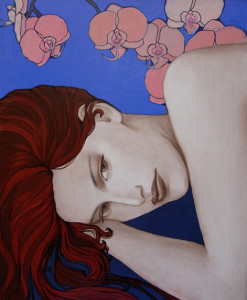 Wild Orchid by Olga Gouskova
The latest release from LM Parfums is Sensual Orchid, an extrait de parfum composed by Robertet Senior Perfumer Jérôme Epinette, which exemplifies Mazzone's approach — a delicate balance of real and unreal, truth and lies. Sensual Orchid prompts us to close our eyes and dream. It's a tease to those of us who know that some orchids do not exude a scent; their fragrance is a lie of the mind. They attract through color, shape and primal desire. The origin of the word orchid comes from the Greek word orkhis, which means, quite literally, "testicle," as suggested by the shape within the flower. Epinette's creation combines the impalpable carnality of the scentless flower with the lushness of the fragrant variety: almond, vanilla (itself a member of the orchid family), orange, musk and woody notes. The bouquet of flowers combine to create the illusion of just one. Whispers of neroli, jasmine sambac, ylang-ylang, peony and heliotrope develop over the darker, lustier tones of labdanum, cedar and benzoin. Sensual Orchid is a kitten's timid meow which turns to a tiger's confident roar. This juxtaposition is enhanced as the vivid three-dimensionality of the composition highlights the ostensible innocence of a flower while simultaneously exposing the reality that flowers are made of flesh.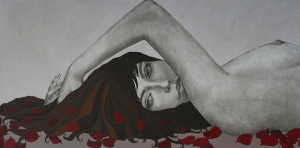 Potpurry by Olga Gouskova
While I wanted to stay within the carnal dream of Sensual Orchid forever, I also wanted to awaken and explore more from this exciting new line. Patchouly Boheme, which was composed by Mona di Orio in 2010, is a fabulous tribute to those who prefer to go against the grain. A patch with class, this fragrance conjures images from Puccini's La Boheme, at the Met more than it makes me think of the muddy puddles of Woodstock. Hints of leather, tobacco, resin tolu and tonka bean add depth, but the authenticity, mystery and character of patchouli is clearly present. Though I wasn't around in the 60's and have no preconceived notions about this love-it-or-hate-it natural accord, I could see this being a fragrance for the hippie who shows a bit of gray, as well as the non-conformist forced to wear a suit to work, or for the flower child in all of us.
LM Parfums allow for many of us to dream on a starlit rooftop in NYC.
Disclosure: This review was based on samples provided by Osswald NYC.
Thanks to Osswald NYC we have a draw for a full bottle of Sensual Orchid. This is a US draw only. To be eligible leave a comment on what you dream about and whether you are in the US. The draw ends on September 17, 2013
–Michael Devine, Senior Contributor
Art Director: Michelyn Camen, Editor in Chief
Editor's Note: All art for this review is by Olga Gouskova, who was born in Russia and lives in Bruges, Belgium. We thank Olga for sharing her sensuous paintings with our readers To see more of Olga's paintings check out this link
.We announce the winners only on site and on our Facebook page, so Like Cafleurebon and use our RSS option…or your dream prize will be just spilled perfume.
.