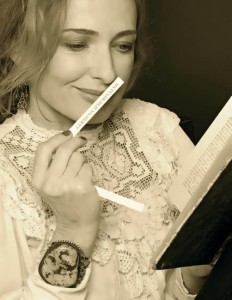 Anais Biguine
While I am happy, and fortunate, to live in an area of the world where I have ready access to most of the fragrant objects of my desire I still suffer from envy. It seems over the last few years I begin to hear about a great new line that is only available in Europe; and my eyes turn greener. The latest example of this is the line called Jardins D'Ecrivains (The Garden of Writers). Coming out of Pitti Fragranze, in the fall, the one fragrance I very much wanted to try was the first perfume release called George. It took having Celine Verleure of Olfactive Studio bring me a bottle of George with her when she visited the Elements Showcase in January to satisfy my desire. George was everything I could've wanted and more and of course now I would find out there were three more. Of course I wanted them. I contacted Anais Biguine the owner and perfumer behind the line and she graciously sent me the entire collection. I have been wearing the three newer ones over the last two weeks and have found Mme Biguine's creations to be appropriate fragrant homage to their literary inspirations.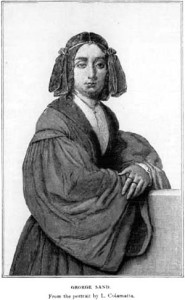 Portrait of George Sand by L. Colamatta
George is inspired by Amantine Lucile Aurore Dupin or as she is more familiarly known as, George Sand. George Sand was a mid-nineteenth century writer who, while a talented writer, is more infamous for wearing men's clothes and smoking cigarettes. Her reasons for wearing the masculine style of clothing were they were more practical to wear but her manner of dress also seemed to gain her entrée to parts of society not allowed a person wearing a dress. This mix of creativity and rules flaunting has proven to be enticing as a muse for fragrance. George is the third fragrance I am aware of based on George Sand (Histoires de Parfums and Maitre Parfumeur et Gantier are the other two) but the one that I think captures the person best as Mme Biguine dresses up some traditional floral notes with tobacco and coffee over a rich woody base to create a trouser wearing woman of a fragrance. The top notes are a high quality mix of neroli and bergamot and it lilts and flows with a little heliotrope added in to intensify the floral quality. A strong coffee and even stronger tobacco figuratively put the pants on George and the byplay of the florals among the deeper notes is placed at a precise balance. A little bit more or less of any of these notes would've collapsed the spell. The base is Peru balsam and myrrh to make a sweetly woody end that more than matches the beginning. George is a fantastic fragrance and one which lived up to my high hopes, and beyond.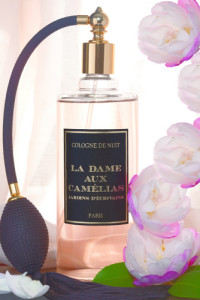 In January La Dame aux Camelias was released and on the bottle it is labeled as "Cologne de Nuit" it should be labeled "Warning: Only wear when planning to seduce". I rarely feel a fragrance grab me in the libido right from the beginning but there is something about La Dame aux Camelias which flips every one of my erotic switches. It starts with the bottle which comes with the old-fashioned bulb atomizer with a tassel on it. It looks like it should be bedside in a boudoir. La Dame aux Camelias is a soft spring like mix of orange blossom, rose, camellia, and musk. It smells like the fresh washed skin of a courtesan after she has finished with her rose petal bath. There is a floral shimmer over a clean skin accord and the possibility of passion that musk represents. Mme Biguine uses orange blossom as her first veil and it is supported by verbena and made exotic with cardamom. This is kept so exquisitely airy it draws me in as I try to capture it. When I do catch up a similarly light mix of rose and camellia await. Mme Biguine also makes a very clever choice to add violet and this forms the clean skin accord. The base is wonderfully sensual musk accentuated sweetly with tonka bean. The chase is over; time for a new chapter to be written. La Dame aux Camelias has a very quick trajectory through its paces and consequently its actual longevity is also quite short. This truly is meant to be worn for the duration of one night of passion.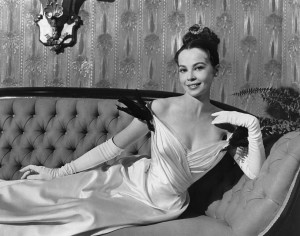 Leslie Caron as Gigi in "Gigi" (1958)
Gigi is based on the heroine of Colette's novella of the same name about a young girl being trained as a courtesan by her Aunt Alicia and who finds love at the end. Gigi is as much beloved for its description of Belle Époque France as it is for its story. Mme Biguine wanted Gigi to be "the expression of a certain panache, the scent left in the wake of radiant ladies." To accomplish this she uses orange blossom again but with a beautiful fresh cut grass accord that feels like a greensward at the cusp of spring. A duet of white flowers in tuberose and jasmine make up the heart and they are cut with a bit of blackcurrant. Throughout my experience with all of Jardins D'Ecrivains fragrances I was impressed with the amount of restraint Mme Biguine uses with what are usually powerhouse notes. This mix of these three notes is the best example of that deft touch as all three of them are present but not overpowering and it allows for an olfactory harmonic that is unexpectedly pleasant. The base here is a pretty generic white musk and sandalwood but the heart of Gigi is as special as the base is pedestrian.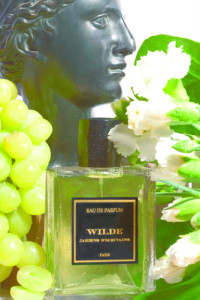 I think you can tell I liked Mme Biguine's fragrances but the new release coming out early next month called Wilde absolutely beguiled me. It is inspired by Oscar Wilde who is best known for his novels and plays. Many know him through his witty epigrams which have survived and thrived since first being penned back in the late nineteenth century. Mme Biguine's goal with Wilde was to create an "olfactive figure of speech." Her epigram starts with a thoroughly unique throat clearer of bergamot and grape. This is the smell of the crushed grapes of winemaking and it is redolent of the vine and fruit together. A rich ripe fig adds a round full nucleus for carnation and tea to interact with. Mme Beguine takes the ripe fig and keeps it attenuated enough so that the clove nature of the carnation and the tea are readily detected. An oakmoss and vetiver pairing closes this olfactory epigram with an exclamation point. The whole opening of Wilde had me entranced and fascinated; I went and am wild for it.
George, Gigi and Wilde all have above average longevity and above average sillage. As mentioned above La Dame aux Camelias has below average longevity and average sillage.
One of Oscar Wilde's more memorable quotes is "There is only one thing in the world worse than being talked about, and that is not being talked about." The entire line of Jardins D'Ecrivains perfumes and their creator Anais Biguine need to be talked about. These are worth the effort to try.
Disclosure: this review was based on bottles of all four fragrances provided by Jardins D'Ecrivains.
–Mark Behnke, Managing Editor