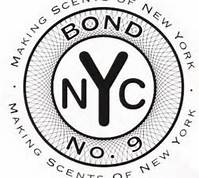 Bond No 9's mission statement may be to perfume every neighborhood in New York City, but every so often they release something inspired by NY or for charitable purposes. None of these early autumn perfumes are named for NYC neighborhoods, but all three exude quality and a New York state of mind. In addition to their Uptown, Midtown and Downtown collections this company has many other non-neighborhood releases. These auxiliary lines still maintain that NYC vibe and exude the expected Bond quality. Each of the perfumes in this autumn's un-trilogy is above par and much better than what I had anticipated.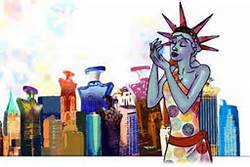 This is a company that, I idolized somewhat when I was a young starry-eyed perfumista, and they were synonymous with "rich" and fancy. I can remember receiving my first bonbons in the mail as a New Year's gift, trying them and smelling some of my very first niche fragrances. I have always had a soft spot in my heart for Bond. All three of these blue bottled fragrances have reminded me why. As perfume houses grow and begin to release multiple releases in different lines, many assume they will be "perfume by numbers" and smell generic or ubiquitous. I tried and tested all these, in spite of any preconceived notions I had, and was quite impressed across the board.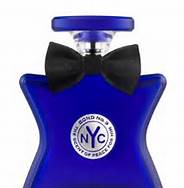 This year's male consort to The Scent of Peace's floral woody musk is the woody aromatic Scent of Peace for Him. Its adorable star-shaped royal blue bottle is adorned with a black bow-tie on the collar. Though I can appreciate the original scent (and the idea behind it), it was not one of my all-time favorite Bonds. This more masculine, less floral, version is surprising and much more than its notes or accords. The opening is juicy with pineapple and bergamot and slightly bittersweet. The sharp dry piney aroma of juniper joins the fruity pair and adds a crisp smooth green, boosting bergamot's brightness and cutting pineapple's sour tang somewhat.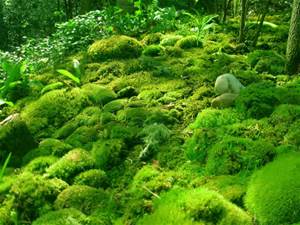 Where the original featured currants, this adds currant buds and leaves which maintain that fruitiness, only here it's drier and more vegetal. Vetiver adds an even drier grassiness as cedar magnifies the woodier aspects of cassis and adds some depth and subtle elegance. On my first sniffing, this I could have sworn there would be iris or orris in the notes. In the far dry down, moss becomes the main player and the source of the earlier mean greenness, sweetened slightly by amber(oxan). Clean musk and soft patchouli keep this intriguing but well-mannered. More aromatic than woody, The Scent of Peace for Him comes on intensely. Only two sprays down my shirt were detectable by someone in the next room as I walked past the door. It calms down beautifully; however, and takes fresh fruity woody and oriental to a whole new place. Sillage: great, then good. Longevity: above average.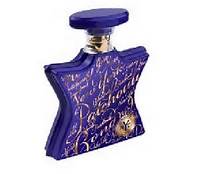 The "New York" collection from Bond has taken many integral base notes in perfumery (musk, amber, oud, etc.) and fleshed them out with notes that add or give them an NYC feel. The newest release New York Patchouli was not what I had anticipated: an in-your-face patchouli bomb. What greeted my expectant nostrils was, ironically enough, fresh ginger and grapefruit, like two sides of fresh colliding-one hot and spicy, the other cool and citric. Nutmeg and cardamom add alternately sweet and piquant smoothness that keeps it from smelling like every other opening in the industry. As real patchouli leaves smell somewhat spicy and woody-fresh, so does this.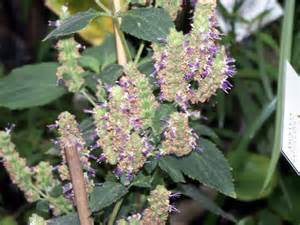 As patchouli is aged and made into oil it takes on a more flowery earthy aroma. It is here in the heart that truly divine, almost virginal, patchouli emerges cloaked in purple orchids and crowned with soft red roses. Where many patchouli-based scents go immediately all earth and wood and skank, New York Patchouli opens (Dare I say it?) cleanly and softly descends into a stunning balance of sultry flowers and woody grandeur. Deepening, and slightly darkening, the patchouli is a smoky leather note that leads the "pack" of sandalwood, amber and musk. Just to show that they are serious about their patchouli in NYC, Bond has added just a touch of oak moss to the mix. Not your head shop hippy patchouli scent, this radiates elegance and class…alongside warmth, sensuality and sexy reserved strength. Sillage: good then fair. Longevity: slightly above average.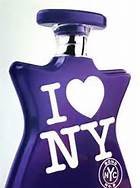 Many of the "I Love NY" line had a familiar, but still very high-end quality to them. I Love NY for the Holidays is giving Marriage Equality a run for its money for the title of my personal favorite. Many perfumes (CARON Nuit de Noel, DSH December, etc.) attempt to capture the ever-elusive "holiday spirit" in fragrant form using actual scents of the season. This perfume is wonderful and magical as I had five different people smell it blind and asked what they smelled. Three said "Christmas", one said "Christmas tree" and the last one said "happy times at home". With nary a bough of holly nor any pine needles or clove spiked oranges or smoking incense, this really, I mean REALLY, smells like the holidays!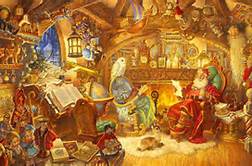 St. Nicholas in His Study by Scott Gustafson (2012)
An unlikely trio of mandarin, the fruit of good fortune, blended with osmanthus flower, with its buttery smoky peachy/apricot aroma, and tart pomegranate all create this delicious "fantasy" fruit compote that had my mouth practically watering. I Love NY for the Holidays is unisex from start to finish, and despite the listed usually feminine fruits it stays balanced thanks to heart notes of crisp licorice-tinged fennel, alluring nutmeg and a soft silken (not powdery) freesia. Perhaps the fennel is where the green came from and the spices flowers and fruits are arranged just so that the sublime scent of Christmas at home comes wafting through. The finish here is beguiling. At first it is almost oriental and floral smelling and veers very close to the feminine before settling into a comfortable pseudo-gourmand haze. Labdanum, woody warm and resinous, lingers with soft skin musk and a caramel-chocolate praline note. Woven together not unlike a fine colorful tapestry, this unites fruits, a hint of flowers with herb and spice and frames it in sensual and oriental deliciousness; resulting in a festive modern gourmet/floral blend. This is a genuine beauty and truly a gift worth giving…and owning! Sillage: very good. Longevity: excellent.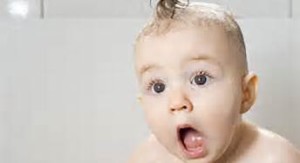 Let's not throw the baby out with the bathwater and overlook some pretty interesting releases just because they happen to be flankers or parts of some "collection". Very often, you can find the coolest things in the most unexpected places. No one is more jaded than me when it comes to collections or flankers; but I assure you these are not your run-of-the-mill cookie cutter scents. Each of these "blue" babies will most assuredly be in my regular fall fragrance rotation.
Disclosure: Reviews based on press samples sent to me by Bond No. 9.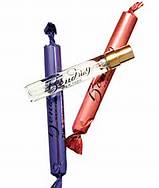 These three are so new there aren't any bon-bons of them available yet as they won't be on sale until November 1, 2013. In the spirit of the holidays they represent Bond No. 9 wanted to still do a giveaway so we have a draw for a surprise sampler of bon-bons and one deluxe pocket spray. To be eligible leave a comment on which of the three new holiday Bond No. 9 perfumes you want to add to your collection. This is a USA only draw. The draw will end October 27, 2013.
We announce the winners only onsite and on our Facebook page, so Like CaFleureBon and use our RSS option…..or your dream prize will be just spilled perfume.
-John Reasinger, Senior Editor