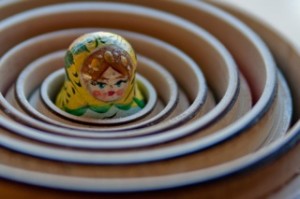 Earlier this week, I got a little lost while searching for a British brand and ended up surrounded by a sea of French perfume. Eventually I found my way and stood before Union, a British line. My tiny discovery reminded me of the thrill of opening nesting doll upon nesting doll until finally arriving at the teeniest doll, the gem. Gunpowder Rose is exclusive to Henri Bendel in the U.S. and it launched earlier this year (appropriately) in February. At first, I didn't know what to make of the rectangular flacons design that is wrapped in a metal Union Jack flag, but as I began to experience the line, I felt the substance behind the concept and perfumes.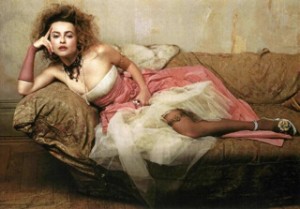 Helena Bonham-Carter
Union is about resurrecting raw materials that are native to the British Isles. Union's dedication to the fauna and flora of the Isles have been driven by two ideas, the love and diversity of its landscape, and the fact that British raw materials have long been overlooked by the fragrance industry. Perfumer Anastasia Brozler has furthered this notion by staying close to home, and ensuring the finest ingredients and single notes that inspire a unique bunch of fragrances. They speak to pride, preservation and botany. Gunpowder Rose and its notes inspired me to take a look at vintage botanical illustrations, and made me wonder about the life of a botanist. The botanist's dedicated and detailed work of capturing and identifying the anatomy of a flower or plant, its stamen, the leaf, the root, the seed, and now perhaps the DNA.
Botanical Drawing of Lovage
So I enlisted my inner "botanist" while interpreting Gunpowder Rose, and I found a rose fragrance that is neither dirty nor animalic, yet incredibly complicated and sophisticated. This delicate smoky rose blooms with notes that I have never encountered before, however the first few seconds struck me as something familiar, and I was happy for it. The vintage scent of rosy lipstick flashed and dissolved as quickly as it came allowing a delicate English Rose to come fluttering through. I imagined the color of each petal, a kind of pale, pale pink, and a yellow pistil, spiking through the center. Initially the rose comes across as fresh, almost green then slowly the scene darkens and the fragrance begins to hone in on a velvety red rose that's spicy from the smell of gunpowder, charcoal, and sulfur-all extremely controlled and not heavy-handed. There is also a welcomed tension in this fragrance that brings a necessary bitterness. The lovage note, in particular highlights a bitter herbaceous quality that smells a bit like a mix of parsley, celery and anise. Blackcurrant also adds to the blend. These notes pull and play with the spicy sulfuric rose note. The Meadowsweet note adds richness, and the leaves of meadowsweet flower surprisingly offer a hint of almond. Oak moss and bark round the base bringing earthy warmth that leads to a beautiful dry down.
Union redirected me and reminded me to take a closer look at this unique British beauty.
–Valerie Vitale, Contributing Editor