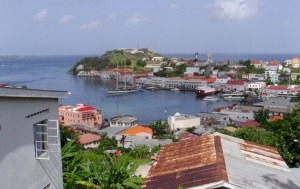 Grenada Bay
When I was a boy I was fortunate to have the opportunity to sail throughout the Caribbean and visit almost all of the islands and countries that border that body of water. I often think about how each island had its own signature fragrance, often based on the flora indigenous to the place. I was reminded of my youthful travels with the new release from The Different Company called Aurore Nomade. Aurore Nomade is the third in the Collection Excessive series and, like the previous two, Bertrand Duchaufour is the perfumer.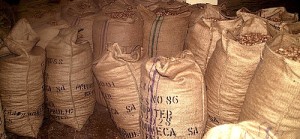 Bags of Nutmeg
For many Americans Grenada would best be known as the island Ronald Reagan ordered invaded in 1983. My memories come from a less political time and hew more towards Grenada's nickname "Isle of Spice". I remember watching the workers load in bags of cinnamon, clove, and nutmeg. As each burlap sack landed a puff of scent was released. Standing in the warehouse after it was all done there was a haze of spicy scent hanging in the air. On the other side of the same warehouse were cases of River Antoine Royal Grenada Rum adding a bit of alcohol to the spice. Banana stalks were hanging from hooks along another wall. On top of all of this was the breeze off the mountain carrying a tropical floral scent. This is how I think of Grenada circa 1968. I don't know if M. Duchaufour has ever visited Grenada but Aurore Nomade is that mix of spice, rum, fruit, and flowers I remember from that day.

Aurore Nomade opens on my sacks of cinnamon and nutmeg leaving little percussive puffs as they hit the floor. Underneath this M. Duchaufour works in an ozonic ocean accord, subtly it reminds you you're near the water but not in it. The rum accord is very prevalent and this boozy accord is one I believe M. Duchaufour has perfected and knows how to insert into a fragrance so it carries the desired effect. In Aurore Nomade it is as if it is on the other side of the room. Banana makes its presence known and it is the ripe full banana note which over time morphs into the ylang-ylang which begins the floral heart of Aurore Nomade. Along with the ylang-ylang, geranium adds a bit of jungle green and frangipani adds a more tropical vibe. The spice returns as clove along with a light application of immortelle carry Aurore Nomade into the base notes. There they combine with sandalwood and vanilla which seems a perfect way to watch sunset from my fragrant warehouse.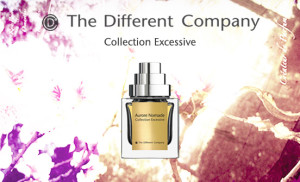 Aurore Nomade has above average longevity and average sillage.
The first two Collection Excessive fragrances were ouds and if you think that Aurore Nomade sounds lighter, focus on that second word "excessve". I really like the over the top nature of Aurore Nomade but I think there will be many for whom this is too much of a good thing. If you are craving a tropical punch of fragrance Aurore Nomade delivers that and then some. Every time I wear it I see the bay and smell Grenada from my memory.
Disclosure: This review was based on a sample provided by The Different Company at Esxence 2013.
–Mark Behnke, Managing Editor