The words "sustainability" and "fair trade" are bandied about quite often lately, mostly in the area of food and farming. But what do they mean for perfumery? A new Canadian-based company called The 7 Virtues is working to bring those practices to the manufacture of scent. They use ingredients made in war-torn Afghanistan and other countries trying to rebuild, by farmers looking to grow legal crops that can provide for their families and tribes. These hand-picked, carefully distilled essences are crucial to the well-being of many peoples and their lands.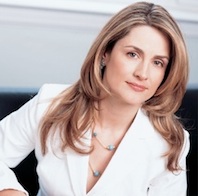 Perfumer Susanne Lang
Another aspect of The 7 Virtues that is unique is the way the perfumes are selected for the line. CEO and Creative Director Barb Stegemann directs renowned perfumer Susanne Lang to create several versions of a scent concept. She then brings in a group of people, largely from the beauty industry, to test them all and decide which version should be added to the line. Ms. Stegemann feels that by getting people involved in the process, it makes the fragrances more accessible to more people, who otherwise might not be interested in perfumes.
To top it off, these fragrances are paraben-free, phthalate-free, and vegan. People looking for environmentally sound and community-conscious perfumes need to look no further. They are not completely natural, due to some essences being unavailable in natural form, but they are made with quality ingredients. I am happy to report that the fragrances themselves are very good.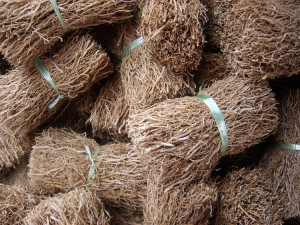 Bundles of vetiver
I am a fan of rooty, earthy vetiver, and Vetiver of Haiti is nicely done. Using organic vetiver essence distilled from plants grown in earthquake-ravaged Haiti, it has a warming, uplifting quality. It is easy for vetiver to completely overshadow the other components in a perfume, and this one is definitely vetiver-centric, but the other notes add an element of comfort that skew this closer to a cooler-weather scent. Vetiver fans would do well to try this one – it is simple and very wearable, and would work well for any gender.
Notes: lime tree, bergamot, amber, and Haitian vetiver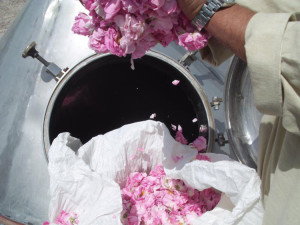 Rose petals being prepared for distillation
Each bottle of Noble Rose of Afghanistan contains the essence of 178 hand-picked rose petals. This essence is transported to market on dangerous roads by Afghan farmers working to keep their tribes alive. The perfume is a stunningly natural rose, piquant and vivid. There is a trace of greenery, then the perfume settles into a rose aroma made deeper by the addition of peppery spices. The spice notes serve to accentuate the richness of the rose, and never overwhelm it. Of all the scents in the collection, this one is the most unique, despite being basically a soliflore perfume. The natural rose essence itself is what brings this fragrance to life and it is unlike many of the more artificial rose perfumes on the market. I highly recommend it to rose enthusiasts.
Notes: Afghan rose, clove, peppercorn and carnation.
Jalalabad orange blossom harvest
The ancient orange blossom groves of Jalalabad are celebrated with a poetry festival during harvest every year. The farmers who tend these groves do so instead of tending the poppy crops. A precious and delightful organic oil is made from these blossoms and used to create Afghanistan Orange Blossom perfume. I am an orange blossom devotee, and am always excited to try a new perfume with this scent. Afghanistan Orange Blossom does not disappoint. It has a fresh aroma in the very best sense of the word; not clean or soapy, but alive and redolent of the newness of a sweet blossom. A little bit of jasmine and some freesia notes come forward in the drydown, and although I miss the predominance of the orange blossom that shines in the opening, it is still very pretty.
Notes: Afghan orange blossom, freesia and jasmine.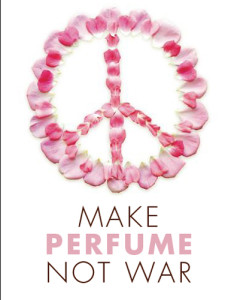 Middle East Peace perfume combines sweetie grapefruit oil from Israel and lime and basil oils from Iran, to bring a sense of peace and harmony to the people of those regions and all humankind. The fragrance itself was a surprise; when I read the notes I expected a bubbly summer citrus scent. What I actually experienced with the perfume was more subtle. The sweetie is harvested in the Sharon Plain, and, as the name implies, is sweeter and less bitter than the average variety. In the perfume, it has that wonderful tang of the fruit, but no bite. I can sense the oil, like the spray that comes off on your fingers when you squeeze a fruit. The aromas of the lime and basil, harvested in the Fars Province of Shiraz, are harmonious with the sweetie, creating a citrus scent that is more grounding than the more fizzy variety. This fragrance will be equally easy for both men and women to wear in almost any season, although I expect it will be lovely in the warmer weather.
Notes: Israeli sweetie grapefruit, Iranian lime & basil, cedar wood and bamboo.
All of The 7 Virtues perfumes sit close to the skin, with low to moderate sillage and short-to-average longevity. I consider them excellent office-friendly fragrances. They can be applied with some abandon without fear of offending bystanders.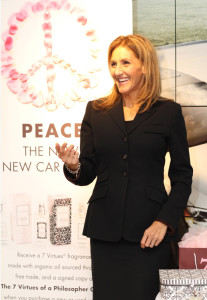 Barb Stegemann
Barb Stegemann is an award-winning entrepreneur and the author of a book called "The 7 Virtues of a Philosopher Queen: a woman's guide to living & leading in an illogical world." The 7 Virtues are: Wonder, Moderation, Truth, Courage, Justice, Wisdom and Beauty. Ms. Stegemann was inspired to found 7 Virtues Beauty by a friend who had been wounded in Afghanistan and saw a need to take whatever steps were needed to start helping the local communities become less dependent on the illegal opium crops. She started small, but was able to get funding after an appearance on a television show called Dragon's Den, where entrepreneurs pitch their ideas to investors.
My bottles were generously provided by Ms. Stegemann of The 7 Virtues. As a wonderful treat, we have a draw prize of a bottle of your choosing, plus a copy of her book. Please visit The 7 Virtues site and tell us anything you found interesting that may not have been mentioned here, and which fragrance you would choose. Draw ends on January 25, 2013.
We announce the winners only on site and on our Facebook page, so Like Cafleurebon and use our RSS option…or your dream prize will be just spilled perfume.
-Tama Blough, Senior Editor