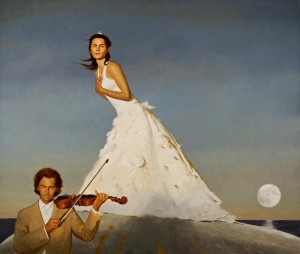 Triumph of Romance by Bo Bartlett
I love the sound of an orchestra tuning right before a concert begins, for me it embodies the beautiful sound of anticipation. It can also be a strange moment when all instruments are tuning individually, yet playing together at the same time. The cacophony can be disorienting, but it is always striking and even wild in its preparation and readiness. As I write I'm reminded of how absolutely important this moment is to musicians and their instruments to literally warm-up before everything settles down and the maestro and orchestra begin to play. Tallulah Jane's Aiyana, EDP is like this. It comes rushing out of the bottle, with all its complexity, tenacity, and singularity, like a baby who wants to be born. Initially I feel as if I smell the entire perfume all at once. I smell its story, its wants and desires and it makes me want to follow its tail of notes that blend and bend as they are released into the world. Aiyana strikes an emotional chord; it is brazen and unabashed, not at all lady-like or professional, rather Aiyana takes the necessary time it needs to reveal its sultry self and the many drafts it took to create it. Aiyana is a fragrance centered on rose, but it is not a soliflore. Here Eleanor Jane created an oriental centered on the many aspects of a rose, the citrus of rose, the earthiness of rose, the balminess of rose, the spicy and tad animalic sides of rose. The fragrance opens with a citrus lift, namely Mandarin, Citron, and Moroccan Rose, which gives it vitality and energy. Then Aiyana gives way to the depth of its earthy center with its heart notes of Palma Rosa, a grass that has rose and citrus undertones, along with a rosy floral Geranium and an incredible heady Rose de Mai. There is sweet spicy warmth that anchors it, and its base of Tonka, Cistus, and Ambrettte add its overall dimension. Aiyana is uniquely Aiyana is Aiyana is Aiyana.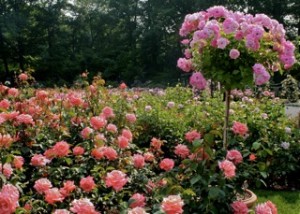 Peggy Rockefeller Rose Garden
Eleanor Jane's perfumes are incredibly intentional, not at all whimsical. Some of her fragrances have been inspired by nature, but Aiyana came about during a sleepless night, and instead of tossing and turning like many of us do, she got up thinking about roses, more specifically, the many interpretations of "Rose" in fragrance, and a desire to create her own. The name Aiyana means "eternal bloom" and when Eleanor Jane created it she imagined, and perhaps mediated on "Rose, Rose, Rose," she also took inspiration from her many trips to the stunning Peggy Rockefeller Rose Garden at the New York Botanical Gardens. Aiyana, was initially launched as a Natural Body Oil, the formula for the fragrance of the oil came together quite easily. Creating Aiyana, Eau de Parfum took more time and numerous drafts for two reasons. Eleanor wanted the fragrance to be more tenacious than the oil, something that would stand on its own, but at the same time she wanted it to complement the oil, so that it could be layered if one wanted to, which believe me you will want to. I could write another post just on the play between the two.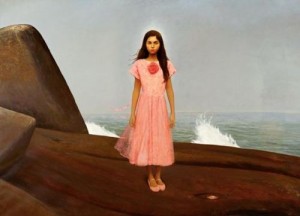 Small the Way by Bo Bartlett
Experiences in application
I am always impressed by Tallulah Jane's ability to make me ponder the application of a fragrance, the how and the when. I don't have to remind you that perfume is a luxury, a treat. It helps us de-stress and go somewhere else for a moment. For the past week or so I've started a ritual that began as a suggestion in the shape of three bottles, Aiyana body oil; Aiyana, Eau de Parfum; and Aiyana , Eau de Parfum, travel roll-on. I found that massaging the body with oil is a one of the easiest and simplest ways to treat myself, and it doesn't take much more time than usual. After shower I apply the oil to damp skin and massage, giving it a moment or two to sink in. I can see how this oil is going to be an advantage as the winter approaches and moisturizers just aren't enough. The body oil has a high concentrate of Jojoba oil, which absorbs quickly, and is closest to our own natural sebum layer of skin. I love the idea of protecting the skin, and guess what, it doesn't stain clothes. After I'm dressed, I spray on the EdP, and it's almost scientific what happens. When the oil, a darker fragrance, meets with the initial brightness of Aiyana the fragrance it makes Aiyana turn reflective. On challenging days, Eleanor pulls out her roll-on to give her strength to take on the day; I did it too and it works. This fragrance is calming, supportive, and in a fun-loving way it doesn't leave me home alone, it wants to go out with me, and take me for a ride.
Title Credit: The title is an excerpt from Gertrude Stein's poem (below) Sacred Emily, written in 1913 and published in 1922, in Geography and Plays.
Rose is a rose is a rose is a rose
Loveliness extreme.
Extra gaiters, Loveliness extreme. Sweetest ice-cream.
Pages ages page ages page ages.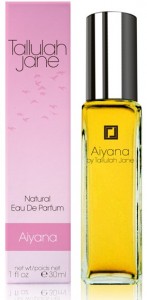 Thanks to Eleanor Jane we have three 30mL bottles of Aiyana to giveaway. To be eligible check out the Tallulah Jane website and tell us which of her perfumes you might enjoy most. We will draw three winners on October 9, 2012.
We announce the winners only on site and on our Facebook page, so Like Cafleurebon and use our RSS option…or your dream prize will be just spilled perfume.
-Valerie Vitale of Soliflore Notes, Monthly Contributor
Editor's note: Aiyana can also be found at SaffronRouge and C. O. Bigelow.