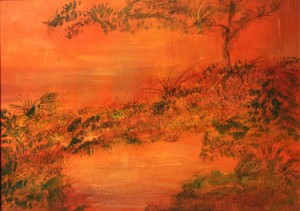 Mediterranean Blood Orange by Cynnocence Kaufman-Sinclair
I have been very fortunate to have Laurie Erickson of Sonoma Scent Studio include me among her olfactory beta testers. It is always a treat to receive an e-mail followed a couple days later by a work in progress. The most recent example happened a couple months ago as Ms. Erickson sent me the finished version of her first fragrance under her all-natural Sonoma Naturals collection called Cocoa Sandalwood and I loved it. In the same package was the current iteration of her next planned release Spiced Citrus Vetiver. When I sniffed that version I can easily say that love was nowhere near the list of adjectives that were floating on the tip of my tongue. These were the things I was thinking; muddled, unfocused, the vetiver was too sharp, the citrus barely there and the spices were irritating. I don't know if the other beta testers had a similar reaction but what is now in the bottle which has the label Spiced Citrus Vetiver does not live up, or down, to any of those previous thoughts. Ms. Erickson has created a sharply delineated experience of her three titular notes along with a mix of woods not in the name. Despite the almost hyper-realized focus there is a supple quality to Spiced Citrus Vetiver which I think speaks to the natural ingredients Ms. Erickson is using.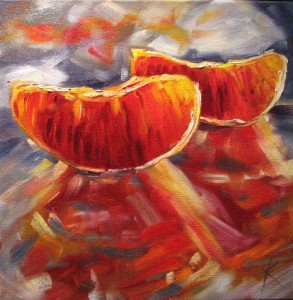 Blood Orange I by Kim Blair
Spiced Citrus Vetiver opens with an olfactory version of that fall staple an orange pierced with cloves except it is slightly tweaked to give a delightfully unique opening. Instead of regular old orange Ms. Erickson uses blood orange. Blood orange always strikes me as having a bit more gravitas than regular orange less sunny but having an almost meatier character. That serves especially well here as besides clove Ms. Erickson adds ginger and cinnamon to the spicy citrus phase. In the earlier version the spices carried a too sharp quality; in the finished version the spices seem softer more like a pillow for the blood orange to rest on. What I also enjoyed is each of these four notes can easily be experienced by concentrating and sniffing for them and then when you let yourself go the parts come together to form a lovely synergy. Before we get to the base notes Ms.Erickson offers a floral intermezzo of osmanthus and jasmine. Again, these are downy in their presentation and allow for a smooth transition to the base of two kinds of vetiver, Sri Lankan and Indonesian, which are matched with Mysore sandalwood. The Mysore sandalwood might just be the perfect modulator for vetiver as the sweet arid quality of it pulls out the woody depth of vetiver and allows it to be more prominent that it might usually be. These also mirror the smooth nature of the earlier phases of development and in the end turn Spiced Citrus Vetiver into a soft succulent treat of a natural perfume.
Spiced Citrus Vetiver lasted for over eight hours on my skin and had average sillage. Both of those are the way most all natural perfumes perform on my skin.
I really loved the almost silky feel Spiced Citrus Vetiver had from beginning to end and I believe it has everything to do with the ingredients. These are high quality natural raw ingredients and it shows. Back in January I was concerned that Spiced Citrus Vetiver was going to lack something when it was finished. I shouldn't have worried Spiced Citrus Vetiver has everything anyone who loves those notes could want in a fragrance.
Disclosure: This review was based on a sample provided by Sonoma Scent Studio.
Thanks to Sonoma Scent Studio we have a draw for a 15mL bottle of Spiced Citrus Vetiver for one US reader. To be eligible leave comment on your favorite Sonoma Scent Studio fragrance or one you think you might like from the website. Remember to let us know you are in the US when leaving a comment. The draw will end on June 1, 2013.
We announce the winners only on site and on our Facebook page, so Like Cafleurebon and use our RSS option…or your dream prize will be just spilled perfume.
-Mark Behnke, Managing Editor