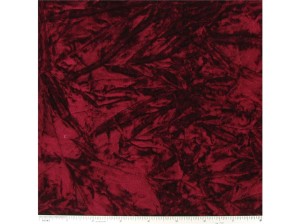 It is a wonderful thing to watch an artist you admire develop. It is a special pleasure to find a talent early in their trajectory and to be there as they hit the heights. In the case of independent perfumer Josh Lobb of slumberhouse he has continued to reach new heights with the most recent release Zahd his most assured perfume construction to date.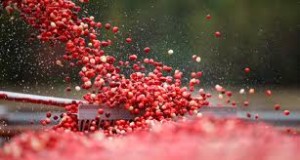 Mr. Lobb's style of perfume has been described as a "Wall of Scent" and while that might be accurate the density often masks the intricate construction underneath that wall. In the early releases it took me awhile to appreciate that there was something besides intensity going on here. Two years ago with the release of Pear + Olive Mr. Lobb showed he could create something as fragile and compelling as a crystal figurine. For most of 2013 Mr. Lobb spent his time going back and re-working some of his earlier creations. In particular Ore showed he had learned how to keep the intensity, the metaphorical wall, without sacrificing subtlety. I was left wondering what would happen when Mr. Lobb combined the delicacy of Pear + Olive with the newfound appreciation of a less overwhelming aesthetic displayed by Ore. Zahd is the answer to that question.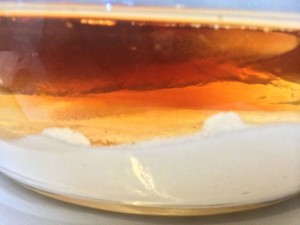 The Mitti Attar layer as it is added from Mr. Lobb's Imgur Account
In the description of Zahd on the slumberhouse website Mr. Lobb said he wanted Zahd to "replicate how I felt crushed red velvet would smell". This is as good a description of Zahd as I could come up with. It captures the quality of a heavy fabric with a unique tactile character. As it goes with our best indie perfumers the incredible unique ingredients are what distinguish this. There are two of these in Zahd a cranberry concrete and a specially commissioned Mitti Attar. These are among the most unique ingredients I have ever experienced in a fragrance. It is not only having exquisite ingredients but the time Mr. Lobb takes in crawling inside the figurative head of these special notes. He spent about a year working with one or the other and refining prototypes of Zahd. By the end of 2013 he had finished his process and was ready to release Zahd to the rest of us.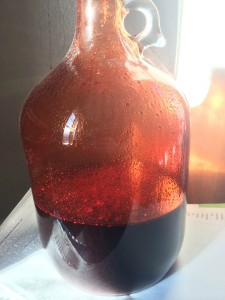 Picture of Zahd after the cranberry concrete was added from Mr. Lobb's Imgur account
When you see Zahd for the first time you will be struck by the cranberry red color of the juice. This visual cue sets you up for the early moments of Zahd as the cranberry concrete sets up the characteristic slumberhouse "Wall". When Mr. Lobb is at his best these intense ingredients have a natural brio to them which makes me feel like I can touch the real thing. This cranberry concrete does just that. Zahd begins its pivot to something more fragile with a champaca that transforms the cranberry from heavy fabric to tactile detail. From here the Mitti Attar adds the vibe of worship in a temple with sticks of incense burning around the floral tributes. The Mitti Attar is a fascinating ingredient as it seems to be in a state of continuous flux; fruity, floral, resinous, or woody it behaves like a chameleon blending in with the other notes you notice at any given moment. The final keynote is mysore sandalwood. The Mitti Attar is the tipping point for Zahd as it is the glue which holds Zahd together.
Zahd has overnight longevity and above average sillage which is not surprising for a 30% extrait concentration.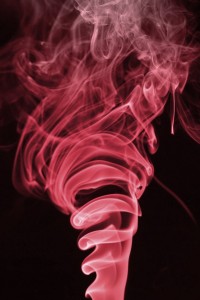 red smoke by crystalsly
Zahd is the most complete composition Mr. Lobb has produced thus far. It has built upon the foundation of every slumberhouse fragrance which has come before. Now here is the bad part of the story Zahd is a 125 bottle limited edition because of the limited availability of the very special ingredients in it. The even worse news is it sold out in a day. Mr. Lobb will be sending out the bottles to the fortunate owners in the next couple of weeks. My advice is to find out who you know is getting a bottle and nicely ask them to try some. It will be worth the effort because Zahd is an exquisite perfume experience that is among the best perfumes I have tried in the last ten years.
Disclosure: This review is based on a sample provided by slumberhouse but I am also one of the 125 who bought a bottle.
-Mark Behnke, Managing Editor
Editor's Note: In an email exchange with Josh Lobb, he expressed mixed feelings about creating a perfume that he could only compose in such a limited quantity. He wrote, "So many Slumberhouse fans who weren't on the computer that day who missed out, kinda kills me. On the other hand, I'm really proud of the perfume. I worked so hard on it, used so many strange methods to end up at that point that I had to limit the perfume.. there's no way I'll ever be able to replicate it."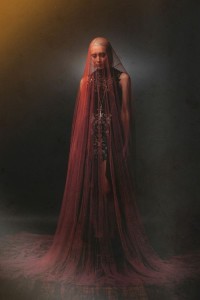 Erishkigal: Mark Elzey jr. photographer for Dark Beauty Magazine Model Alexzandra Jade
Since I often "see" perfume as I wear it, I wanted to share this image, which is what Zahd smells like on me (I received a sample courtesy of Josh Lobb) -Michelyn Camen, Editor in Chief
Thanks to slumberhouse we have one small sample of Zahd to giveaway. This is a US resident only draw. To be eligible leave a comment naming a fabric you would like to see turned into a fragrance or your favorite slumberhouse perfume and let us know you are in the US. The draw will end January 15, 2014.
We announce the winners only on site and on our Facebook page, so Like Cafleurebon and use our RSS option…or your dream prize will be just spilled perfume.