Slumberhouse is one of those little known niche Houses that flies under the radar (of most people) but always produces perfumes full of character that come contained in simple flacons that belie their beauty and complexity. Their own website labels them as "strange and unique perfumes" and, from the few that I have smelled and experienced, that description is spot on! I was truly blown away by this particular perfume on receiving a sample through a fellow enthusiast from the online perfume community. When one thinks of pears and olives, one thinks sweet fruit and perhaps an oily woody aroma that gives off a slightly Mediterranean feeling and something yummy and edible. Let me assure you: this is not a fruity aromatic, nor is it a gourmand…it is something light years beyond both!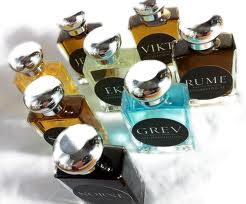 According to what I could find (from a lot of online research) sometime in the late "aughties" (2000's) perfumer Josh Lobb began to release some truly innovative scents from his creative space in Portland, Oregon. He is truly a man of mystery and imagination, who would rather people know his work than about him. His first scents possessed names like "Jeke", "Grev" and "Vikt", names sounding like Nordic glaciers or Teutonic gods. These were actually inspired by urban street culture, music & film and the hip-hop/graffiti scene. It would almost be a travesty to say these scents were "linear", yet they thumbed their noses at any generally recognized olfactive pyramids. They were truly unique, as they fall somewhere between the two-developing slowly (almost imperceptibly) while keeping true to the baseline of the inspirations.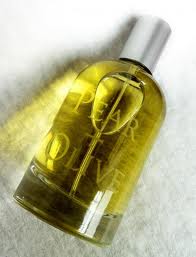 When I heard that the newest Slumberhouse scent was to be called (simply) "Pear + Olive", I thought it was some kind of joke. Where was the mysterious name? What was the creative inspiration here? And, most importantly, where could I get some?! With the earlier fragrances, the names gave you little to go on. Here, the compound name gave you an olfactory idea of what you might expect. As with everything before it, this threw all that right out the window! I expected something almost gourmand, green (obviously) and ever so slightly fruity. What I did NOT expect was how my breath was (quite literally) taken away by the dark and almost indescribable aroma that greeted my nostrils upon dabbing this on my hand…
Pear has a very special place in my heart. Where I grew up (in the hills of southwestern Pennsylvania) there were rows of Bartlett pear trees below our property. I can still remember the smell of the blossoms, the fruit and its dark wood; especially the smell of the ripe fruit that fell from the trees, lying on the grass, warmed to a juicy softness by the summer sun. Olive was one of my favorite fruits growing up and almost all foods prepared in my house were cooked in extra virgin or virgin olive oils. The slightly nutty and thick aroma of that delicious oil and essence of both the flesh and the skin of the pear fruit are here, blended with a bevy of wonderful accenting notes to bring out the darker side of both of them. It comes only in esprit de parfum concentration and a 50 ml bottle.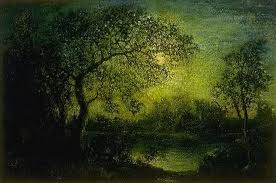 Landscape with Moon by Ralph Albert Blakelock (c.1885-1890)
The booziness and subtle warmth of cognac take the olive by the hand and lead it into a deep woody place. The balsamic aroma that reigns here almost reminds me of a heady cypress-green and woodsy; yet sharp and aromatic. This verdant accord is deepened with Roman chamomile, normally more soft and plush, yet here it brings herbal bitterness and somber elegance. Aglaia (a genus of over 100 species in the mahogany family, native to southeastern Asia) adds a velvety aspect to the green that is at once soft, yet surprisingly tenacious and dense. Underneath all of this wood and green is a damp (almost dank) loamy moss accord. It is ever so slightly earthen, but stops just short of dirty. Throughout all of this meandering about in dark and wooded places, the crisp dryness of pear and the pure silken nature of the olive keep everything smooth and not exactly "fresh", but lightly sweeter than you would expect!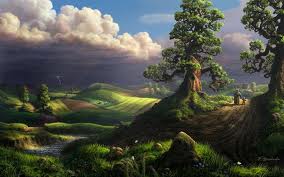 It is at the end of this progression that the ultimate drydown unites massoia wood bark (milky and slightly sappy) with the reed-like (and very unusual, slightly medicinal) calamus to create something as creamy as a coconut-but as aromatic as frankincense…yet is wholly unique unto itself. As I return to sniff this (again and again), I am tempted to say this reminds me of theoretical "dark matter". It is something that is wholly familiar, but has been inverted and is nebulous, enigmatic and unknown. Pear + Olive, despite its rather simple name, is indeed every bit as "strange and unique" as its predecessors and may be my "pick of their litter", thus far. It is not too often I (actually, truly) swoon: here my eyes rolled back in my head, as I closed my eyes and my heart beat faster and I tingled all over. It is even less often I do not pause or think twice about paying $3 USD a milliliter for a perfume. Truly unique perfumes do not come along too often, so trust me when I say: this is SOMETHING ELSE! Sillage: above average. Longevity: excellent.
Disclosure: Review based on a sample sent to me by a very dear friend as a gift.
–John Reasinger, Editor