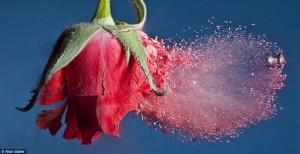 Within my collection of bottles of perfume that I own Serge Lutens would have to be right up there in largest number of bottles in my perfume vault. It is why they have been so frustrating to me over the last couple of years. One of the common threads to the bottles which say Serge Lutens on them, in my collection, is a style of no-holds barred kind of perfumery from the minds of Serge Lutens and Christopher Sheldrake. The style of Messrs. Lutens and Sheldrake allowed me to explore fragrance from a place of intense brutal honesty where the perfume and I sometimes felt like we were in a contest to see who would wear who. This is not something meant for the widest distribution I always believed it was meant for those who could appreciate something that reveled in the subtlety of volume. Then starting with Bas de Soie in 2010 it felt like Serge Lutens decided they wanted to broaden their appeal and six of the eight fragrances produced over the next two years were much lighter and, for me, much less interesting. It was like Truffaut had decided to do slapstick comedy, while interesting it felt like the talent of Messrs. Lutens and Sheldrake were being used on something lacking. The first release of 2013 called La Fille de Berlin did not have me furiously chasing after it because I expected it to be more similar to the releases of the last two years. Well it is not and it not only returns to the kind of perfumery I like from Messrs. Lutens and Sheldrake it feels like it is beginning to create a collection within the collection.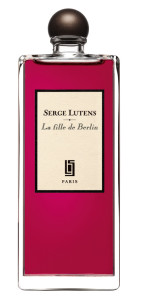 La Fille de Berlin is the third rose-centric fragrance, after Rose de Nuit and Sa Majeste La Rose, from Serge Lutens and while it shares rose as its focal point La Fille de Berlin has more in common with A La Nuit or Muscs Koublai Khan as it takes its central note and overdoses and intensifies it so much it is almost brutal to experience. Within this olfactory cat-of-nine tails there is sublime beauty to be found. La Fille de Berlin requires the wearer to love rose and to be willing to grapple with a rose that is so extroverted it might make you step back when what you need to do is unabashedly wrap your arms around it and hug it close, even while the fragrant thorns prick your skin. Like A La Nuit did with jasmine and Muscs Koublai Khan did with musk; La Fille de Berlin does with rose as it exposes beauty by using a fragrant sonic boom.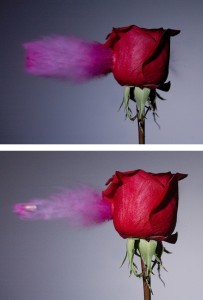 The rose explodes off of my skin and it is a spicy rose as unfathomable as a black hole. The early moments feel like I am being pulled into a vortex of rose and consumed with it. This is all-encompassing rose and if you just like rose or are indifferent to rose I expect you will think La Fille de Berlin is like being punched in the nose. Like A La Nuit and Muscs Koublai Khan which are two of my favorite notes in jasmine and musk respectively; rose is another of my favorites. Once I can actually gather my wits I actually pick up some pepper and a metallic undertone probably from violet. They are there to evolve the rose but to not reduce the power a whit. Now Messrs. Lutens and Sheldrake do what they did with the jasmine in A La Nuit as they add in a dirty musky accord and in La Fille de Berlin it turns things up a notch. Now it is the skanky nature of musk and the spicy floralcy of rose entwined in a battle to find out who ends up on top. At the very end it is the musk but the rose is the winner for most of the time.
La Fille de Berlin has overnight longevity and outrageous sillage. You will likely want to use about half of what you normally apply.
After two years of working in the light; La Fille de Berlin returns Messrs. Lutens and Sheldrake back to a dark night where beauty arises out of brutality.
Disclosure: This review was based on a bottle I purchased from Parfum1.com
Thanks to our friends at Parfum1.com we have a full 50mL bottle of La Fille de Berlin to giveaway. To be eligible leave a comment on your favorite Serge Lutens fragrance or one you think would be your favorite. The draw will end on February 24, 2013.
We announce the winners only on site and on our Facebook page, so Like Cafleurebon and use our RSS option…or your dream prize will be just spilled perfume.
-Mark Behnke, Managing Editor