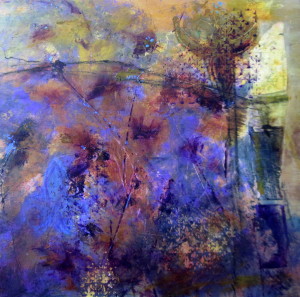 Violet Breezes by Carmen Lee Nance Gambrill
For so many years Robert Piguet was defined by a selection of outstanding floral fragrances. With Fracas turning a stylish 65 this year those fragrances have clearly found a modern audience. As they expand into offering new fragrances the florals are being left behind and the de-facto in-house perfumer for Robert Piguet, Aurelien Guichard, is expanding the idea of Robert Piguet as a perfume predominantly for the ladies. Many of last year's Nouvelle Collection were arguably the first more masculine trending fragrances with Robert Piguet on the label. Under the creative direction of Joe Garces, Robert Piguet has added another more woody than floral fragrance with the new release Bois Bleu.
I am one of those very pleased with this new direction as I thought Notes was an amazing modern fougere and was the best thing about the Nouvelle Collection. Bois Bleu is another assured creation from M. Guichard as he uses a few very well-chosen ingredients to make a thoroughly modern wood and violet fragrance.
Bois Bleu begins with the bite of bitter citrus along with bergamot. This is a citrus mix which wakes you up with its bracing acidity out front. A pretty intense amount of nutmeg ushers in a fascinating violet. I love violet in my fragrance the more violet the better. In Bois Bleu M. Guichard gives me as much as I can handle. Most violet perfumes seek to soften the intensity and tamp it down with other florals or light woods. In Bois Bleu the nutmeg gives a smooth slightly woody foundation for the violet to perch on and proclaim its presence. Vetiver eventually comes around to form a bit of olfactory harmony with the violet, going grassy at first before taking on the typical vetiver woodiness. By the time that woody character of the vetiver comes forward sandalwood and cedar are adding their aspects too. The best part is the violet is still there, standing up to the woods, almost as strong as it was to start with.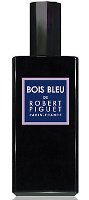 Bois Bleu has average longevity and average sillage. It is a good office scent because it does not project much away from the wearer.
I was grateful to Mr. Garces for his tireless work at reviving the proud house of Robert Piguet and making sure the classic fragrances of the line did not disappear into history. What I am even more grateful for is the direction Mr. Garces, along with M. Guichard, is taking Robert Piguet as it moves forward. Even if, as in the case of Bois Bleu, it seems very different from the past, the attention to quality raw materials and the bold aesthetic identify it right to the last drop as a Robert Piguet fragrance. Bois Bleu is a fantastic violet and wood example of this.
Disclosure: This review was based on a bottle of Bois Bleu provided by Robert Piguet at Esxence 2013.
–Mark Behnke, Managing Editor