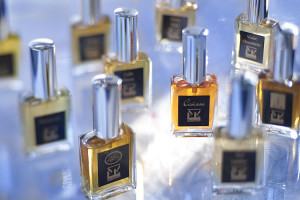 Paul Kiler, the West Coast perfumer behind the line of PK Perfumes, believes in sourcing and using the best ingredients possible to create unique, bold, and interesting scents. Using both natural and synthetic notes and accords, he worked on his line for several years before releasing it. PK Perfumes was received well at the recent Los Angeles Artisan Fragrance Salon, receiving several awards. I enjoyed trying all of the perfumes Mr. Kiler has created, and have selected a few favorites to review.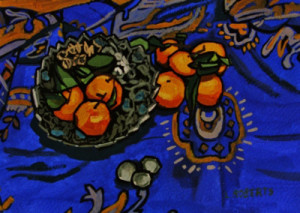 Oranges on Blue by Loma Roberts
I am a fan of ginger in perfume, so was interested to try Ginger Zest de Citron. This fragrance is quite unique, in that it pairs the ginger and citrus with other spices, so it becomes quite gourmand while retaining a fairly transparent quality. The citrus feels more bitter than bright, and is a nice counterpoint to the spicy warmth of the ginger. The sillage is comforting, and I am wafting an air that reminds me of a fragrant curry. However, it isn't so foody that you wouldn't want to wear it. If you enjoy that type of spice aroma, this is a good one for you. I'm finding it quite pleasing on a chilly day, but it will be interesting to see what it will do in heat.
Notes: Ginger and zesty citrus in the top and middle, some spices including a very light dose of curry spices, as well in the middle, and sandalwood and others in the base (per PK website)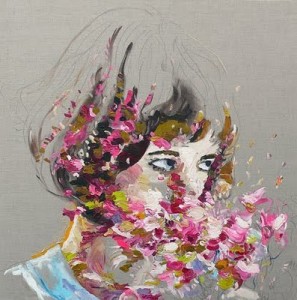 Bouquet by Judith Geher
Carissa is a lovely floral composition that is summery and green at first, with a burst of intense floral notes. This is not a shy, subdued perfume; just a few drops and I am wafting like mad. The rose note is nicely blended with the sweeter tuberose and jasmine, making this a true bouquet. The tuberose is just slightly mentholated, adding interest. The flowers are fairly dominant throughout, although the woody and resin notes soften and envelop them. I am thinking that this would be an excellent winter floral perfume. It is so heady that it may be too much in hot weather, but so many winter scents are based on spices, woods, and resins, this would be a welcome alternative if you feel like something sunny.
Notes: Bright Greens, Sheer Rose, Tuberose, Jasmine, Silver, Opoponax, Myrrh, Australian Sandalwood, Orange Blossom, Ambergris, and musks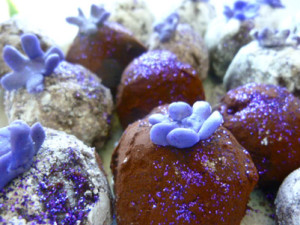 Bittersweet Chocolate Violet Truffles by The Mad Hausfrau
Any chocolate fans out there? I don't wear many perfumes with chocolate notes, but Violet Chocolatier is so much fun, I can't help but love it. Wearing it puts a smile on my face. The opening burst of heady cocoa is joined by a swirling miasma of soft apricot and unique floral notes. The blend is skillful, so that although it is chocolatey, it's not overwhelmingly so. The flowers and light spice notes hold their own. Once everything has calmed down, the aroma becomes even more floral, with a bit more of the violet peeking out. I like this scent, because it takes a couple of notes I don't care much for, chocolate and violet, and brings a new dimension to them. It's a fun perfume to wear, and could be my favorite in the line.
Notes: Chocolate covered Apricots, Cocoa Absolute, Nutmeg, Hazelnut, Violet, Magnolia, Jasmine, Rose, Honey, Gardenia, Amber, Benzoin, and Pemou Root, oh, and a bit more Chocolate

Some other perfumes in the line that I enjoyed sampling include: Zaffran, an enticing leather/saffron; Dirty Rose, which is musky and will be a hit with skank fans; Red Leather, sexy leather with a cherry on top; Café Diem, featuring a soft coffee note; and Ere, a classic forest masculine. They all have strong sillage, especially in the first hour or so, and good longevity. My samples were kindly provided by PK Perfumes. Mr. Kiler will be showing his line at the Second SF Artisan Fragrance Salon in March.
I received my samples from Paul Kiler. As a special treat, he is offering a 15 ml bottle of any one of his creations to one lucky reader. Please visit the PK Perfumes website and let us know in the comments which perfume you would like to win. Draw ends January 18, 2013.
We announce the winners only on site and on our Facebook page, so Like Cafleurebon and use our RSS option…or your dream prize will be just spilled perfume
–Tama Blough, Senior Editor