Viktoria Minya
The dictionary defines a hedonist as "one who believes pleasure is of the highest good", one who feeds their senses and revels in it. Award-winning Hungarian perfumer Viktoria Minya has released her first fragrance and called it Hedonist and it is truly a delight for the senses. Of all the senses, Viktoria has always been guided by her nose…back to when she tried to capture the scent of her father mowing the lawn, as a child, by saving grass clippings and making her first crude extraction attempt! After studying perfumery in Grasse, France she worked for a while for other perfume houses and longed for a time she herself could indulge in fine raw materials and not worry about marketing trends, target audiences or the corporate "bottom dollar". This perfume was just as much an indulgence for the perfumer to create, I imagine; as it was for me to wear it.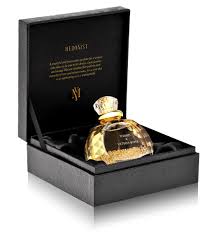 The first sense to be delighted is sight, followed closely by touch. The flacon is presented in a wooden box made to give the tactile sensation of snakeskin leather lined in silky black material. Upon examining it further, one sees tiny Bohemian crystals moving in the golden perfume. The thick round ergonomic bottle, the smooth gold collar and the faceted cap all hint at the opulence and luxury inside. The packaging is indulgent, but not overdone. Not for one who truly enjoys not only wearing great perfume, but also the sensual ritual of it all.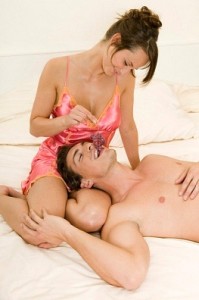 One's nose is the next to be enchanted. An opening as sweet and fruity as it is boozy and bright greets the nose. Images of drinking dark rum with a citrus twist and feeding ripe sweet fruit to someone you adore appear in my mind's eye. This fruit is juicy and golden against the warm sweet woody booziness. I cannot taste the actual juice, but the smell of Hedonist has my mouth nearly watering. Though no honey is listed, it feels very honeyed to me.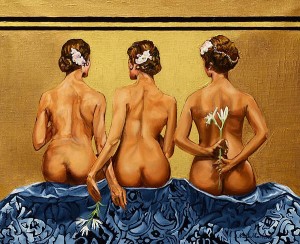 Jeu de Mains by Nicole Marbaise
The heart of this perfume is decadently floral. Orange blossom, osmanthus and jasmine together create an almost carnal floral experience, as sensual and creamy as it is fresh and stimulating. The floral notes dominate this scent for a while yet the addition of tobacco into the heart adds a drier herbal aspect. As it lingers and swirls with the other notes it all becomes duskier and more down to earth but the naughty aspects still peek out from time to time.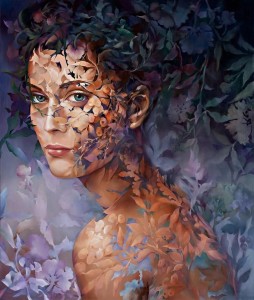 Abstract Woman by Wendy Ng
One of the most noteworthy things about this scent is its complexity. The notes sound pretty straightforward; but on sniffing my wrist, exhaling and then sniffing deeply and slowly more layers of this gem became apparent. Undertones of spices with whispers of balms and sweet resins titillate and tease beneath the graceful dance at the surface. Rum, fruit, flowers, leaves…no matter what notes shows themselves at any particular moment, the overall aura of Hedonist is one of luxury, pure and simple! The simple yet elegant dry down of vanilla, vetiver and cedar that remains wraps you in a comfortable cocoon of scent. It clings to the skin, like a personal guilty pleasure; yet, its richly woody floral/grassy scent can be sensed by others and was complimented each time it was noticed, pleasing one's ears.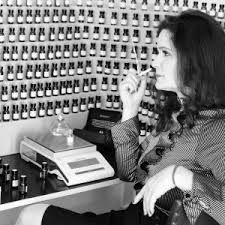 Viktoria Minya at Work
Viktoria Minya has managed to capture and please all five of my senses with this release, and she has done so richly and deeply without overdoing any of these powerful notes. Here all the parts shine stronger and more brightly than they normally would, without being loud or obnoxious. This fragrance is masterfully layered and beautifully blended. I do believe any true hedonist (who appreciated scent) who wanted to pleasure their senses would be proud and happy to wear this perfume. It's sexy and powerful, in a very reserved and dignified way, never ostentatious yet infinitely rich…not in money, but rich from living life! Sillage: good. Longevity: very good.
Disclosure: Review based on a sample sent to me by Parfums Viktoria Minya.
Thanks to Parfums Viktoria Minya we have 10 samples of Hedonist to giveaway. To be eligible leave a comment on what is your most hedonistic pleasure. The draw will end on April 12, 2013.
We announce the winners only on site and on our Facebook page, so Like Cafleurebon and use our RSS option…or your dream prize will be just spilled perfume.
-John Reasinger, Senior Editor