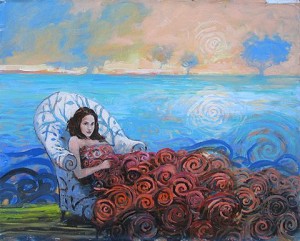 Lorenzo Moya La Mujer de el sofa
Every day at my dressing table I take a little breath and a pause before I put perfume on because I never know what would happen next. Things happen when I smell perfumes – I've know to fall in love with a scent I never loved or fall out of love with an old favorite. Sometimes smelling perfume makes me hear music in my mind, see images, real or imaginary, or recall long forgotten poetry. But I have never thought, not even in a strangest dream, that I would ever smell a perfume which was specifically inspired by a sonnet from Pablo Neruda's One Hundred Sonnets of Love and will be sniffing the connection between the perfume and a poem that had appeared in several other minds.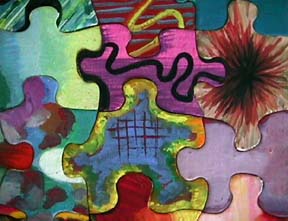 Susan Karpov, Puzzle Painting
Sonnet XVII perfume by Olympic Orchids created by Ellen Covey in collaboration with CaFleureBon Editor in Chief, Michelyn Camen as a special project and is a rare chance for me to participate in a great synchronicity, in which multiple pieces of a puzzle came together. My personal pieces clicking into their places as well. Everything I have learned about this project in making made me marvel at coincidences. As you know, Michelyn called on the day when Ellen was still shaking off her dream in which she looked for a potion number seventeen (and my personal coincidence is that number seventeen was always my favorite number, as long as I remembered myself, and I felt a connection to it as I was born on the seventeenth of a month). But it paled in front of the connection with the love sonnets of Neruda. A sonnet from One Hundred Sonnets of love by Neruda was read at my wedding (not the No XVII but a one from the same part of the collection – Mañana, The Morning, the dawn of love).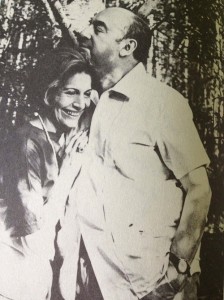 Matilde Urrutia and Pablo Neruda
Neruda's dedication of One Hundred Sonnets of love to his wife Matilde says that they are "wooden sonnets that rise only because you gave them life." The poet says,
"…I made these sonnets out of wood; I gave them the sound of that opaque pure substance, and that is how they should reach your ears. Walking in the forests or on beaches, along hidden lakes, in latitudes sprinkled with ashes, you and I have picked up pieces of pure bark, pieces of wood subject to the comings and goings of water and weather. Out of such softened relics, then, with hatchet and machete and pocketknife, I built up these limber piles of love, and with fourteen boards I built little houses, so that your eyes, which I adore and sing to, might live in them". October 1959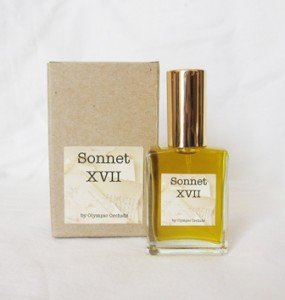 So I was not surprised that the Olympic Orchids Sonnet XVII is a fragrance that is green and woody, close to nature and redolent of a walk in the forest – a forest that is as dark and moist as is the passion between Pablo Neruda and Matilde. The top notes of the shadowy forest green include champa flower, citron, mastic, a resin, and cubeb, a spicy scent. These green top notes are brooding and dark right from the bottle, dangerously teetering on "do not dare to approach me" but never ever getting there. We all know that some perfumes we love require sitting through the top notes and letting anyone smell only the heart notes. But this is not the case. The Sonnet XVII perfume is wearable from the note one (and it warms significantly toward the base), so you can put it right on and walk out. Or, if you prefer, you can stay and enjoy this dark start and have it all to yourself as a secret between you and your hidden self (we all have one). The somewhat bracing, definitely not floral top notes capture the way the Neruda's Sonnet XVII starts:
I do not love you as if you were salt-rose, or topaz,
or the arrow of carnations the fire shoots off.
I love you as certain dark things are to be loved,
in secret, between the shadow and the soul.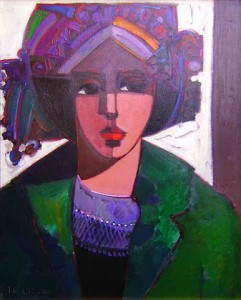 Carlos Catasse*, Bohemia. Gallery Bergelli
The poet is listing here all things that he loves (especially carnations, since they are referred to in nearly half of the sonnets from The Morning) but does not compare to his lover, and this makes me recall William Shakespeare's Sonnet 130 My Mistress' eyes are nothing like the sun in which he also refused to compare his lover with many pleasant floral things. But we will follow the path of Neruda's Sonnet and the development of the Sonnet XVII perfume.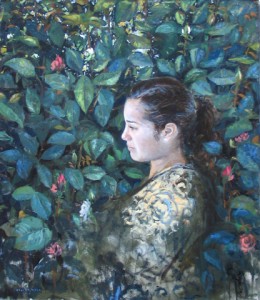 Lorenzo Moya*, Barbara. Gallery Bergelli
I love you as the plant that never blooms
but carries in itself the light of hidden flowers;
thanks to your love a certain solid fragrance,
risen from the earth, lives darkly in my body.
The heart of the fragrance in addition to floral notes of osmanthus and orchid has a Michaelia alba leaf listed, which I see as a continuation of the wood and forests theme – I am impressed that woody and leafy notes are present on every level of this fragrance's pyramid. It is an incredibly puzzling task to capture a smell of a plant that never blooms (and I had no idea that there is an orchid that It is a very soft abstract green floral heart, soft and leathery. No, when I say leathery I do not mean Tabac Blond, Cuir or Fleur de Peau. Smelling this heart you will never think of a new leather purse with a perfumed handkerchief, but you might start dreaming of it that as you are still walking in the woods. You never leave those dark shadowy woods of passion, but when you get deeper you have some discoveries on the way. On warmer days more floral notes can be smelled in the heart, and I've been having fun trying to sniff out the light hints of honeyed fruitiness of osmanthus or soft floral spiciness of carnation, but the fragrance never becomes obviously floral. Earthy and leathery notes are always there, a daring attempt to imagine certain solid fragrance, risen from the earth, lives darkly in my body from the poem.
Carlos Catasse*, Valle Hermoso. Gallery Bergelli
But the darkness gives way to the golden afternoon light of love and surety. After a dark stormy morning there will be an afternoon for the Sonnet XVII lovers, and there will be a long day enveloped in a gorgeous woody base for a Sonnet XVII wearer. The base still projects, and it projects strongly, and it never looses its green quality, even though it warms considerably as the more traditional base notes come into play. If it is still the forest, it is the tree grove at the edge of it, and it is warmed by the sun. If it is the perfume base, it is a lovely blend of what the green and wood can be – smooth, not sweet but touched by sweetness, an opaque pure substance of highest quality indeed. And if it is love, it will live because how can it not live after words like this?
I love you without knowing how, or when, or from where.
I love you straightforwardly, without complexities or pride;
so I love you because I know no other way
than this: where I does not exist, nor you,
so close that your hand on my chest is my hand,
so close that your eyes close as I fall asleep.
–Olga Rowe, Contributor
* All starred paintings are by Chilean artists and images are taken from Gallery Bergelli. They encourage visitors to email painting images to friends, but I think it is a good idea to mention the copyright holder.
Acknowledgements: Michelyn Camen and Ellen Covey of Olympic Orchids, I am grateful for an opportunity to have a chance to try Sonnet XVII in all its stages culminating with the finished fragrance. I had a sample sent to me for a review. Sonnet XVII is now available for sale
If you missed our September 20th post, or if you want another chance to win, Ellen is offering a 5ml sprayer if leaving a comment about your favorite part of this review. Draw ends September 30, 2012
We announce the winners only on site and on our Facebook page, so Like Cafleurebon and use our RSS option…or your dream prize will be just spilled perfume.