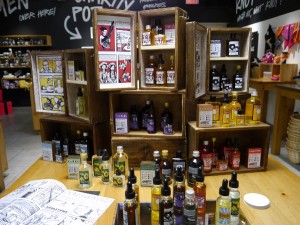 That I am a long-time fan of Lush is not a secret. When I saw the advertisements for a new collection of scents from the perfume division of Lush, Gorilla Perfumes, I was anxious to get my nose on them. The packaging and aesthetic is completely different from the Gorilla scents I had experienced. The labels are funky, with bold graphics, and the bottles conjure images of an old apothecary. When I was offered the opportunity to review this new line, I was thrilled.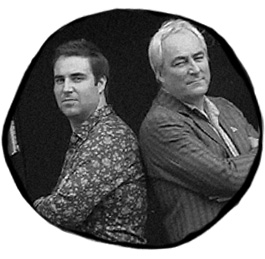 Mark and Simon Constantine
Mark and Simon Constantine, the father and son team of pefumers behind Gorilla, strive to find ways of evoking emotions and memories with their perfumes. Some of them are amazing to wear, others are difficult, but all of them are interesting and worth smelling. This new line is no exception. The Constantines have searched their memory banks and dug into their desires, and created a collection of intriguing perfumes.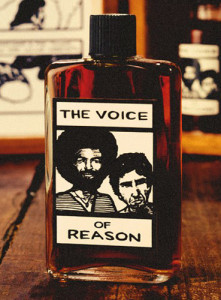 One of my friends claimed that
Voice of Reason
"is sweaty, sexy and possibly the skankiest scent I've ever smelled. Intriguingly offensive. I highly recommend that you all find a way to smell it if you haven't already".

Although I enjoyed her description, I don't find it offensive. It is definitely sweaty and sexy, though, and quite smoldery. There is some lightness brought to it from a touch of rose, but this is a dark wooden bartop that has been saturated with good whisky and strong cigar smoke for decades. I really like it, but can see that it could be too dense for some. Definitely worth seeking out.
Notes: Tonka bean, Australian sandalwood, Buddha wood oil, rose oil, coumarin, and geraniol*

I love the name of
Sikkim Girls
, and it conjures exotic-looking women who have auras of equally exotic perfume. When I first applied the scent, I wasn't sure I was going to like it. The top notes have something in them that are a bit astringent. Fortunately they fade quickly and I am left with a rich, almost soapy, tropical fragrance on my skin and surrounding me. Sikkim Girls has beautiful sillage, truly the aroma of island air.

The scent deepens as it lingers on skin and becomes quite sensuous; a winner and a must-try for lovers of tropical flowers.
Notes: Frangipani, jasmine, vanilla and tuberose*

Perfumes that have a nice wallop of rose geranium will always win me over. I find that particular note very relaxing.
Flower's Barrow
has geranium, and also Roman chamomile, which can practically put me out. I almost can't describe how happy this perfume makes me. There is an herbaceous edge to it, and the bite of blackcurrant. It reminds me of being in my father's pottery studio on a day when he had been doing a raku firing with eucalyptus leaves. It isn't mentholated or medicinal like eucalyptus itself, just has a bit of that lingering smoke.in the sweetness of the perfume. Flower's Barrow will be a bedtime scent for me, as well as any time I am feeling the need to just calm down.
Notes:
Sage, thyme, blackcurrant, sweet geranium , rose, Roman chamomile*

The Bug
is meant to be a statement about the technology-driven, paranoia-ridden world we live in. Green and dank, loaded with labdanum and galbanum, this perfume is edgy while still smelling very much of this earth. The Constantines have managed to create a scent that is aloof and disconcerting but not bristling with the metallic, synthetic notes you might expect from a perfume with this theme. Those who are fans of green scents should try this; I am fascinated by it.
Notes: Australian Sandalwood, tonka, galbanum, black pepper. Cistus Labdaniferous Resin, Canarium Commune Gum oil (elemi)*

I know there are a lot of hard-core oakmoss lovers out there.
Devil's Night Cap
is made just for you. It is a wonderfully earthy concoction that takes you right into the heart of a fairy-tale forest, where ogres stalk the earth and trolls live under the stone bridges. Singing at the very edge of this fragrance is a trill of floral notes and clary sage. The perfume dries down to a quiet, mossy bed of forest floor detritus. Beautiful.
Notes: Bitter oakwood, oakmoss, clary sage, ylang ylang, Quercus Robur Bark Extract, Orange Flower extract*


Sometimes the world just gets too gloomy, and you want to splash on something that will make the sun come out, even if it's only in your mind.
Sun
will do that. It is a fresh pop of orange peel and tangerine juice, with a whiff of mimosa. Even the perfume itself is a bright yellow. It isn't loud or bitter, and has a bright citrus feel without being a traditional cologne-style scent. It warms on skin, thanks to a touch of wood, and will brighten any day post-haste.
Notes:
Orange, tangerine, mimosa (acacia), Australian sandalwood*

Achieving a euphoric state via perfume is a pretty tall order.
Euphoria
has one of my favorite calming notes, clary sage, that has been blended with touches of citrus and rose. Of all the fragrances in this line, I feel that this is the least unique, although it definitely smells nice, is wearable, and should find fans. Maybe I have smelled too many all-natural perfumes and am a bit jaded, but this seems to be in the general vein of several I have smelled recently. Try it if you like clary sage, or if you are just looking for a perfume to ease you into a calmer frame of mind.
Notes: clary sage, grapefruit, lime, neroli , Rosa Damascena, Orange fruit extract*

Furze

is a powerhouse of a floral scent, and I am really taken by it. Furze, or gorse, the inspiration for the perfume, is a common plant in the UK, but I have never smelled it that I know of. What I have smelled is acacia, and this is bursting with an aroma that smacks of so much pollen in the air that your hay-fever-prone friends can't leave the house. This is heavy, greasy with coconut and made richer by vanilla. This could be my favorite in the line, actually. I was transported when I applied it, and could envision trees bursting with soft yellow flower clusters, pollen swirling in the warm air.

It settles into a lovely, beachy aroma that wears a bit closer to the skin after the initial cloud.
Notes: Vanilla, coconut, Bitter orange oil, acacia Decurrens flower extract*
I am impressed with and happy about these new perfumes. They are bold and unique, and I think each one will find an audience. Lush is just mainstream enough that I am hoping some adventurous souls will take a chance on a perfume that is different from the department store offerings, and realize there is more to perfume than fruit and ozone. All of these are gender-neutral, have great longevity, and variable sillage. They are available in store in the UK, online in the US and UK, and will be launching in 15 US locations in June.
Gorilla Perfumes was kind enough to send me bottles of these, and we have one for a lucky USA-only reader, too. Let us know which one strikes your fancy, and please add "USA" to your comment. Of course anyone is free to leave a comment; we just can't ship this prize outside the US. The Draw ends on March 22, 2013.

We announce the winners only on site and on our Facebook Page, so Like Cafleurebon and use our RSS option….or your dream prize will be just spilled perfume.
*Notes have been extrapolated from the Lush website and ingredients lists, and are not necessarily in scent pyramid order.
–Tama Blough, Senior Editor