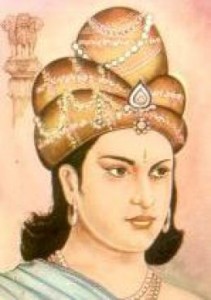 King Ashoka (Asoka) the Great
When I attended Esxence in March of 2013 I think the first stop I made was to see Neela Vermeire because she told me she had some of her upcoming new fragrance for me to try. The new fragrance named Ashoka after one of India's great rulers who lived from 269 BC-232 BC was also composed by Bertrand Duchaufour, who did the first three under Mme Vermeire's creative direction. As I sprayed it on my wrist my first impression was, "this is different from the other three". I would go back and try it a couple more times but a patch of skin is like an extended preview for me. I can't really come to know a fragrance until I can wear it a couple of times. Luckily I received a precious vial of Ashoka in the mail recently and I now have had an expanded opportunity to come to understand it. I haven't changed my initial opinion on it being very different from Trayee, Mohur, or Bombay Bling; what the extra wearings have confirmed is that Ashoka is better than those three earlier fragrances.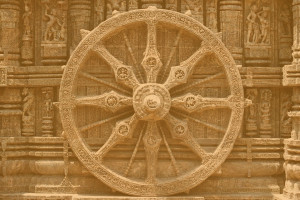 Ashoka's Wheel
In chatting with Mme Vermeire in Milan she related to me that Ashoka had a difficult gestation as M. Duchaufour just wasn't creating the many-layered experience she was hoping for. She wanted Ashoka to reflect the distinct phases of Ashoka's life from warrior, to emperor, to dedicated Buddhist. The struggle was to have a fragrance that started off fierce and then would evolve into something serene. While wearing Ashoka I was really struck by how separate the development is and how it contains three distinct phases. Phase one is the smell of leather, osmanthus, and milky fig for the warrior. The mix of mimosa and rose evoke the flowers thrown to the conqueror. Lotus and hyacinth show the beginnings of enlightenment. The base is deeply contemplative with a core of rich creamy sandalwood layered with myrrh, tonka, and styrax. This is a place of serenity and retrospection. It is a lovely journey.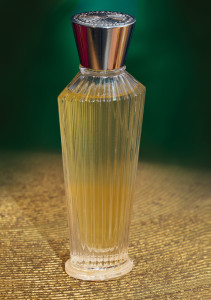 The New NVC Flacon by Pierre Dinand
(Photo: Elena Knezevich for Fragrantica)
When I spray Ashoka on it is a green fig which arises first but quickly a beautiful worked leather accord and osmanthus come together with it. M. Duchaufour perfected his leather accord a couple years ago and now when he uses it he really can tune it for the effect he wants to bring forward. For Ashoka this is the leather of the saddle; polished, washed, and with more than a hint of the animal it is attached to. The fig especially does a lot to smooth it out and the osmanthus adds to the figgy aspect and the leathery aspect simultaneously. There is a lot going on here and this easily could have been an overly kinetic mess but M. Duchaufour keeps ahold of the reins and Ashoka is sublime in the early going. The heart is probably the most regular part of Ashoka but the mimosa and rose are like fresh plucked blooms filling the air and they are so pretty it is easy to ignore the lotus and hyacinth underneath but eventually they breakthrough and begin the transition to the base. I'm not sure what the source of the sandalwood used in Ashoka is but it feels so very opulent it has to be very high-quality. This is where Ashoka comes to rest as tendrils of myrrh and styrax add resinous depth and tonka accentuates the sweeter facets of the sandalwood. It is here where I was able to just sit and relax into the quiet moment that Ashoka had guided me to.
Ashoka has 11-12 hour longevity and modest sillage.

Bertrand Duchaufour and Neela Vermeire
I expected Ashoka to be good because it seemed that Mme Vermeire and M. Duchaufour had found a comfortable collaborative energy. I think that the effort of making the first three allowed them to trust each other a little more and that results in Ashoka being the absolutely stunning perfume it is.
Disclosure: This review was based on a sample provided by Neela Vermeire Creations.
We have a draw for a sample of Ashoka but the winner will have to be very patient as it will not be ready until September at which point it will be shipped. This is a worldwide draw. To be eligible leave a comment and let us know what phase of Ashoka you think will be your favorite: warrior, emperor, or enlightened Buddhist. The draw will end July 14, 2013.
We announce the winners only on site and on our Facebook page, so Like Cafleurebon and use our RSS option…or your dream prize will be just spilled perfume.
–Mark Behnke, Managing Editor
Editor's note: Ashoka will be released in Fall 2013 and will be sold for 190 Euros per 60mL flacon. Also the new Neela Vermeire Creations flacons were designed by Pierre Dinand and they are gorgeous with a wonderful tactile heft to them, they are the absolute right containers for the beautiful perfume within.