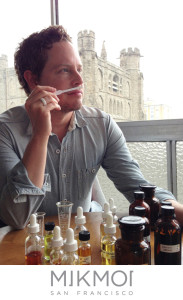 One of the treats of being able to attend the West Coast Artisan Fragrance Salons is being able to find emerging perfumers and introduce our readers to them. San Francisco recently hosted our second Salon, and I found some new talent, including Mik, the San Francisco-based perfumer for a new line called MIKMOI. Mik launched his line the day of the Salon, and it was the kind of launch I really appreciate: his Asian-influenced design aesthetics were cohesive, the packaging and presentation were great, he had a cadre of enthusiastic assistants on hand, and his website is up and running. I had met Mik before, and talked to him about his studies with Yosh Han and Mandy Aftel, but I didn't really know what to expect. He really had his act together, and I have to say the perfumes, Ao, Itoh, Aldwych, and Vesper, are delightful, delivering in a big way.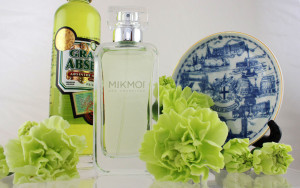 Lovers of a good snappy green scent, take note: Aldwych is in town. This spicy, grassy, scent of absinthe and carnation goes on smooth and rich, but still pops like a crocus from icy earth. Although this is a unique scent, it has a classic feel to it, like something a dandy might have sported in times gone by; kind of a vintage version of a contemporary masculine fragrance, a sport scent for cricketers. As the perfume dries down, it gets close to the skin, and smells like my hands do when I've been weeding, with a bit of saltiness. The bare bones of the aroma lingered for hours.
Notes: Absinthe accord, oregano, geranium, lavender Seville, carnation, aged patchouli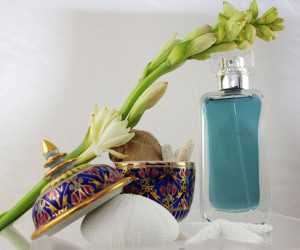 A smooth, rubbery, and only slightly mentholated tuberose opens Ao with a beguiling burst. A tinge of woodsmoke and the moisture of tropical air create a sensual aura. I am a sucker for a good tropical perfume, and this fits the bill without the usual suntan-lotion accord. An undercurrent of a guava-like aroma keeps this perfume from smelling too clean, and gives it an edge that is both dirty and sweet. Once the tuberose mellows, this isn't "vacation in Waikiki" tropical, it's "hacking through lush foliage with a machete" tropical. Excellent. Ao has decent sillage with moderate longevity.
Notes: Young coconut, red mandarin, tuberose, plai, blue tansy, Roman chamomile, ginger, amyris, cade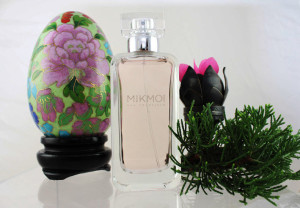 Itoh has an opening that smells like slightly charred wood, the scent of a long-gone campfire. It is a little bit rubbery, with an undercurrent of saltiness. There are subtle floral aromas, as though smelled from afar, like a touch of scent on a breeze. The wood lingers, and grows deeper, until the oud really shines. I got whiffs of something incense-like alongside the piquant oud wood, with the overall effect somehow of skin that has felt the ocean. Oud can go very wrong on me, but I was happy with the richness of this one. Itoh is really well-done; unique and easy to wear, with moderate sillage and good longevity. It lingered on my skin for an extremely enjoyable eight hours.
Notes: White cedar, pink lotus, peony, Pemou wood, tobacco leaf, oud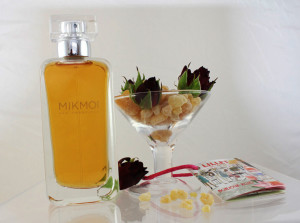 At the Salon, I sensed a fair amount of buzz about Vesper. Mik had told me that it his most personal creation, touching on a life of excess followed by clarity and redemption. Vesper opens with an accord of Lillet, which is an aperitif I have never experienced, and a component of the Vesper cocktail named after the Bond girl. Vesper is providing me with completely new smells, and I am thrilled. It's lovely, slightly herbal, and keeps reminding me of Golden Gate Park. I get an image of the pathways and gardens that surround the DeYoung Museum, but why, I have no idea. The smell of this fragrance is definitely evocative, and is poking at my memory banks relentlessly. It is blended so seamlessly that I look at the notes list and think, "Really? That's in there?" I think for me, this is a perfume to just sit back and enjoy the ride with, no picking apart, no comparing to other things. I can understand why there was buzz; it's a great perfume.
Notes: Lillet accord, black peppercorn, fig leaf, Black Baccara rose, suede accord, myrrh, frankincense
Testing the MIKMOI line was really fun. I was not only impressed and pleased with Mik's work, but feel like I have had a truly unique perfume experience. Mik was smart to launch with four scents; any more would have been overkill for a launch, and fewer would have made less impact. I wholeheartedly recommend trying these fragrances. They can all be worn by any gender.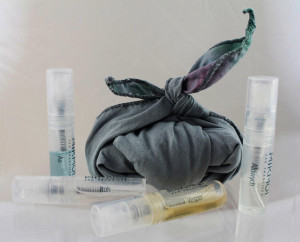 MIKMOI fragrances are available in 50 and 100 ml bottles on the website. Sample sets are also available. I received my samples from MIKMOI, and Mik is offering a Furoshiki-wrapped sample set to a lucky reader anywhere in the world. Please let us know which of these four scents appeals to you the most. Draw ends on April 13, 2013.
NOTE: CAFLEUREBON AND THE SPONSOR CANNOT BE RESPONSIBLE FOR COUNTRY RESTRICTIONS THAT MAY RESULT IN CONFISCATION OF PERFUME SHIPPED OVERSEAS.
We announce the winners only on site and on our Facebook page, so Like Cafleurebon and use our RSS option…or your dream prize will be just spilled perfume.
–Tama Blough, Senior Editor