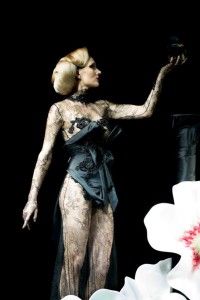 In the long tradition of perfume inspired by fashion designers it is a rare thing to find a perfume that seems like an extension of the brand over being an accessory. Back in January at the Elements Showcase in New York I was gifted with a very early sample of the olfactory collaboration between perfumer Martine Micallef and fashion designer Denis Durand. I was told then that I was embargoed from writing about it until after it was premiered at the March 28 Defile Palm Beach fashion show in Cannes. When I saw Mme Micallef at Esxence I was told to wait until after the show. Finally I am free to tell you about the new Le Parfum Couture Denis Durand for M. Micallef and I believe it is one of the very best fragrances M. Micallef has ever released. Mme Micallef and M. Durand are friends and admirers of each other's creativity; that shared passion led to a particularly harmonious collaboration.

Looks from the Defile Palm Beach Fashion Show in Cannes March 2013
When you look at M. Durand's fashion designs there is one word which comes to my mind, slinky. Not the children's toy but the way a svelte elegant woman moves languidly across a room drawing every eye to her. M. Durand very often creates couture which that woman would wear as his silhouettes are fitted and elongating to the woman wearing them. Mme Micallef also wanted to create a fragrance which slinks into one's consciousness and becomes unforgettable. The fragrance has a spicy opening over a richly animalic and sensual heart to end on an equally deep ambery base.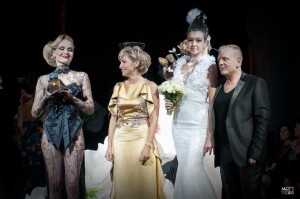 Martine Micallef (in yellow) and Denis Durand (at far r.)
Le Parfum Couture Denis Durand enters the room on a spicy swirl of cinnamon layered over tangerine. The tangerine adds a bit of fluidity to the cinnamon so that it turns a note known for its blunt character into something which has a bit more flexibility. The heart is where Le Parfum Couture Denis Durand catches fire from the smoldering beginning as a fantastic Bulgarian rose mixes with an accord called animalis. When I was first wearing Le Parfum Couture Denis Durand I repeatedly mistakenly identified the animalis as oud. Mme Micallef has been so successful in making oud behave in whatever way she needs to achieve a desired effect I thought this was another example. When I did get the note list I had to get a clarification on what animalis is and was told it is a blend of labdanum and castoreum. The combination of animalis and rose drew me in and captured my imagination. If the rose and animalis was all that was going on in the heart it would be great but a sweet grace note, courtesy of orange blossom and honey, adds a glowing core to the intensity and it feels like the reflection of light off of satin or the shine off a bared shoulder under the spotlights. With such an intense heart it would have been easy to ease up a bit but Mme Micallef keeps the intensity level high as patchouli and amber produce a foundation for sandalwood and white musk to interact with. This base lightens up on the animalic by using the white musk but patchouli, amber, and sandalwood keep the development at a consistent volume right until the end.
Le Parfum Couture has overnight longevity and average sillage.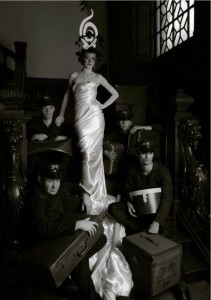 I had my sample of this fragrance when we were choosing our fragrances that smolder for Valentine's Day and I had a hard time picking anything else than Le Parfum Couture Denis Durand because this is a fragrance that fulfills everything that phrase means. It is easy for me to imagine the woman in the picture above wearing Le Parfum Couture Denis Durand because it feels like a match to the fashion. If you want a fragrance which puts the slink into slinky Le Parfum Couture Denis Durand is exactly that.
Disclosure: This review was based on a sample provided by Parfums M. Micallef.
Thanks to Parfums M. Micallef and the U.S. Distributor Hypoluxe, we have a 1.5 ml travel spray of Le Parfum Couture Denis Durand for M. Micallef to giveaway. To be eligible leave a comment on the fragrance you think is slinky/ sexy on you and your favorite Parfums M. Micallef fragrance or one you would like to try. The draw will end on April 10, 2013.
We announce the winners only onsite and on our Facebook page, so Like CaFleureBon and use our RSS option…..or your dream prize will be just spilled perfume.
-Mark Behnke, Managing Editor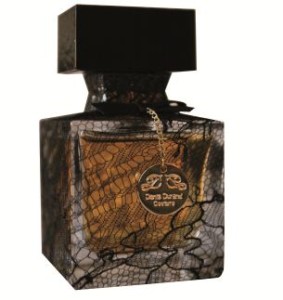 Editor's note: I am not one who often comments on the bottle but this bottle has hand sewn lace on it so it feels much like the name implies Le Parfum Couture. Also find the video of the fashion show where Le Parfum couture was debuted.